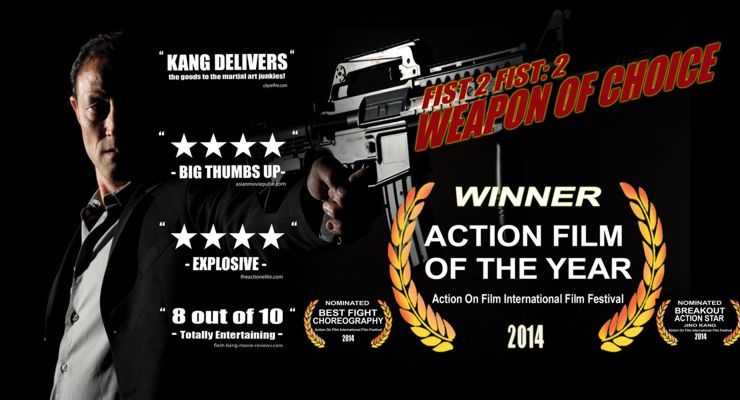 Whether you live or die depends on your weapon of choice
This is AWESOME, Fist 2 Fist: Weapon of Choice (2014) is now on Amazon Prime. If you love martial arts films you will enjoy the many styles of martial arts used in this film. Star, Jino Kang, is son of Hapkido Grand Master, Myung S. Kang. Jino is a Hapikido master in his own right and has Black Belts in Kyokoshin-Kai Karate, Tae Kwon Do and Brazilian Jiu-Jitsu. Also in the film is the incredible work of Choy Li Fut Master, Felipe Godoy shown in the clip below.
Jino Kang is also the Fight Choreographer for Fist 2 Fist: Weapon of Choice (2014).
The Award-winning martial arts indie film, Fist 2 Fist: Weapon of Choice (2014), has been kicked into high gear by Anderson Media, Inc's release of the DVD and the Digital download of the film.
Fist 2 Fist: Weapon of Choice (2014), is a sequel only by name to 2011′s Fist 2 Fist. The film follows a retired assassin, Jack Lee, played by Jino Kang, who is forced to use his skills to rescue his "daughter" (Kelly Lou Dennis) from his former boss, the notorious gangster Banducci (Douglas Olsson). With a little help from a rogue cop (Katherine Celio), Jack becomes a one-man killing squad determined to get his daughter back by any means necessary.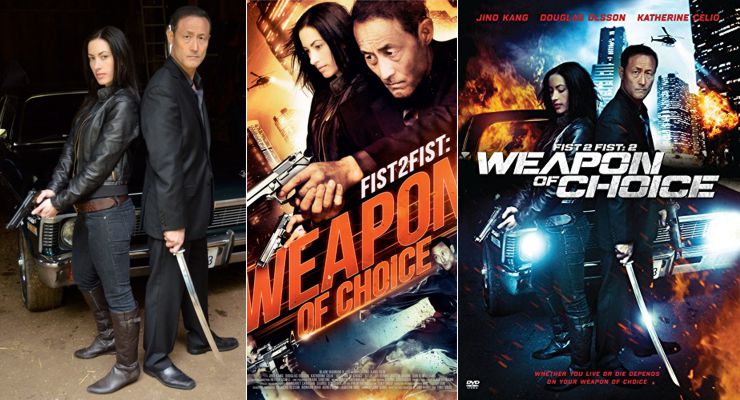 Fist 2 Fist: Weapon of Choice (2014) is written, produced, and co-directed by martial arts Master Jino Kang, who also stars in the 100-minute action-thriller. The film earned critical and industry attention after winning the coveted Action Film of the Year award and after receiving nominations for Best Fight Choreography and Breakout Action Star at the 2014 Action on Film Festival (AOFFest).
The film is also receiving rave reviews from genre experts, with City On Fire stating:
"If you're willing to take a break from all the mundane action movies playing in theaters, look no further than Jino Kang's latest revenge thriller, Weapon of Choice"; and The Action Elite declares: "excellent fight scenes and a badass hero."
Fist 2 Fist: Weapon of Choice (2014) has received overwhelmingly positive reception and Jino Kang is excited, adding, Fist 2 Fist 2: Weapon of Choice features world-class martial arts action, a compelling story, a dash of romance, an amazing hero (and two heroines!) and a despicable villain or two (or three, or four…). The audience will have an entertaining action ride, from beginning to end."
Jino Kang is the son of Hapkido Grand Master, Myung S. Kang, who emigrated with his family from South Korea to San Francisco during Jino's teen years. Jino quickly adapted to life in America and followed in the tradition of his father by opening his first Korean Martial Arts school in the 1980's. Today, he holds a 7th Degree Black Belt in Hapkido and a Black Belt in Gracie Jiu-Jitsu, Kyokoshin-Kai Karate and Tae Kwon do. In 2009.
Jino Kang's passion for filmmaking took him to the College of Marin where he developed his skills and appreciation for the craft. He went on to star in, direct and produce his first feature film, Blade Warrior (2001), in the 90's and Fist 2 Fist (2011), also known as Hand 2 Hand, which earned critical acclaim and numerous festival awards before its release in 2011.
Fist 2 Fist: Weapon of Choice is available on DVD/Digital release available on Amazon, iTunes, Google, Vudu and XBox beginning January 13, 2015.
More info about Fist 2 Fist: Weapon of Choice (2014)
Fist 2 Fist: Weapon of Choice (2014) on Facebook