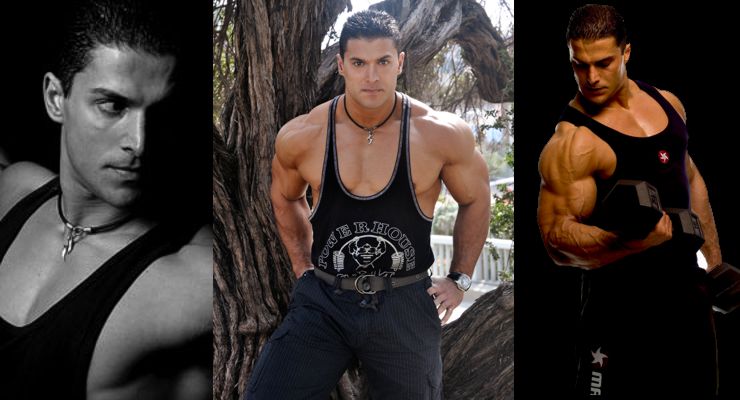 Silvio Simac, was born in Zadar, Croatia on November 21, 1973. A dedicated martial artist, Silvio trained in Taekwondo and became a world champion during his competitive years. His entertainment career began in 2001 on an episode of Lexx (1997). In the action film Undisputed 2: Last Man Standing (2006) Silvio had the privilege of fighting Scott Adkins in the open sequence of the film. Silvio also appeared as the fighter Leon from the video game-turned action film DOA: Dead or Alive (2006). His next notable film project was in the high-octane action feature Transporter 3 (2008). He then played Uri Romanov in Man of Tai Chi and Sant in the TV series Metal Hurlant Chronicles. He has numerous film and television projects in different stages of development.
Nicknamed "Raising Dragon," Silvio Simac has the "S" factor – skill, speed, stamina, strength and sex appeal. He is a World Gold Medalist, a personal trainer, and an actor, with the physique of a Greek god, sultry looks and a college degree in Economics!
Martial arts practitioner, Silvio Simac, has risen to the top in his chosen sport of Taekwon-do by becoming World Gold Medalist, British Champion 14 times and European Champion 4 times. He has truly achieved excellence and mastered the skills necessary to take him wherever he chooses to go. It is his dedication and discipline and "Star" quality that has made him unique and subsequently gained him success in the entertainment industry by landing him roles in commercials, television and films.
Five years ago, we were introduced to Silvio as one of the Stars of "Masters of Combat", a revolutionary BBC2 game show based around the martial arts. His credits extend to Eastern as well as Western cinema.  "Black Mask 2: City of Masks" – Columbia Pictures, "Lexx" – SilverLight (Sci-Fi) Ltd, "The Purifiers" – Working Title, "Unleashed" –Europa Corporation and "Dead or Alive" – Constantin Film.
Silvio Simac's talents aren't limited to TV and film, but have taken him to the stage as well. He put on a spectacular martial arts display in Dominion Theatre for "Royal Variety Performance" and a "Martial Arts Spectacular" in "Royal Albert Hall" and "Euro Disney".
Talent has taken Silvio Simac to all corners of the globe and given him the opportunity to work and interact with some of the world's greatest people. These include Tsui Hark, Cory Yuen, Luc Besson, Yuen Wo Ping, Lennox Lewis, Bob Hoskins and Jet Li, Shannon Lee (Bruce Lee's daughter) and Rob Van Damme.
Silvio Simac has been teaching martial arts and fitness for the last 15 years and he has tirelessly striven to raise the profile of his sport through his competitive success and through a regular series of breathtaking demonstrations and public appearances. He often raises money for charities including such organizations as Shelter, UNICEF, Fighting for Cancer, Help a London Child, Romanian Orphans and numerous others.
Silvio's iron will power, dedication, commitment and success have gained him recognition. He can be seen in feature articles and on the front covers of publications such as "The Sun, FHM, Combat, The Mirror" and others.
Silvio Simac is an ambassador for his sport and an example for others. His achievements have destined Silvio Simac to remain a star in the eyes of the sporting world and to rise in the entertainment industry as a multi talented performer.