As I have expressed multiple times, the stunt industry is difficult to break into, but you don't need to tell that to the women who pursue the career…they know it all too well. Action roles for women are few and far between. But to the adventurous women who are dedicated to the goal, it is an industry filled with endless excitement. One thing that seems to remain consistent with these women is a passion for martial arts. I decided to speak with a handful of these women in an effort to understand their perspective of the industry.
I picked seven women who I respect greatly. Veteran stuntwomen Spice Williams, Crystal Santos, Luci Romberg, and Sara Salazar as well as newcomers Jasi Lanier and Fawn Tran. To top off the list, Teri Reeves, an accomplished actress who stars in the hit series "Chicago Hope".
MARK GROVE – Hello ladies, let's start by learning what martial arts you study.
SPICE WILLIAMS – I began training in martial arts for the movies when I was 36 years old. Before that, I was a pro-wrestler and was mentored by the world famous Judo Gene LeBell! One day I got invited to come play and to take some classes at a dojo. I got into the ring and that is when I realized that cameras don't hit back! Holy Crap, it was time to learn the real deal! I hold a 3rd DAN in Arjukanpo, a 1st DAN in Cacoy Canete Doce Pares Eskrima , Level B in Israeli KAPAP, and a Brown in Hawaiian Kenpo Karate.
CRYSTAL SANTOS – The primary martial art I study is Shaolin Kung Fu with Sifu Eric Lee. It has been instrumental in my life. I feel that it is a complete system that balances mind and body, it centers me and has given me the tools to find the calm in the storm. I've also had the privilege of studying Grappling with Sensei Gene LeBell.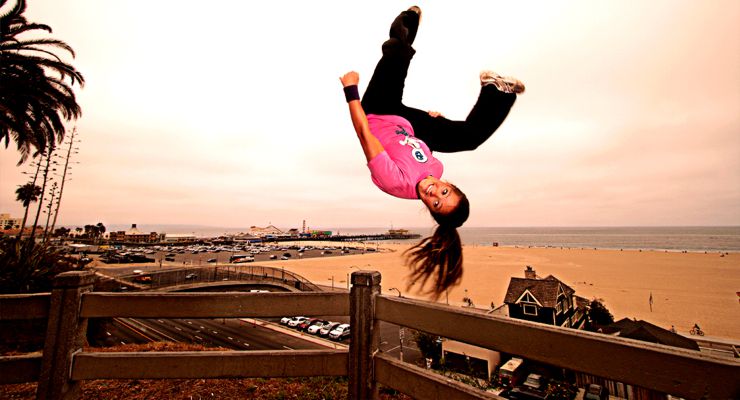 LUCI ROMBERG – I do XMA (Extreme Martial Arts) with Mike Chat. I absolutely love the discipline! I not only do forms, but get to play with new skills and tricks. Also, when I moved to LA I became obsessed with freerunning and have been working with Team Tempest ever since.
SARA SALAZAR – I had always wanted to take martial arts, I started in Tae Kwon Do, but knew it wasn't for me. I eventually found classical Ninjutsu and have been actively training ever since. Now I am specifically focused on Kunoichijutsu (art of the Female ninja), the grace and fluidity have not only helped me in film and self-defence, but has given me great confidence in myself as a woman.
TERI REEVES – I actually got into the martial arts because I was an actress. I looked up the nearest martial art academy to my house. Gracie Barra was down the street. I tried it, thought I'd go for a month, put it on my resume and be done. Now, two and half years later, I'm still training. I'm on the mats at least four times a week unless training for a competition in which case I'll sometimes go even twice a day.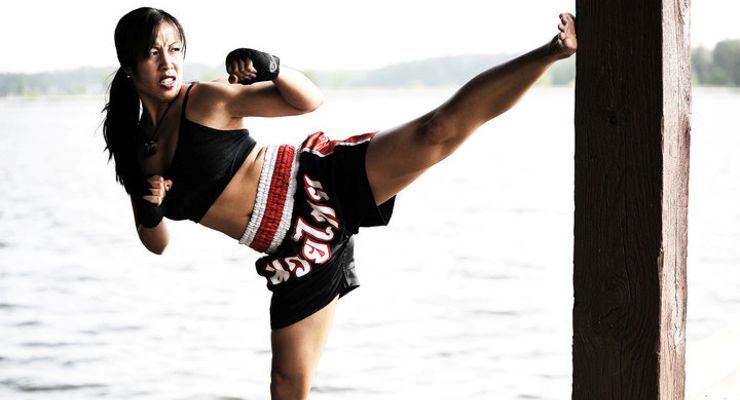 FAWN TRAN – For me it's Kickboxing. From the start of cardio aerobics, Tae kwon do style, to American Boxing/kickboxing to now the authentic art of Muay Thai.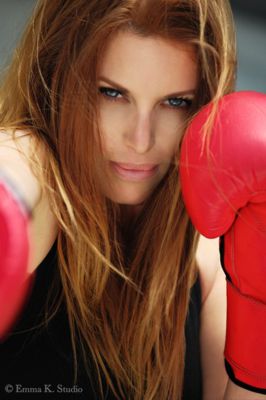 JASI LANIER – I started off in Shotokan Karate originally since I have studied many different styles, including Northern Eagle Claw Kung Fu and Jujitsu, lately I have been training Capoeira, and Kali.
MARK GROVE – Spice, you've been doing this the longest, how did you get into the industry?
SPICE WILLIAMS – I booked a show, the Fall Guy, with Lee Majors, playing a wrestler, and met the wrestling stunt coordinator, Judo Gene LeBell. I hated him because he was so rude and rough around the edges! But, out of my pure stubbornness and Gene's knowledge of wrestling being the world's most famous at the time, I did a great job for the show. He turned to me and told me I'd make a good stuntwoman. I laughed and replied, "I'm an actress!" And he said, "Ya, well, while you're starving to death being an actress, would you like to make some money as a stuntwoman?" I said, "Ok, what do I have to do," and he replied, "Keep your mouth shut and do what I tell you!" Well, keeping my mouth shut was the hardest stunt I ever had to perform, but I did as he taught me the world of stunts!!! Around 1984, as I started booking acting and stunt jobs I finally realized that I could do this as a living.
MARK GROVE – Is the stunt industry different for women than it is for men?
SPICE WILLIAMS – Oh YES, the stunt industry is made up of several groups. The men really own this industry which doesn't mean that the men disrespect us women, but even the producers feel funny when I, as a woman, come on board as a stunt coordinator or fight coordinator. They just aren't convinced that women can handle what they think is a man's job! Totally not true. I have several directors and producers that love my work and say I fight like a man, so not only do they believe in me, but some I think are a little scared of me!! LOL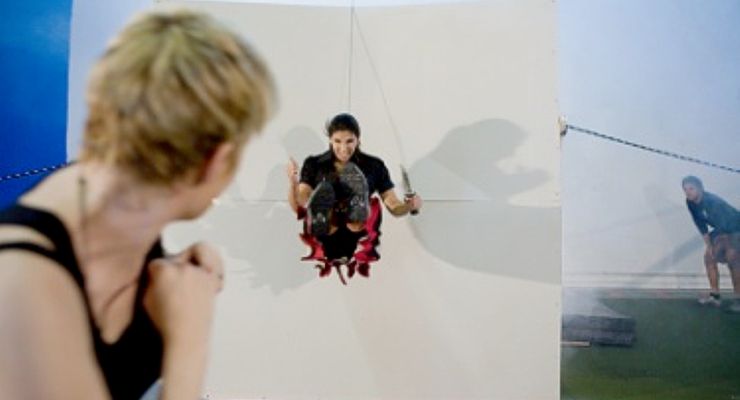 CRYSTAL SANTOS – I agree! Men almost always get to wear pads, but many times women don't because of wardrobe (high heels, skirts, bikini's etc). Also, if a woman is attractive and not rough looking, directors and producers automatically assume that she too girly and cannot do the job, but luckily, our stunt coordinators are fabulous in mediating this as they know who they are hiring and who is capable of what.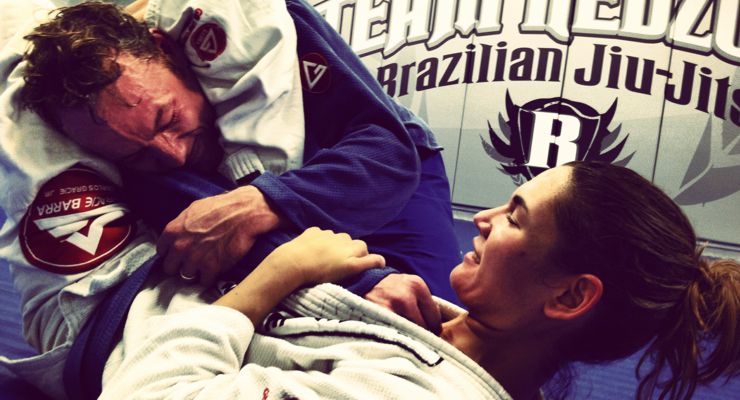 TERI REEVES – I can't speak to that directly as I'm not technically a stuntwoman, but I can say that strong female roles, and especially those that require action training are still lacking. It feels like the prevailing image of "true" femininity is still softness and vulnerability, which is definitely part of it, but is only half the story. I feel like women in this industry still have an uphill battle we're fighting. The more women in this industry train in the martial arts I think the better chance we have at changing that prevailing image.
MARK GROVE – Do you think the world is changing in terms of being more open to female action heroes?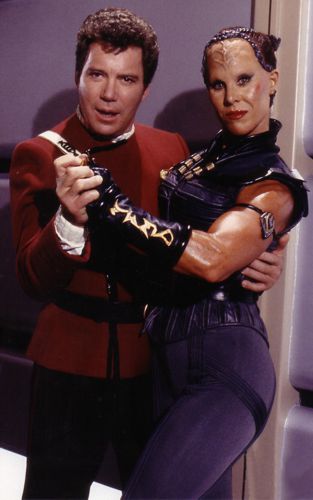 SPICE WILLIAMS – To a certain degree, but the action heroine still has to be a pretty little girl that suddenly turns into a killing machine and I don't buy it. That's why the actress has to have a stuntwoman to make her look good. Some actresses actually train to look good and that's the believable actress that I'd pay good money to go see.
SARA SALAZAR – Oh definitely, I think the attitude of the people, in and outside the film industry want to see female action heroes. I think it's the studio executives that are stopping it because they don't have the faith that they can sell it to that main demographic which is the 18-40 male audience. There are millions of young girls looking for a female hero to look up to.
TERI REEVES – Yes! Where is the Wonder Woman movie? I think the world is changing, but much too slowly for my taste.People like Joss Whedon and JJ Abrams, creators of Buffy the Vampire Slayer, and Alias in their earlier careers, promoted a trend toward women being seen as fierce fighters, but who still retained their vulnerability.
MARK GROVE – Okay, I have to ask…most intense (or dangerous) stunt?
SPICE WILLIAMS – I had to run up a fire escape, across the top of the roof of this building, and when I came to the edge, I had to blindly jump across the alley, to the other building, down to the 2nd story fire escape on a 3 foot platform and continue to run down those stairs. There were no boxes or airbags to protect for me if I missed, or hesitated…I would have fallen to my death! On Action, I just went into auto-drive and performed the way I had rehearsed it. I landed on a plywood slab that had been placed over a bunch of Styrofoam cups turned upside down. When I landed, all the air was compressed out of those cups which helped cushion my landing. Today, nobody does stunts like this because we have safety cables that insure that the stunt person wouldn't fall to their death.
TERI REEVES – To date, the most intense thing I've done is get burned alive in a fire. The stunt coordinator covered me in fire resistant goo (which is freezing stuff by the way) and placed me on set with fire retardant cloth underneath my clothes. They lit fires in controlled tubes just a few feet from me. It felt incredibly safe…and warm.
MARK GROVE – Beyond stunt work and acting, do you do any other film related jobs? If so, do you think it's important to be multi-faceted in the industry?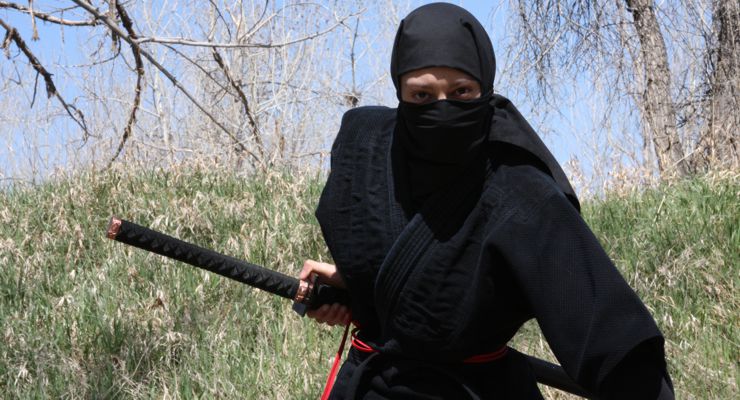 SARA SALAZAR – Yes! I think it is very important to work as much throughout the process of film as you can. I've done everything from Producing, to Catering, to Production Assistant, and it's a blast! I mean each area has that Film stress and craziness but I can always look back and say 'man that was awesome'. Because being a part of a film, any part is part of making it happen, and it truly is Movie Magic.
TERI REEVES – I think it is important to understand all sides of the industry you work in and have respect for all contributors from the highest producer level down to the lowest level like P.A. work, which I have done and is a thankless, but important job. It takes such a focused amount of energy to build a career as an actress though that I have committed to pursuing that alone at the moment.
MARK GROVE – Do you have any advice for female martial artists who would like to work in the action entertainment industry?
SPICE WILLIAMS – I would give the same advice to anyone who wants to work in the entertainment industry. Take your craft seriously and get educated. Take acting lessons, find other stunt folks and work on your skills. In martial arts, learn all about improvised weapons so has to be creative when fight choreography comes into play. Get a good understanding of what each department in a production company does and who does what job. Learn about cameras, frames rates, lenses, and editing so that you understand why they are shooting from that angle to another angle. If this is going to be your business, LEARN IT! And always, bring your martial arts training with you at all times. Be respectful, honorable, show integrity, be dependable, and always show up 15 minutes before your actual call time! The early birds sometimes get the best parts!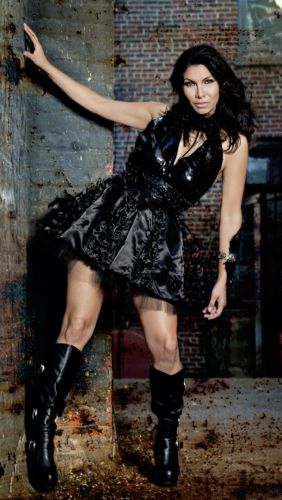 CRYSTAL SANTOS – Practice, practice, practice. You will not go far if you hurt the actors and fellow stunt people. Everything we do is smoke and mirrors and we are not really beating each other up, a light tap here and there for reactions but nothing serious. Rely on your talent, know what you are capable of and be honest, find a seasoned stunt professional to mentor you so that you do not make mistakes on the job, which could cost you your career.
SARA SALAZAR – Be ready to adapt! Film is never the same and there's always some new twist to the craziness the script/director/producer is asking of the performers. As much as you plan, something will change on set. So take care of yourself and the people around you, listen to your coordinator, and have fun!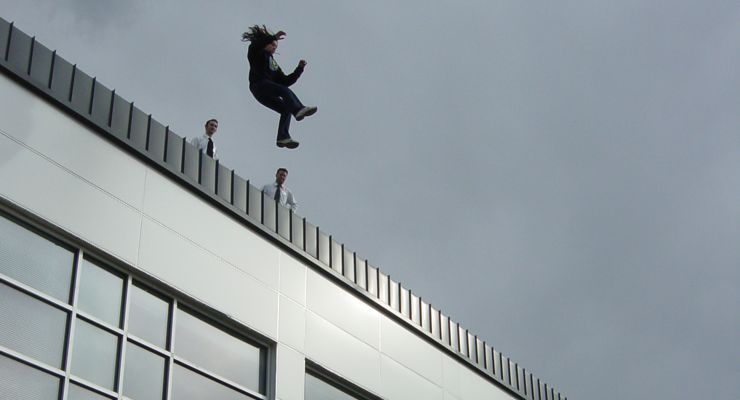 FAWN TRAN – Get connected! Always helps when you know someone personally in the business to start, who can begin introducing you to the game and scene by you attending practices and stunts training. Also, take pictures that showcase your specialized martial arts skills and area of focus and style.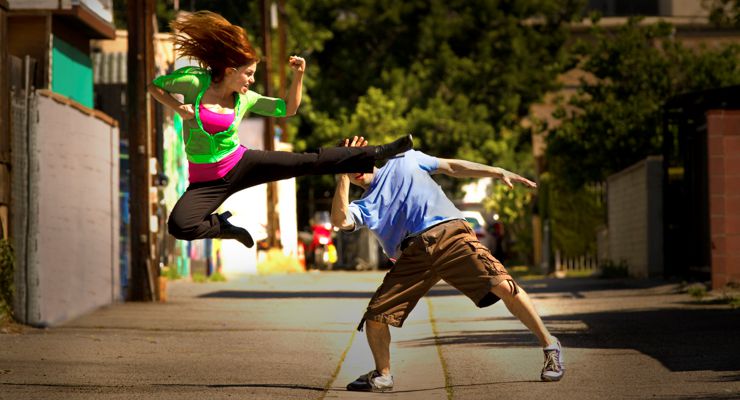 JASI LANIER – Always remember that fighting for film is different than traditional martial arts. Although Martial Arts training builds your movement vocabulary as a performer, you need to specifically train for camera.
MARK GROVE – Thanks for all the insight.
My conversation with these women shows that there isn't a specific martial art needed as a foundation to make the change over to film. It's really about drive and tenacity in an industry dominated by men. I salute these women as well as any woman who sets out on this amazing journey.
Learn more about Mark Steven Grove's Rocky Mountain Stunts on the Martial Arts & Action Entertainment Directory by clicking on the image on the left. Rocky Mountain Stunts provides expert stunt coordinators and fight choreographers, stunt performers and set construction, prop creation, prosthetic makeup, and environmental effects.