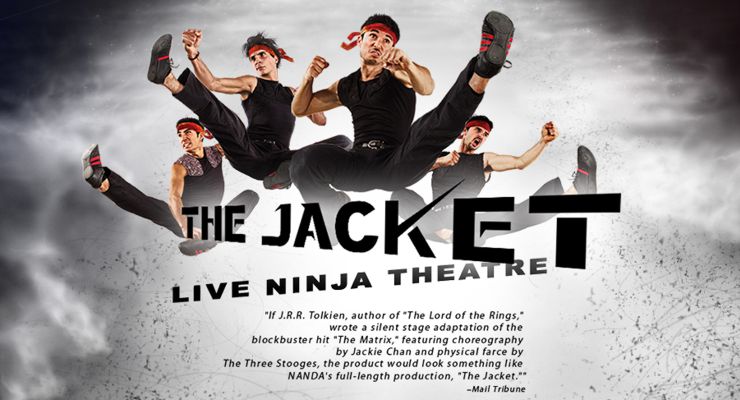 THE SHOW
Teeming with juggling, acrobatics and high-energy fight sequences, "THE JACKET" redefines the modern ninja with a deft combination of comedy and absurd pop-culture references making for an entirely original work of fast-paced, eye-popping theatre.
The show blasts flippantly into a ridiculous world of martial arts folly and adventure , and then at the drop of a hat, or a timely juggling club, will suddenly become a circus-slapstick throwback to classic vaudeville or a pantomimed espionage-action flick parody.
This panoply of stylistic influences is propelled by a sweeping story, replete with ancient mystics, kung-faux robots, lasers, and a myriad of other oddities borrowed from motion picture miscellany.
The result is an irreverent spectacle-laden homage to the intrepid achievements of popular culture, with a wink and smile at the old days of Marx Brothers-style wit and Charlie Chaplin's physical comedy.
SYNOPSIS
A long, long time ago…
Ancient mystical people craft a magical jacket of incredible power. The awesome forces imbued into the garment plunge the harmonic balance of the world into chaos.
In an attempt to reinstate order, the jacket is locked away and lost within the pages of history.
Present day: Its existence is discovered and the acquisition of the jacket becomes the obsession of an enigmatic adventurer, an anonymous covert agency man, and two Japanese guys.
As the epic struggle over the artifact ensues, the jacket is transported from a city subway station to a state-of-the-art security lock-up, where, after a climactic break-in, it is stolen and swept off to a secret laboratory.
Intense study reveals even more astounding potential, and through extensive experimentation the forces held within the Jacket are mutated and expanded.
The result will forever alter the very fabric of the world, and radically change the destiny of whomever it crosses…
GREAT REVIEWS
"THE BEST ALL-AGES LIVE
ENTERTAINMENT IN SEATTLE"
–Seattle PI
"YOU WILL LOVE AND EMBRACE
THE JACKET"
–Tolucan Times
"THE MOST FUN AND ENTERTAINING
SHOW OF THE YEAR"
–Seattle PI
"FUNNY, SMOOTH AND
DARE-DEVILISHLY INVENTIVE"
–The Seattle Times
"LIKE WATCHING A MOVIE
THAT CAME TO LIFE"
–Randomville
THE FOUR MAN ACROBATICALIST NINJA THEATRE TROUPE…
NANDA -noun (pronounced, nah-n-dah): A colloquial Japanese expletive used in reaction to something strange or unusual. Literal translation; "What??!"
Characterized by a calculated chaos of comedy, high-energy kung-faux fighting, and irreverent pop-culture parodies, NANDA has been performing original action-packed theater-based shows since 2004. Also incorporating dance, juggling, and acrobatics, NANDA performances are a mishmash of classic vaudeville, circus and modern live entertainment innovation.
The four members of NANDA grew up together in Port Townsend, WA, where they developed a vision of limitless creative expression from early childhood. Nurtured by the supportive environment cultivated in their hometown, this vision was able to grow and has become an ideal for an entirely new and unique display of performance art. Coining the term "acrobaticalism" to describe this process, and using its tenets as a window to the world, NANDA invents material that draws its inspiration from a wide variety of sources, harping on everything from cinema and pop-culture icons to rock music and even cartoons.
This explode-out-of-the-box mentality has inspired extensive explorations into a variety of other avenues, including live video projection, animation and sound. Nearly every second of the action being performed onstage is accompanied by a tightly integrated cinematic sound track. The effect produced is that of a visceral audio/visual blast, and this rich sensory experience, along with the impressive degree of physicality used to convey the action, make NANDA performances accessible and highly entertaining to audiences of virtually any age or background, and of any language or nationality.
Tomoki Sage
Tomoki Sage was born high up in the mountains of Colorado and was immediately shipped to the eastern most tip of the Olympic Peninsula in Washington. Traded to the local hippies for a day out sailing, the boy was raised in a yurt without the convenience of things like electricity, hot water, toilets, showers or very much junk food. Fortunately he wasn't the only one being raised in this fashion; he had plenty of other kids to run around and pretend to be ninja assassins and learn to juggle with…. To make a mildly interesting story seem boring, he's still running around with those same kids being a ninja warrior and whatever else comes to mind.
Chen Pollina
Chen is many things, though he is really only one thing: the last descendant in a long line of men who descend from the North. He was raised primarily on rice cakes and quinoa, and for a time, slept on a little shelf in the basement which passed for his "room." During this period, known as "the shelf years," Chen spent many nights dreaming about what he would be when he grew up. A fireman? No. An Astronaut? No. An Acrobaticalist? Well, no, but that's not to say he isn't pretty happy with the way things have gone. Chen now sleeps on two beds stacked atop one another, and dreams of the fruits of the future. Like strawbangos and stuff. He would like to remind everyone that it is never a bad idea to look at the stars from time to time, and contemplate the universe.
Misha Fradin
Misha grew up in Port Townsend, WA, where he spent his rather crazy and atypical childhood learning juggling, gymnastics, dance and theatre, as well as various martial and circus arts. Misha graduated high school in 2002, and in 2004 followed his dreams by co-founding NANDA with his childhood friends. He spends a portion of every summer at Camp Winarainbow teaching circus arts to children from all over the country. Misha considers it his mission to spread good energy to all four corners of the Earth through performance art and excellently timed puns. He wants to inspire as many people as possible to follow their dreams just as he did, so that they, too, can enjoy a slice of the Mystic Pie that makes up all good things.
Kiyota Sage
A two-foot-ten-fingered deciduous male, Kiyota has a tendency to favor his left knee on impractical occasions. Aside from being a raging acrobaticalist he enjoys playing and recording music, producing digital graphics, wearing jeans sometimes, and creating things out of other things. His left side is fairly Asian, and he is capable of extremely long feats of breathing without pause. He underwent vigorous training for his role as Japanese guy #2 in 'The Jacket', studying at a prestigious language school in Tokyo as well as spending long hours eating sushi while assembling small electronic components. He also ranked #217 in last year's International jaw flexing competition, thereby proving beyond a shadow of a doubt that "ninjas are people too." In addition to these various skills, Kiyota has a photogenic memory for stuff that has happened.