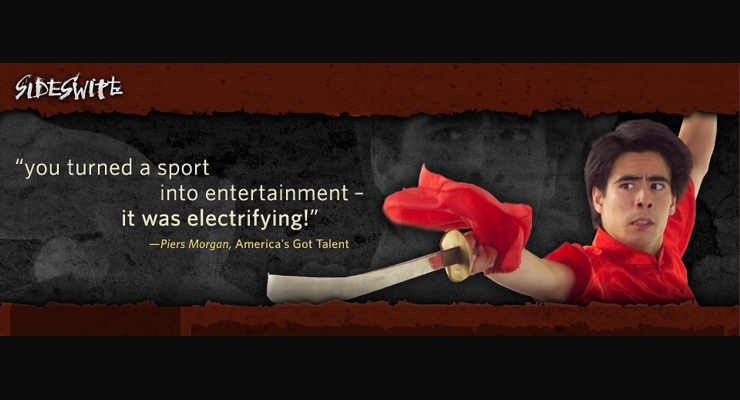 The Sideswipe Performance Team is the hottest martial arts based performance team in the world, combining martial arts, dance and gravity-defying acrobatics. Sideswipe has taken the world of entertainment by storm.
SideSwipe Martial Arts Performance Team is based out of Los Angeles, California. This team of talented martial artists has performed hundreds of live shows world wide, and they have starred in numerous hit films and TV shows.
Matt Mullins created the Sideswipe Performance Team. Sideswipe took movements from all styles of martial arts such as wushu, tae kwon do and capoeira, and then combined them with music and dance choreography to create a unique style of martial arts performance called Xtreme Martial Arts.
SideSwipe Martial Arts Performance Team has created performances with their high-energy routines for musical artists such as Britney Spears, and Fortune 500 companies like Nike, Microsoft and FedEx.
The unique style of Sideswipe performers have been featured in GI Joe: Rise of the Cobra and The hit kid show on CW called Kamen Rider: Dragon Knight.
Some very memorable and highly viewed commercials in recent history have featured Sideswipe members, including ads for Pepsi, Motorola and Samsung.
SideSwipe Martial Arts Performance Team members are some of the most gifted and renowned martial artists and performers from around the country.
John Sharkey, Jr. – Stage Manager
Matt Mullins – Creator
Hunter B. Lyon – Production Manager
Headliner Performers
Adam Cannon
Adam Cloud
Brendon Huor
Donald Mills
Ignas Ramanauskas
Kyle Potter
Mickey Facchinello
Micah Karns
Seth Austin
Ty Cinnamon