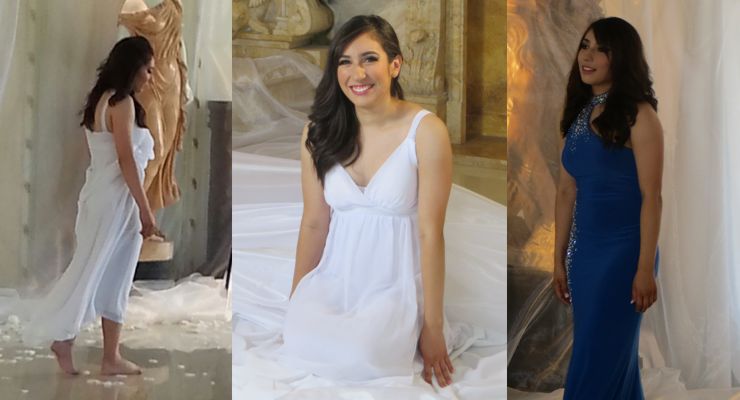 A Truly Beautiful Tribute to Christina Aguilera and "Beautiful"
After 25 years of working in Hollywood, Director Art Camacho did something he'd never done before; he reached out and offered his directing talents to an unsuspecting family. Monique, Jasmine, and Anthony Magallanes Jr. are world champion martial artists, but what caught director Art Camacho's eye were two recently released music videos that focused not on their martial arts talent but on their love of singing and acting. Little did anyone realize, but a major life changing event would unfold once Art and the family began working together.
Art offered to personally direct another music video and he wanted it to focus on Jasmine Magallanes, as he could see the star within her. Jasmine was not only a superb martial artist, but she could sing, dance and act as well. She could easily become what Hollywood called, a triple threat.
Immediately Jasmine began to work with Grand Master James Neiman, who accompanied her on the piano, and she began recording vocals with legendary producer/musician Mark Kenoly. The decision was made to let Jasmine sing a song by one of her all time favorite idols, Christina Aguilera, and the song chosen was Beautiful. The choice of this song would transform Jasmine's life in unexpected ways.
When Jasmine first heard the song Beautiful, she fell in love with the way Christina Aguilera sang the song, however, when Jasmine sang "Beautiful" herself, she replaced the words "I am beautiful!" and sang instead, "You are beautiful". Why you ask? Here is Jasmine's story.
When Jasmine was only 13 months old she was burned in an accident that scared her face and almost caused the amputation of her hands. After a number of childhood operations, her hands were saved and her facial scars were reduced, but because of her appearance, she was the subject of emotional bullying. Although Jasmine eventually accepted her scars, the hurtful words her classmates spoke influenced how she saw herself, and their word's were often in the forefront of her mind. The words "I am beautiful" were not part of Jasmine's vocabulary. In an attempt to shield her family from her pain, young Jasmine rarely shared her feelings with them and instead she quietly cried herself to sleep.
Now, after 19 years, Jasmine was being forced to face a painful conflict. She knew she would have to find a way to believe the words in the song "Beautiful" or she would never be able to express the true feeling of the song. As she practiced and recorded the song over and over again, she was surrounded by a love and a peace she hadn't felt before, and a previously unimaginable healing began to take place.
Thanks to the unusual act of a keened eyed Hollywood director and the powerful voice of Christina Aguilera, Jasmine's broken inner child of 19 years was finally healing. When you experience this video and feel Jasmine's heart and soul you will realize a beautiful young star is now shining brightly and just like the rest of us should be able to do, Jasmine can forever more look at herself in the mirror and speak with undeniable confidence: "I AM BEAUTIFUL!"