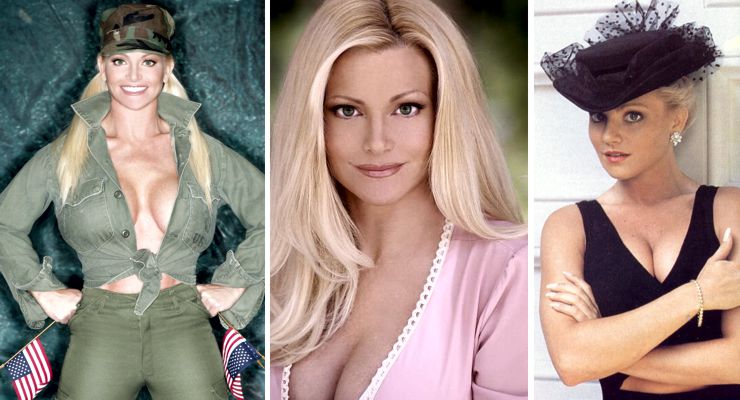 Stunt performer and actress, Julie Michaels, was born in the Northwest. She is best known for her role opposite Patrick Swayze in the first Road House film in 1989. No doubt she's a beautiful blond bombshell, but she is so much more. If you saw Kathryn Bigelow's Point Break (1991) you experienced Julie Michaels' graphic nude fight scene with Keanu Reeves. The New York Times dubbed her "The babe who nuked Keanu". It was Julie Michaels playing undercover Agent Elizabeth Marcus, wearing only a towel, who helps trap and kill "Jason" in Jason Goes to Hell: The Final Friday (1993) and she did all her own stunts in this film. She plays a Harem Girl who tangles with Dwayne Johnson in The Scorpion King (2002). In John Herzfeld's 15 Minutes (2001),  she fought the Ultimate Fighter.
Julie Michaels was always very athletic. She was putting herself through school as an NCAA gymnast at the University of Washington, when an injury forced her to find another way to fund her schooling. She entered the Miss America Pageant and won two titles before auditioning and being cast in Follies on Broadway which was followed by Dreamgirls USA in Los Angeles. Her studies ultimately took her to Asia where she studied martial arts. She continues to study the arts under Sensei Benny Urquidez.
It was Joel Silver who discovered Julie and cast her as a seductress to Patrick Swayze. Since then she has played roles opposite Superman/Clark Kent actor Dean Cain. She was frozen by Arnold Schwarzenegger in Batman & Robin (1997) and was cast as a temptress soul in Witchboard 2 (1993)
Julie has made her mark in television also. She can be seen on shows such as Desperate Housewives (2004), In Justice (2006), The Suite Life of Zack and Cody (2005), 24 (2001), The Man Show (1999), She Spies (2002) and others.
A stuntman introduced Julie Michaels to the stunt world and she found that stunt work was a lot like collegiate sports. There was a camaraderie between stunt performers, as well as ethics and integrity in the stunt industry. She liked the way stunt performers worked collectively, as a team, to create something phenomenal, and yet safe, for those performing the stunts.
Throughout her career, Julie Michaels has had to balance her acting career and her stunt career, often performing dangerous stunts as a double. There were times when she was harmed during a stunt. While performing stunts as a stand-in for Pamela Anderson on the set of the 1996 movie Barb Wire (1996), her character had to jump from a second-story fire escape onto a track while handcuffed to her co-star. The stunt didn't work as expected and Julie Michaels broke her back. Besides having broken her back, she has also broken her neck and her leg doing stunts, but recovered from these injuries and has continued working.
In the television series VIP (1998-1999) Pamela Anderson's character was hung from a helicopter a thousand feet in the air over the Bonaventure Hotel wearing a mini skirt and gogo boots. In reality that was stuntwoman Julie Michaels hanging in the sky.
Julie Michaels found a new fan base when her likeness was used for the AC Comics' Femforce character Rayda, whose powers included electricity manipulation and enhanced reflexes.  In late 2009 there was also discussion that she would be cast in the role for a live action adaptation, but this never materialized.
In 2007 Julie Michaels performed stunts in Rush Hour 3 (2007) and has gone on to perform stunts in television series including Numb3rs, The Newsroom (2012 – 2014), How to Get Away with Murder (2014 – 2015) and Jane the Virgin (2014 – 2015). 
Julie Michaels has played the seductress, has fought with the best of them, and performed some outstanding stunts, and she continues to bring to the screen her own special strength and power.
Julie Michaels was nominated for an Emmy for Outstanding Stunt Coordination for a Comedy or Variety Series for the show Shameless in 2014.