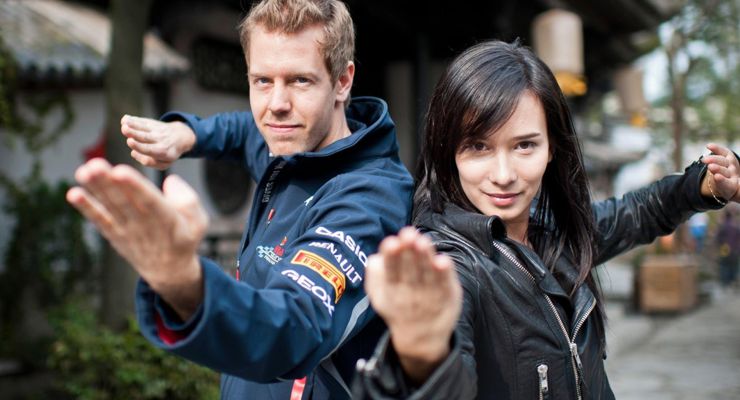 Directors: Andreas Tibblin, Ian Powers (co-director)
Writers: Cesar Garcia, Simon Woollard
Stars: Celina Jade, Sebastian Vettel
Formula One World Champion Sebastian Vettel appears with Hollywood actress and martial artist Celina Jade at a Shanghai film studios, China, for the making of car brand Infiniti's martial arts short film, Kung Fu Vettel: Drive of the Dragon. The film is the first in a series of virals from Infiniti to launch their Inspired Performers campaign on April 11, 2012. Photo by Victor Fraile / The Power of Sport Images for Prism/Infiniti
Formula One World Champion Sebastian Vettel Stars in Martial Arts Film Alongside Kung Fu Actress Celina Jade
Formula One World Champion Sebastian Vettel started his Chinese Grand Prix weekend in unusual fashion today, starring in a martial arts short film alongside Hollywood actress, model and martial arts expert, Celina Jade. Filming at a studio just outside Shanghai, Vettel learned a series of Kung Fu moves from Celina, who can be seen in the upcoming Universal Pictures film 'Man with the Iron Fists', before taking to the nearby Tianma circuit where they swapped roles and he taug
ht her performance driving skills aboard an Infiniti G Coupe.
The short film Kung Fu Vettel: Drive of the Dragon – guaranteed to show the double world champion as he's never been seen before – is set for release in early May. It is the first of Infiniti's new 'Inspired Performers' series which will see Vettel and Red Bull Racing team mate Mark Webber swapping skills with other like-minded inspired performers who are leaders in their respective fields.
Commenting on the event, Vettel said:
Well that was the first time I've acted in a martial arts movie and it was great fun. It was something totally new for me which was good as I always like new challenges and experiences. I learned that just like with driving, you need balance, control and technique to be good at Kung Fu, but I think I'll still stick to my usual kind of fighting on track on Sunday!