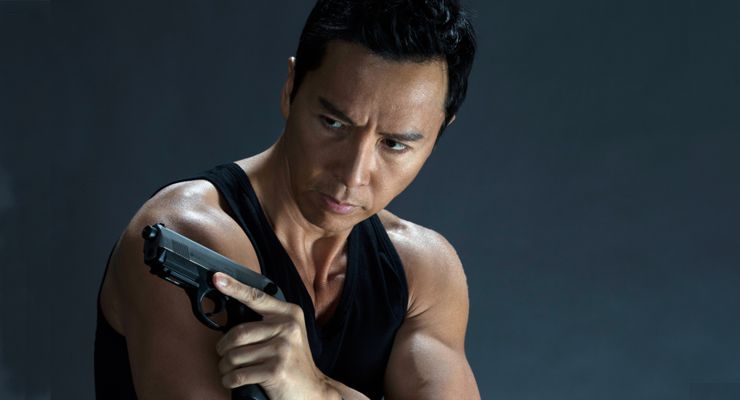 Donnie Yen is a is a martial artist, a Hong Kong actor and stuntman, a film director and producer, as well as an action choreographer.
Like many other martial arts actors, Donnie Yen started in the entertainment industry as a stuntman. It wasn't until Donnie Yen was cast in the lead role of director Yuen Woo-ping's Drunken Tai Chi (1984), that a new leading man was born in Hong Kong cinema.
Donnie remains an international action star and fight choreographer in Chinese action cinema today, but, as yet, he is not well known in the United States like US stars Jackie Chan and Jet Li.
Donnie Yen is the son of Boston based kung fu instructor Sim-mark Bow, and was tailor-made for the action movie scene, as he had trained in martial arts since early childhood. He has a solid foundation in his mother's Wushu style, and as a teenager he studied a wide variety of different fighting arts, including karate and Western boxing.
Born in Canton but raised in Boston, Yen has always been unique among martial arts stars in that his persona balances both the martial virtues of his mother and the scholarly and musical ones of his father, Klysler. Well trained in the various combative systems, Yen is also a gifted pianist, and the musician in him can often be seen in the tempo of his action sequences.
As a youth, Yen was a skilled street dancer, and utilized those "moves" and his athleticism, in his second starring role, Mismatched Couples, which was produced by Hong Kong's prestigious Cinema City studio.
Donnie was signed by D&B Films, and cast in the hit cop action film Tiger Cage (1988). In this movie, and his follow-up features for the company, In the Line of Duty 4 (1989) Tiger Cage 2 (1990), Yen showed off his own unique form of contemporary screen combat, a form that included elements of rapid fire kicking, Western boxing and grappling moves.
Donnie established a worldwide fan base and moved on to star in a string of independent action features until director Tsui Hark auditioned him to co-star in Once Upon A Time In China 2 (1992). The film brought Yen his first real attention as a actor. He was nominated in the Best Supporting Actor category at that year's Hong Kong Film Awards.
Tsui went on to produce a remake of King Hu's Dragon Inn (1992) and this provided another showcase role for Donnie. Next came Iron Monkey (1993) a film which brought both his acting and action skills into focus .
In Iron Monkey (1993), Yen played the father of kung fu legend Wong Fei-hung, and its success allowed him to later play the role of another famous fighting patriarch in Ip Man (2008).
Iron Monkey (1993) was all the more remarkable because years after its Asian release, it was acquired by the American studio Miramax, and it was re-cut, re-scored and widely release in U.S. theaters on October 12, 2001. The film enjoyed great acclaim from the American critics, and was nominated for Best Fight at the 2001 Taurus Awards, an event held to celebrate action in cinema.
Donnie's had also been developing his skills behind the camera. He was always involved with the action choreography in his previous films, but hadn't received full action credit for any of them. In Michelle Yeoh's kung fu drama, Wing Chun (1994) he received not only acting credit, but his first full action directing credit as well.
Hong Kong's ATV made Yen a lucrative offer to film a series based on the Bruce Lee classic Fist of Fury (1972) and this series gave Yen huge success on television. The show was a top-rated action drama show and was subsequently re-edited for international distribution.
Donnie went on to make his directorial debut with Legend of the Wolf (1997). This stylish period action film even attracted the attention of legendary American film-maker Francis Coppola. The film is about an amnesiac warrior returning to his home village, and it has  become a bona fide cult classic.
As a director, Donnie followed Legend of the Wolf (1997) with a very different venture called Ballistic Kiss (1998). This urban thriller received awards at several events, including the Japanese Yubari International Action Film Festival.
It was after Yen had directed his first two Chinese features that Hollywood made its first serious bid for his services. He was signed to co-star in and direct the action for Highlander: Endgame (2000), the latest in a series of fantasy action films. The film, which starred Adrian Paul and Christopher Lambert, was produced by the U.S. studio Dimension, and enjoyed a successful worldwide theatrical release.
Having relocated to Los Angeles, Yen paid his dues by directing action scenes for the Dimension action thriller Stormbreaker and providing the fight sequences for the German TV series The Puma.
Donnie agreed to both direct the action for and cameo in the major New Line action franchise entry Blade 2 (2002) starring Wesley Snipes. The film was directed by Guillermo del Toro and became a huge hit. It earned almost twice the box office of the original Blade (1998).
Yen then returned East by way of the West when Jackie Chan invited him to play his nemesis in the hit Shanghai Knights (2003) a shoot which took the pair from Prague to London.
Donnie returned to China to co-star in director Zhang Yimou's epic wu xia master work Hero (2002) Yen's duel with Jet Li brought his skills to the emerging Mainland Chinese theatrical audience, and paved the way for Donnie to become China's biggest action star. The film received a wide US theatrical release from Miramax, and remains one of the most successful foreign language titles ever distributed in the America market.
Yen still had a major contribution to make behind the camera. He returned to Hong Kong to co-direct the SFX action adventure The Twins Effect (2003). This film, which starred two of China's top pop idols, told the tale of young vampire hunters with well-honed martial arts skills. It was a huge hit for Emperor, and the film earned Yen his first Best Action Director prize at the Hong Kong Film Awards.
Behind the scenes, Yen entered into the most rewarding partnership of his life when he married former beauty queen, Cissy Wang. The couple have two children, a daughter named Jasmine and a son named James.
Donnie Yen's secret to a happy marriage – listen to his wife
Starting with the cop action film, SPL: Kill Zone (2005), Donnie teamed with Wilson Yip for a series of very different films. Yen would star in and choreograph the action while Yip directed the films.
In SPL: Kill Zone (2005), Yen brought the dynamic moves of American Mixed Martial Arts to the movies, and his final reel duel with bad guy Sammo Hung is now regarded as a classic of the genre. This film won Donnie his second Best Action Choreography prize at the Hong Kong Film Awards.
Yen and Yip teamed to create the comic book inspired fantasy action film Dragon Tiger Gate (2006) and the gritty police thriller Flashpoint (2008), in which Donnie created what fans feel is the definitive on-screen MMA action scene. Flashpoint (2008) also won Donnie his third Best Action Choreography prize at the Hong Kong Film Awards, as well as a prize for Best Action in a Foreign Language Film at the Taurus Awards.
Donnie was leading man in a series of prestigious period action films produced for the Chinese market. Seven Swords (2005) premiered at the Venice Film Festival, and it proved a hit with worldwide audiences. Yen also attracted rave reviews when he played an honorable general in An Empress and her Warriors (2008) and an offbeat ghost-buster in Gordon Chan's Painted Skin (2008).
Yen took his career to a new level when he accepted producer Raymond Wong's suggestion that he play Bruce Lee's teacher, Ip Man, in an eponymous film relating the life of the great master. The film was a huge success in Hong Kong and China, and Ip Man (2008) went on to become a favorite of film goers worldwide. Donnie also received a Best Actor nomination for this film at the Hong Kong Film Awards.
Ip Man (2008) confirmed Donnie's position as China's greatest action hero, and he was immediately signed to lead a strong ensemble cast for Teddy Chen's Bodyguards and Assassins (2009), which was produced by Peter Chan. The movie went on to win Best Film, among many other prizes at the Hong Kong Film Awards. Yen himself was nominated for Best Actor at the Chinese Hundred Flower awards.
Yen soon followed with Ip Man 2 (2010), a rare example of a sequel that proved a match for its predecessor. The film followed Ip to Hong Kong, where he faced both rival kung fu masters and a brutal foreign boxer.  Ip Man 2 (2010) was the biggest local hit of the year in China, and has since enjoyed a limited theatrical release in the US.
The film's success led to Donnie's casting as a number of legendary Chinese heroes. He played General Qin-long in Daniel Lee's 14 Blades (2010), and Guan Yu in The Lost Bladesman (2011) and Chen Zhen in Andrew Lau's Legend of the Fist (2010). He also plays The Monkey King (2014) in Havoc in Heaven (2014). These projects further Yen's reputation at home and abroad. Each film got increasingly high profile international releases.
Yen was cast opposite Tang Wei and Takeshi Kaneshiro in director Peter Chan's WuXia (aka Dragon (2011), a dark, elegant period martial arts murder mystery. The film premiered to great acclaim at the 2011 Cannes Film Festival.
Donnie Yen blends Eastern experience with Western innovation, and musical grace with martial arts, and he entertains worldwide audiences with the range and depth of his talents.