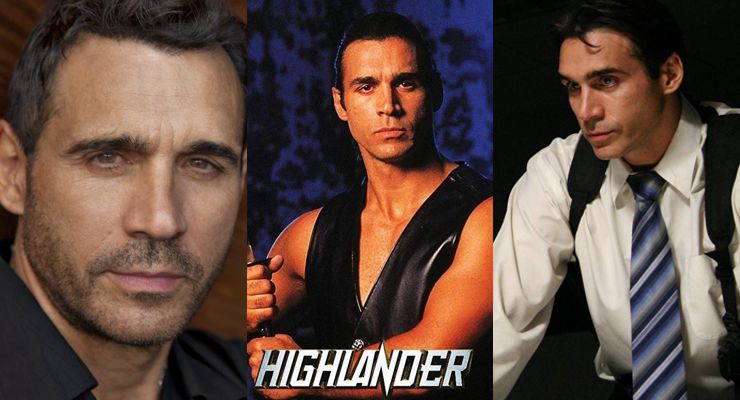 Adrian Paul was born on May 29, 1959 in London, England. He is best known for playing the immortal role, Duncan MacLeod, in the Highlander (1992-1998) television series and the movie Highlander: Endgame (2000) and the TV movie Highlander: The Source (2007). As a youth, he studied kickboxing, but it was his role in Highlander that pushed him to learn martial arts and he has continued to study different arts ever since. His studies included Hung Gar Kung Fu and Shaolin Kung Fu, Tae Kwon Do and Wing Chun as will as Pencak Silat. He also studied and boxing, but his most important study was his extensive sword training with the Japanese Katana he used in Highlander. His training often came from the people he worked with and he has never stopped training.
In an interview with Motifri by by Mike Ryan, we learned that Adrian Paul runs a unique program called The Sword Experience. This program allows people to recreate a movie scene or a scene from a television show and after learning to fight, they are allowed to star in their own movie. The Sword Experience offers 4 different types of experiences. One experience takes place a Conventions where they either can build a set or find one near the convention. Then there is the experience that takes place at a specific location, for example he has offered experiences in castles in France, England, Scotland and in Ireland. His company also offers corporate experiences and team building which incorporates the similarities between his work and office work, and similarities between movie business and other businesses. The Sword Experience also offers a tour type experience which can last for a few days or even a week or more and where you visit different places with elements of The Sword Experience as well as sight seeing, biking, doing yoga or meditation or maybe even walking up a volcano. The Sword Experience doesn't just do "Highlander" experiences, we've done Game of Thrones, Star Wars fights, Blade, Dracula, King Arthur and lots of others experiences.
Adrian Paul also tells us in this interview that his Highlander was a "really deep learning process for him." He enjoyed doing The Breed (2001), a very stylized piece which he liked as well as Nine Miles Down (2009) where his acting skills were challenged.
Adrian balanced his academic interests in literature and history with a physical found in playing soccer and in dancing. He has worked as a choreographer and model throughout Europe, but with a growing interest in acting eventually he came to the United States. His first role was as a Russian dancer on the ABC drama The Colbys (1986-87) and then he did an off-Broadway play called Bouncers, playing 13 different where he had to switch back and forth between characters.
His first film role was in Last Rites (1988) opposite Tom Berenger and Daphne Zuniga. Adrian played a military man, John Kincaid, in the second season of the sci-fi series War of the Worlds (1989-90), as well as three episodes in the popular 1991 NBC revival of Dark Shadows. After other TV guest appearances and roles in films such as Love Potion No. 9 (1992) with Sandra Bullock, producers of the Highlander films found Adrian Paul, the perfect actor to play the role of Duncan MacLeod in the television series.
In Highlander, Adrian Play was able to explore new territory as an actor, as well as a dirrector for the Season Four opener "Homeland," the only episode of the series filmed partly on location in Scotland. Three of the four episodes Adrian Paul directed were voted in the top ten fan favorites and were included in the Best of Highlander DVD collection.
The final episode of the Highlander series aired in 1998, and since then, Adrian has remained busy with television and film work. He starred with Christopher Lambert in Highlander: Endgame (2000) and returned to television as the star and producer of Tracker (2001). Hi stelevision guest appearances included Charmed and Relic Hunter; while film projects in recent years included The Breed, The Void, Code Hunter, Nemesis Game, Moscow Heat, Throttle and Tides of War.
Adrian Paul  is a founding member of Los Angeles-based acting group Actors Collaborative (formerly Actors in Process), and in April 2005 Adrian produced and starred in their stage production of Things Just Change.
In 2007 Adrian had three films released, Highlander: The Source, for which he also served as Executive Producer; the independent movie Séance (winner of two festival awards) as well as Lost Colony, for the Sci-Fi Channel.
Adrian can be seen in the Sci Fi action film Eyeborgs (2008) and the British action thriller directed by Marcus Warren, The Heavy, which is due to be theatrically released in 2010. He took the lead in Sci Fi Channel's Dramatic comedy Captain Drake (2009) in addition to the highly anticipated physiological thriller Nine Miles Down (2009).
Most recently he has been working on an English film, Snapshot (2018) about a hunting accident that turns into a whole lot more where he plays the head of the CIA and Inferno by Dante (2018) with Eric Roberts, as well as A Beautiful Distraction.
Adrian Paul has his own production company called FilmBlips with projects in the works. He also devotes the rest of his time to children's charities including his own, The PEACE Fund (Protect, Educate and Aid Children Everywhere) which he started in 1997 and for which he received a Peacemaker award in Russia in 2006. The organization partners with other organizations around the world and facilitates different initiatives in places like Thailand, Bulgaria, Hungary, Romania, El Salvador, Haiti, the Dominican Republic, the United States.