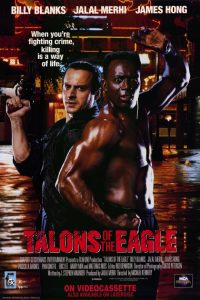 The action adventure movie, Talons of the Eagle (1992), was written by J. Stephen Maunder and director by Michael Kennedy. The film stars Jalal Merhi, Billy Blanks, Matthias Hues, James Hong and many other top martial artists including Harry Mok, Eric Lee, John DeBlasio, and Pan Qingfu.
After 3 DEA agents are killed by Mr. Li, martial arts champion Tyler Wilson is sent on assignment to Toronto and teams up with Michael Reeds. Wilson and Reeds enter a martial arts tournament, where they end up saving Mr. Li from being killed by a rival crime boss. Li invites the two to join his staff. As Wilson and Reeds get closer to the truth about Li's operation, they gather the needed evidence, but will have to escape Li, alive.
The film had a limited released on November 6, 1992 and came out on video on December 23, 1992.