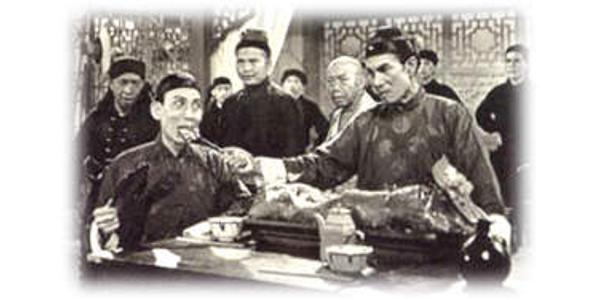 Until recently, kungfu movies comprised the most overlooked genre in cinema. Low production values, exploitative violence, poor dubbing, and preposterous fight scenes long kept kungfu movies from being considered "respectable" cinema in the West. These campy overtones and awkwardly bad dialog (not to mention clich? plots) made most early kungfu films an acquired taste, but slowly and steadily, that cuisine has been moving westward. Since the rise of video rentals, American viewers have voraciously consumed kungfu movies, so much so that almost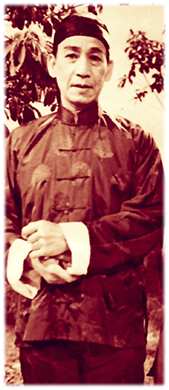 every video store has a separate section just for martial arts. Recently several small video distributors, riding the success of the rap group Wu-Tang Clan, have gobbled up the rights of old kungfu movies and remarketed them for today's young hip-hop crowd. Wu-Tang Clan themselves have their own kungfu flick reissue series under their W logo with their music videos included as an added feature. Even a few Shaolin monks have hosted such video reissues. Additionally beyond videos, kungfu movies are also fixed insomniac fare on late night television. Noted masters like Tat Mau Wong have hosted local late night programs that regularly featured kungfu chop-sockies.
Kungfu movies have also penetrated the Saturday morning cartoons. Those martial arts influenced Japanese programs like Ultraman and Kikaida, where rubber-suited superheroes battled rubber-suited monsters, were just appetizers. Coupled with the videogame influence, kungfu influenced kid shows prevailed such as Teenage Mutant Ninja Turtles, Mighty Morphin Power Rangers and Shannon Lee (daughter of Bruce) hosting fantasy show based on arena-style combat. Now even Jackie Chan has his own cartoon. We've come a long way from Hong Kong Phooey.
But this pervasive cinema is all undeniably B movie fodder. Today, it is just beginning to be consumed by the public at large. Breakthrough kungfu movies have become palatable grade A fare with the rise of movies like the blockbuster Matrix and the Academy Award winning Crouching Tiger, Hidden Dragon. Now, Americans are biting at the ever-increasing major theatrical releases of kungfu movies. Stars like Jackie Chan and Jet Li are finally putting out movies with top grade production values. At last, the Western audience is really starting to take notice. Kungfu cinema is giving Hollywood an awakening kick in the butt.
Martial Arts Fables and the Movies
Meanwhile back in Asia, nothing remains as omnipresent as the kungfu movie. From India to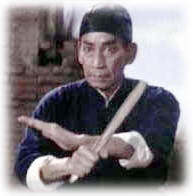 Indonesia, kungfu movies are a constant staple of the average citizen's cinematic diet. Kungfu movies are the bread and butter for the film industry throughout Asia just like blockbuster action flicks are here in Hollywood. And these are the most populous nations in the world, so from a global perspective, kungfu movies comprise one of the largest film genres of all. Which actor has been impersonated as many times as Bruce Lee? No other celebrity holds such a dubious title, except perhaps Elvis (and that's only in Vegas lounge acts, not full-length feature films.)
What makes these movies so overwhelmingly popular across so many cultures is their portrayal of justice. It's always the righteous champions fighting against the odds and upholding honor to the extreme. The kungfu film speaks a universal language of that transcends all cultural differences and resonates within each of us. To some this might seem overly profound, but in truth, many of these movies are actually retellings of classic legends of Chinese myth. One only has to read China's epic Outlaws of the Marsh, Journey to the West, or Romance of the Three Kingdoms to find that these celluloid tales repeat ancient themes that are deeply rooted in Chinese culture. These parables of righteousness and revenge have endured for generations. Within these simple movies is recipe for the salvation of downtrodden: Suffer injustice until you cannot bear anymore, then wholeheartedly study the ancient wisdom of martial arts until you can take your revenge. Through honoring the traditions, the ancient masters and their teachings, justice can be restored. Despite their funky qualities, kungfu movies have a worldwide appeal. They the express the sentiments we have shared from suffering under the iron hand of oppression.
Hung Gar Champion Wong Fei Hung
The most prolific hero of kungfu movies wasn't Bruce Lee. It was a founding father of Hung Gar kungfu and a real folk hero named Wong Fei Hung. Wong Fei Hung was the subject of the more kungfu movies than any other character. In fact, he was the subject of more movies than any other character, period. Noted actor Kwan Tak Hing's Wong Fei Hung series (mostly under the direction of Wu Pang) holds the Guinness Book of World Records for the longest running movie series. And this honor does not even include Wong Fei Hung movies made by other actors than Kwan.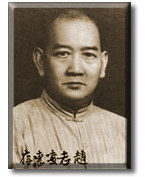 Surprisingly little is known about the real Wong Fei Hung. He was born in 1850 in Xiqiao village in Canton. Like Fong Sai Yuk, Wong was destined to be a great hero, born into a long line of noted martial masters. During his youth, Wong traveled and performed martial feats on the streets with his father, Wong Kay Ying. They sold medicine following their performances, as was the custom of many martial artists of the day. This helped to promote his father?s reputation as a martial master and healer. Eventually they earned enough capital and notoriety to establish Po Chi Lam (Bao Zhi Lin), the school and medical office of the senior Wong.
By age eighteen, Wong had already established himself as a master of the martial arts within the tough Cantonese martial community. Wong was employed as the martial arts combat instructor for general Lei Wing Fok's 5th Regiment of the Canton army for the Ching dynasty. Simultaneously, he worked as for a Cantonese community-based protection organization, the Canton Civilian Militia. This was a little more substantial than our modern-day neighborhood watch programs, since at that time, the Ching dynasty was too overextended and corrupt to provide adequate protection of its people. These militias were like local sheriffs in the wild American West, the sole bastion of justice in an untamed land. Wong produced many illustrious students, and several of them became revolutionaries who followed Sun Yat-Sen, the provincial president of the Republic of China. Consequently, Wong?s teachings spread far across China.
Wong is remembered for many reasons. He formalized one of Hung Gar's most significant sets, Tiger and Crane. He was also known for his swift "no shadow" kick technique and his Lion Dancing mastery, which earned him the title King of Lions. The no shadow kick was supposed to be so fast that it did not leave a shadow. It is an interesting technique for Wong, since Hung Gar emphasizes fists over feet. It is a testament to Wong's legend that he is remembered for a technique not normally associated with his style. According to one story, Wong once killed an attack dog with this kick. A foreigner ran an insulting advertisement in the local newspapers, challenging any Chinese to fight his dog. This type of challenge match was very common in days of old. It was a public spectacle and a forum for wagering. However, the Chinese people were enduring all manners of insults from foreign political powers at this time and the Chinese think very poorly of dogs, so this proposal was particularly offensive. The dog was specially trained to be ferocious and had already injured many fighters who accepted the challenge. This dog was more like a tiger. Wong stepped into the arena and the dog was released. He used his right arm to attract the dog, and when the animal lunged at his arm, Wong let loose his no shadow kick to the dog's belly. The hapless dog made one small whimper, fell and died.
However, Wong is also remembered as a gentleman as well as a warrior. He was known to mediate before hostilities went to blows. Once, Wong sent his senior disciple Leung Fung to represent him in a Lion Dance for a festival at Man Mo Miu (scholar warrior temple). This was a big festival held early every year, with Chinese opera, puppetry, Lion Dancing and martial arts. Instead of using Wong's banner, Leung Fung flew a banner that said Sai Jiu Mo Bun San Fong (West, chopping wood, mountain house), which was a nickname for the Canton Hung school. He also used a head that symbolized seniority, with white eyebrows and beard, green nose, a steel horn, and a gold coin pattern on the tail. This offended another Hung master, Wong Yen Lum, who was the same generation as Wong Fei Hung. He felt that the twenty-year-old Leung should not be using such a lion, or at least he should represent his master in a more overt manner. Despite this protest, Leung's performance was spectacular. As part of the contest, the Lion Dancers had to retrieve a Choy Chang (lucky money wrapped in lettuce) suspended four stories high. Even a human pyramid of three layers of people was not high enough for any Lion Dance Team to reach the prize. Leung shot down the Choy Chang by using a rope dart, which he threw out of his Lion?s mouth. He earned a first place banner that said "Mo Lai Chiu Kwan" (martial art excellence group) which he brought back to Canton to display at Bak Dai Miu (North God Temple). Still, Wong Yen Lum was not satisfied. He went to Wong Fei Hung, but instead of being confrontational, Wong offered his irate martial brother a drink. Then he made Leung apologize, despite the fact that he had won and could certainly defeat the offended party in a match. Wong not only did the honorable thing, he gave his student a lesson in giving face in the process.
During Britain's reign over Hong Kong, Wong traveled there to help defend a Hong Kong branch of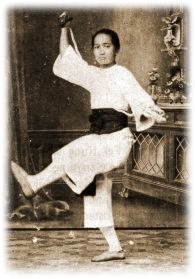 Po Chi Lam. Unfortunately, the challenge ended in a bloody confrontation where many people died. Unable to face the potential criminal ramifications under British rule, Wong retreated back to Canton. Following this episode, during the reign of the second to the last emperor Guangxu (1875-1908), Wong successfully passed his government examinations and earned the title of general. He was then stationed in Fujian province, which was governed by Tong Jing Chung. Tong was sympathetic to the revolutionaries. His people had expressed the desire to break from the Ching dynasty ruled China and establish their own independent republic. In response, the Ching government sent general Lei Hong Jong (1823-1901) and four divisions of 12,500 soldiers each to crush the new republic. Wong and Tong fled. Wong returned once again to Canton. In 1924, civilian militias were forced to disband by the government in a plan that backfired. Many ex-militiamen found solace by joining underground rebel societies. With the increasing tension of revolution, Canton was thrown into the midst of chaos. Tragically, Po Chi Lam would be a victim of the struggle. In one of many rebel skirmishes, Po Chi Lam was burned to the ground. The destruction of his father's school broke the aging Wong's heart. He died soon after in 1933. Unfortunately, all of Wong's savings were tied up in Po Chi Lam, so his widow was left without money for a funeral. Mok Gwei Ying (Mo Gui Lan) was a teenage bride who was given to Wong is his autumn years in return for saving her father's life. She rallied Wong's old students to contribute on behalf of their old master. Wong had a proper burial in Canton, on Gun Yuen mountain. His widow Mok immigrated to Hong Kong and opened a new branch of Po Chi Lam there.
Cinematic Role Model Kwan Tak Hing
Beginning in 1949, the Wong Fei Hung movie series molded the character of the martial hero in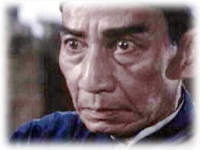 cinema. He was honorable and ethical, upheld Confucian morals and possessed dazzling martial arts skills but fought only as a last resort. Wong represented a true Renaissance man and Chinese warrior knight, called Wuxia in Mandarin. The Wong Fei Hung series provided some of the earliest film documentation of kungfu. Scattered throughout the series were many authentic kungfu forms, still untainted by the overblown theatrics of today's filmmaking. Many kungfu masters demonstrated their skills with fist techniques, weapon forms and lion dancing throughout the series, including actual students of the real Wong Fei Hung and even an appearance from his last wife Mok Gwei Ying. Not only Lion Dancing, but also other authentic folk dances, such as dragon dancing, unicorn dancing and centipede dancing were additional treasures, forever archived within episodes of the Wong Fei Hung series. Its soundtrack was a Cantonese melody called General's Mandate, which has been revitalized with the Once Upon a Time in China (OUATIC) series as a mainstay in martial arts scores. In a strange side note, it was Jackie Chan who sang this theme song for an installment of OUATIC. Indeed, this song had become an anthem for many kungfu practitioners today. Unfortunately, the original black and white Wong Fei Hung series is very hard to find in the West. These movies have faded in impact behind the long shadows cast from the ballistic Hong Kong movies that ensued.
Actor and martial arts master Kwan Tak Hing played Wong Fei Hung more than any other to date. Although he originally desired to make 108 Wong Fei Hung movies (an auspicious number for a devout Buddhist), Kwan Tak Hing fell short by a little more than a dozen. Today, that goal has been surpassed. Kwan's movie career spanned over three decades and included unique reprisals of his famed role after the series ended production, including his involvement with a thirteen episode Hong Kong television series in 1977. Born in Kwantung, and trained in classical Chinese opera, Kwan was actually a master of White Crane kungfu, and was highly skilled with a bullwhip. He was featured in many kungfu magazine articles and even authored a book on kungfu. Always the gentleman on stage and in real life, Kwan was also a healer and ran a clinic near Causeway Bridge in Hong Kong after he retired from moviemaking. He was still in excellent health well into his autumn years, a staunch supporter of authentic kungfu who retained his martial skills until his passing. He was truly the first martial arts movie star, paving the way for Bruce Lee, Jackie Chan, Jet Li and all the others who followed.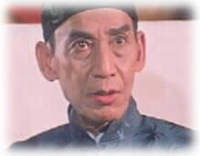 And indeed, there have been many following in his footsteps. For any kungfu aficionado, the chance to play Wong Fei Hung is like a fencer getting to play Zorro or a boxer getting to play Rocky. Wong's cinematic legacy represents what all martial artists aspire to be, a righteous champion, so it has been a prized role for every martial arts actor (and even a few actresses!)
Bruce Lee may have been the only one of the great martial arts stars who never took a crack at the role of Wong Fei Hung. However, it is worthy of note that he fought Wong's cinematic archenemy, Shek Kin, in his masterpiece, Enter the Dragon. Was it a childhood fantasy to fight the man who played the villain of the movies that certainly must have influenced Lee? And would Lee have donned the Wong Fei Hung role had he lived longer? One can only marvel the possibilities that would have awaited Lee if his extraordinary life had not been cut so tragically short.
Once Upon A Time In China
The Shaw Brothers studios would spin the Hung Gar myths with their own mighty stable of actors in the early eighties. Tales of the Hung rebellion were grist for the mill of the massive Shaw studio during its golden age. All of the heroes of Hung Gar's illustrious lineage were well represented in many celluloid retellings. Allegedly, many of these classic old-school kungfu movies lie deep within the Shaw Brothers vaults, awaiting an appropriate time to be re-released.
Beyond Shaw, Jackie Chan would take Wong Fei Hung into uncharted territory with his comedic style of movie making in his farcical Drunken Master, with renowned martial arts director Lau Kar Leung. The two rejoined over a decade and a half later to make a sequel. The original Drunken Master was one of Jackie's finest. The sequel, with an older Jackie still portraying a teenage Wong, was equally impressive. It marking a return for Jackie to extended fight scenes over his signature death-defying stunts. However, there was an artistic split between Chan and Lau during production, which gave the final film some rather uneven moments. Lau went on to make his own version, Drunken Master 3 without Jackie.
Sammo Hung's ample girth always kept him from playing Wong Fei Hung. However, a year following the Drunken Master, Hung portrayed one of Wong?s most notable disciples, Lam Sai Wing. Porcine actor Kent Cheng later filled this role in the OUATIC films. Hung's addition to the Wong Fei Hung legacy in Butcher Lam (a.k.a. Magnificent Butcher) was significant, not only for Hung's remarkable performance, but also for the cameo by Kwan Tak Hing, once again as Wong.
Then Jet Li, with the cinematic genius director Tsui Hark, brought Wong Fei Hung to a whole new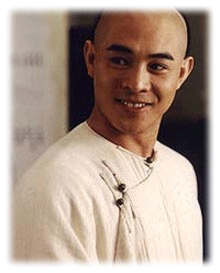 generation with their Once Upon a Time in China series. OUATIC was the American release title; the actual Chinese title was Wong Fei Hung. A new "signature" fighting stance arose from Jet Li in this role, the first stylistic movement that would be resoundingly imitated throughout action films since Bruce Lee?s classic gestures. These OUATIC films redefined Wong and set a new standard for how Hong Kong movies should look. As fate would have it, Jet Li and Tsui Hark would split by the third installment of the series, just like Chan and Lau, making this an uneven, rather surreal film. Zhao Wen Zhou would step into the role under a new director Yun Buen. Li went on to make his own version just like Lau in his own independent and disappointing movie venture, Last Hero in China. Later Li returned to the OUATIC series for part 6 under the direction of Sammo Hung and boasting the original cast, but the result was also a disappointing effort where Li spent most of the film practicing his English. The OUATIC series continued with a television serial, deceptively marketed as a continuation of the movie series in HK video stores. A new actor played Wong and several of the supporting cast members returned throughout the series. Even Tsui Hark directed a few episodes. But this was television, not the big screen. OUATIC never returned to the majesty of the initial Wong Fei Hung portrayals that teamed Tsui Hark and Jet Li. However, the impact of OUATIC remains significant. Li's Wong Fei Hung "beggar's hand" fighting stance has become the stereotypical kungfu pose, probably the most imitated after Bruce Lee's stances, despite the fact it was criticized by Kwan Tak Hing and has nothing to do with Hung Gar.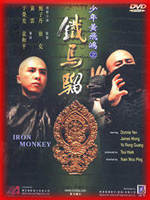 Following the wake of Crouching Tiger, Hidden Dragon, Yuen Woo Ping's Iron Monkey was released in America eight years after its Hong Kong premiere. This was a unique take on Wong Fei Hung, focusing on his childhood. Portraying Wong was a young actress named Angie Tsang Sze Man. Director Yuen cast Tsang because he wanted something "a little different." Tsang came from a strong wushu background. She is a member of the Hong Kong Wushu Team and a strong international competitor. In the 1999 World Wushu Games in Hong Kong, she placed second in southern staff and third in southern broadsword. She also placed third in southern broadsword at the 2001 East Asian Games in Osaka, Japan. And most recently at the 2001 World Wushu Games in Armenia, she placed second in southern sword, third in southern fist and third in southern staff. Although she hasn't made any more films since her debut Iron Monkey, we hope for more from this unlikely inheritor of the Wong Fei Hung mantle.
Few Westerners understand the magnitude of the original Kwan Tak Hing Wong Fei Hung series since it never played outside of Asia. Nor is it likely to play. It lacks the high-energy ballistic impact and flamboyant kungfu that Western audiences have come to expect from Hong Kong cinema. It is the progenitor of a genre that has just beginning to receive enough respect for an audience to be interested in its roots. However, Hong Kong held a tribute to the series during one of its film festivals, acknowledging the tremendous influence it had on Hong Kong cinema, and now, the world. Today, Wong Fei Hung's modern incarnations are still available on video and DVD, and even enjoy the occasional revival on art house movie theaters. Once Upon a Time in China 1 and 2 recently enjoyed a limited release on select silver screens with a restored print. Any viewer with a careful eye can see the parallels between the past and the present with a short examination of the Wong Fei Hung filmography.
109 Wong Fei Hung Films
Story of Wong Fei Hung part 1 (1949) starring Kwan Tak Hing; Wu Pang director.
Story of Wong Fei Hung part 2 (1949) starring Kwan Tak Hing; Wu Pang director.
Story of Wong Fei Hung part 3: Battle by Liuhua bridge (1950) starring Kwan Tak Hing; Wu Pang director.
Story of Wong Fei Hung part 4: Death of Liang Huan (1950) starring Kwan Tak Hing; Luo Zhixiong director.
Story of Wong Fei Hung part 5 (1951) starring Kwan Tak Hing; Wu Pang director.
Wong Fei Hung's battle at Furong Valley (1952) starring Cho Dat Wah; Wu Pang director.
How Wong Fei Hung defeated three bullies with a single rod (1953) starring Kwan Tak Hing; Wu Pang director.
How Wong Fei Hung redeemed Haitong Monastery part 1 (1953) starring Pak Yu Tong, Wang Tianlin; Lingyun directors.
How Wong Fei Hung redeemed Haitong Monastery part 2 (1953) starring Pak Yu Tong, Wang Tianlin; Lingyun directors.
Wong Fei Hung tries his shadowless kick (1954) starring Kwan Tak Hing; Wu Pang director.
The story of Wong Fei Hung and Lam Tsai Wing (1954) starring Kwan Tak Hing; Wu Pang director.
The true story of Wong Fei Hung (1955) starring Kwan Tak Hing; Ding Ling director.
The true story of Wong Fei Hung sequel (1955) starring Kwan Tak Hing; Ding Ling director.
Wong Fei Hung's rival for fireworks (1955) starring Kwan Tak Hing; Wu Pang director.
Wong Fei Hung's victory at the fourth gate (1955) starring Kwan Tak Hing; Wu Pang director.
How Wong Fei Hung's vanquished the bully on the long dike (1955) starring Kwan Tak Hing; Wu Pang director.
Wong Fei Hung at a boxing match (1956) starring Kwan Tak Hing; Wu Pang director.
Wong Fei Hung's fight in Futshan (1956) starring Kwan Tak Hing; Wu Pang director.
How Wong Fei Hung set fire to Dashatou (1956) starring Kwan Tak Hing; Wu Pang director.
Wong Fei Hung and the courtesan?s argument (1956) starring Kwan Tak Hing; Wu Pang director.
Wong Fei Hung's battle at Shuangmendi (1956) starring Kwan Tak Hing; Wu Pang director.
Wong Fei Hung and the lantern festival disturbance (1956) starring Kwan Tak Hing; Wu Pang director.
How Wong Fei Hung pitted seven lions against the dragon (1956) starring Kwan Tak Hing; Wu Pang director.
How Wong Fei Hung fought five dragons single-handed (1956) starring Kwan Tak Hing; Wu Pang director.
How Wong Fei Hung tricked the girl bodyguard three times (1956) starring Kwan Tak Hing; Wu Pang director.
How Wong Fei Hung saved the dragon's mother's temple (1956) starring Kwan Tak Hing; Wu Pang director.
Wong Fei Hung's seven battles with the fiery unicorn (1956) starring Kwan Tak Hing; Chen Guohua director.
How Wong Fei Hung vanquished the twelve tigers (1956) starring Kwan Tak Hing; Wu Pang director.
How Wong Fei Hung conquered the two tigers (1956) starring Kwan Tak Hing; Wu Pang director.
How Wong Fei Hung pitted a lion against a unicorn (1956) starring Kwan Tak Hing; Wu Pang director.
Wong Fei Hung's story: Iron Rooster against Centipede (1956) starring Kwan Tak Hing; Wu Pang director.
Wong Fei Hung wins the dragon boat race (1956) starring Kwan Tak Hing; Wu Pang director.
How Wong Fei Hung captured Su Shulian in the water three times (1956) starring Kwan Tak Hing; Wu Pang director.
How Wong Fei Hung vanquished the terrible hound at Shamian (1956) starring Kwan Tak Hing; Wang Tianlin director.
Wong Fei Hung's victory at Xiaobeijing (1956) starring Kwan Tak Hing; Wu Pang director.
How Wong Fei Hung vanquished the bully on the red boat (1956) starring Kwan Tak Hing; Wu Pang director.
Wong Fei Hung rescues the fishmonger (1956) starring Kwan Tak Hing; Wu Pang director.
Wong Fei Hung's battle at goddess of mercy mountain (1956) starring Kwan Tak Hing, Wu Pang; Ling Yun director.
Wong Fei Hung attends the joss-stick festival at heavenly goddess temple (1956) starring Kwan Tak Hing; Wu Pang director.
Wong Fei Hung goes to a birthday party in Guanshan (1956) starring Kwan Tak Hing; Wu Pang director.
How Wong Fei Hung saved the lovelorn monk from the ancient monastery (1956) starring Kwan Tak Hing; Wu Pang director.
Wong Fei Hung's fight at Henan (1957) starring Kwan Tak Hing; Wu Pang director.
Wong Fei Hung's three battles with the unruly girl (1957) starring Kwan Tak Hing; Wu Pang director.
How Wong Fei Hung spied on black dragon hill at night (1957) starring Kwan Tak Hing; Wu Pang director.
Wong Fei Hung's battle with the Lion King (1957) starring Kwan Tak Hing; Wu Pang director.
Wong Fei Hung and the battle of saddle hill (1957) starring Kwan Tak Hing; Wu Pang director.
How Wong Fei Hung smashed the dagger gang (1957) starring Kwan Tak Hing; Wu Pang director.
How Wong Fei Hung fought a bloody battle in a spinster's home (1957) starring Kwan Tak Hing; Wu Pang director.
Wong Fei Hung's rival for a pearl (1957) starring Kwan Tak Hing; Wu Pang director.
Wong Fei Hung's story: fire devils against two dragons (1958) starring Kwan Tak Hing; Wu Pang director.
Wong Fei Hung's fierce battle (1958) starring Kwan Tak Hing; Wu Pang director.
How Wong Fei Hung erases the golden bell trap (1958) starring Kwan Tak Hing; Wu Pang director.
Wong Fei Hung seizes the bride at Xiguan (1958) starring Kwan Tak Hing; Wu Pang director.
How Wong Fei Hung stormed Phoenix Hill (1958) starring Kwan Tak Hing; Wu Pang director.
Wong Fei Hung's battle with the bullies in the boxing ring (1958) starring Kwan Tak Hing; Wu Pang director.
Wong Fei Hung's victory at Ma village (1958) starring Kwan Tak Hing; Wu Pang director.
Wong Fei Hung gets rid of three rascals (1958) starring Kwan Tak Hing; Ren Pengnian director.
How Wong Fei Hung used an iron fowl against an eagle (1958) starring Kwan Tak Hing; Wu Pang director.
Wong Fei Hung saves the kidnapped Liang Kuan (1958) starring Kwan Tak Hing; Wu Pang director.
Wong Fei Hung on Rainbow Bridge (1959) starring Kwan Tak Hing; Wu Pang director.
Wong Fei Hung trapped in the Hell (1959) starring Kwan Tak Hing; Wu Pang director.
How Wong Fei Hung defeated the tiger on the opera stage (1959) starring Kwan Tak Hing; Wu Pang director.
Wong Fei Hung's combat in the boxing ring (1960) starring Kwan Tak Hing; Wu Pang director.
Wong Fei Hung's battle with the gorilla (1960) starring Kwan Tak Hing; Wu Pang director.
How Wong Fei Hung smashed the five tigers (1961) starring Kwan Tak Hing; Wu Pang director.
Wong Fei Hung meeting the heroes with the tiger paw (1967) starring Kwan Tak Hing; Wu Pang director.
Wong Fei Hung: The incredible success in Canton (1968) starring Kwan Tak Hing; Wang Feng director.
Wong Fei Hung: The invincible Lion Dancer (1968) starring Kwan Tak Hing; Wang Feng director.
Wong Fei Hung: The eight bandits (1968) starring Kwan Tak Hing; Wang Feng director.
Wong Fei Hung: The duel against the black rascal (1968) starring Kwan Tak Hing; Wang Feng director.
Wong Fei Hung: Duel for Champoinship (1968) starring Kwan Tak Hing; Wang Feng director.
Wong Fei Hung: The duel for the Shayuqing (1968) starring Kwan Tak Hing; Wang Feng director.
Wong Fei Hung: The conqueror of the Samhong Gang (1969) starring Kwan Tak Hing; Wang Feng director.
Wong Fei Hung's combat with the five wolves (1969) starring Kwan Tak Hing; Wang Feng director.
Wong Fei Hung in Sulfur Valley (1969) starring Kwan Tak Hing; Wang Feng director.
Wong Fei Hung: Bravely crushing the fire formation (1970) starring Kwan Tak Hing; Law Chi director.
The Master of Kung Fu (1973) starring Guk Fung, Ho Mung Wah (Shaw Bro.) director.
The Skyhawk (1974) starring Kwan Tak Hing; Cheng Cheung Woh director.
Rivals of Kung Fu (1974) starring Sze Jung Tin; Wang Feng director.
Challenge of the Masters (1976) starring Chan Kwun Tai; Lau Kar Leung director.
Drunken Master (1978) starring Jackie Chan; Yuen Woo Ping director.
The Magnificent Butcher (1979) starring Sammo Hung as Lam Tsai Wing (Kwan Tak Hing as Wong Fei Hung); Yuen Woo Ping, Wong Jing directors.
Ten Tigers of Kwantung (1979) starring Alexander Fu Sheng, Ti Lung; Chang Cheh director
The Magnificent Kick (1980) starring Kwan Tak Hing; Daniel Lau director.
Dreadnought (1981) starring Kwan Tak Hing; Yuen Woo Ping director.
Martial Club (1981) starring Lau Kar Fai; Lau Kar Leung director
Millionaire's Express (1986) starring Sammo Hung, Yuen Biao; Sammo Hung director.
Once Upon a Time in China (1991) starring Jet Li; Tsui Hark director.
Once Upon a Time in China II (1992) starring Jet Li; Tsui Hark director.
The Master (a.k.a. Wong Fei Hung 1992) (1992) starring Jet Li; Tsui Hark director.
Once Upon a Time a Hero in China (1992) starring Alan Tam, Eric Tseng; Lee Lik Chi director.
Martial Arts Master Wong Fei Hung (a.k.a. Juvenile Wong Fei Hung) (1992) starring Chin Ka Lok, Lam Ching Ying; Lee Chiu director.
Once Upon a Time in China III (1993) starring Jet Li; Tsui Hark director.
Once Upon a Time a Hero in China part 2 (a.k.a. Master Wong vs. Master Wong) (1993) starring Alan Tam; Lee Lik Chi director.
Last Hero in China (1993) starring Jet Li; Wong Jing director.
Fist from Shaolin (1993) starring Wong Kwan; Lau Kwok Wai director.
Once Upon a Time in China IV (1993) starring Zhao Wen Zhou; Yuen Bun director.
Iron Monkey (1993) starring Donnie Yen, Yu Rong Guang; Yuen Woo Ping director.
Kickboxer (1993) starring Yuen Biao; Wu Ma director.
Drunken Master II (1994) starring Jackie Chan; Lau Kar Leung director.
Drunken Master III (1994) starring Willie Chi; Lau Kar Leung director.
Once Upon a Time in China V (1991) starring Zhao Wen Zhou; Tsui Hark director.
Once Upon a Time in China and America (1997) starring Jet Li; Sammo Hung director.
Wong Fei Hung Series: Eight Assassins (TV series) starring Chiu Man Chuk, Max Mok; Lee Yan Kong director
Wong Fei Hung Series: Suspicious Temple (TV series) starring Chiu Man Chuk, Kent Cheng; Choi Ching Sing director
Wong Fei Hung Series: Eight Assassins (TV series) starring Chiu Man Chuk, Max Mok; Lee Yan Kong director
Wong Fei Hung Series:Final Victory (TV series) starring Chiu Man Chuk, Cheng Pui Pui; Tsui Hark director
Wong Fei Hung Series: Ideal Century (TV series) starring Chiu Man Chuk, Maggie Siu; Tsui Hark director
Wong Fei Hung Series: Headless General (TV series) starring Chiu Man Chuk, Maggie Siu; Michael Mak director