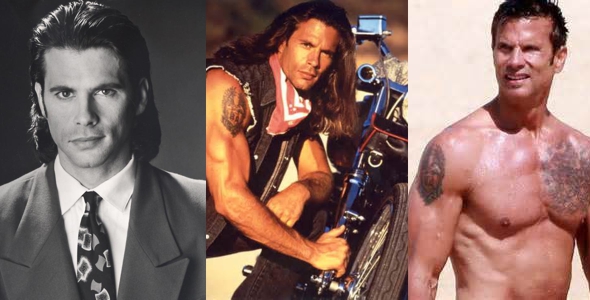 If you were lucky enough to be born into a talented celebrity family like Lorenzo Lamas, one would think that you'd have a direct line to the studios. Simply walk into any casting office, give them your "name," and boom you get the part!
Does nepotism exist in the entertainment industry? Yes, of course it does, just as it exists in all businesses and trades. For instance, "Jones and Sons Plumbing," or "Mom and Daughter Real Estate," or "Busters, family owned and operated."
But most people live their lives in a much smaller circle than children whose parents or family are celebrities in the entertainment industry.
The upside; your name just might get you in the door.
The downside; expectations are very, very high! You are "expected" to perform at a "star" level at all times.
If Hall of Famer Michael Jordan's son played in the NBA, people would expect him to play as good, if not better, than his dad.
If New England Patriots quarterback Tom Brady's boy wants to play quarterback in high school or college, do you think he'll get a fair critique from his father's fans?
What if the WBA's Cheryl Miller's daughter grows to be 6' 2" and can't make a basket to save her life? What then?
I'm sure these kids have gotten guidance from their parents, just like the second, third and fourth generations of actors, stunt people, set crews, directors and producers have gotten from their parents over the years.
Do you try and help your kids? Of course you do. But will they eventually have to make up their own mind on how they are going to run their life as well as their career? Of course they will.
I'm guessing that in the entertainment business, if your last name is Hanks, Spielberg or Streep, you'll get noticed. But it doesn't necessarily mean you'll get the gig.
I'm going to introduce you to a man who is an actor, a martial artist, a motorcycle enthusiast and an all around good guy. You probably already know him. He's a product of Hollywood Royalty; he's an active dad of six, a very funny guy, and a movie star with all the classic movie star looks. He's Lorenzo Lamas…the one and only, Lorenzo y de Santos Lamas.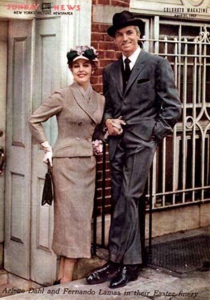 Lorenzo is the son of Fernando Lamas and Arlene Dahl; true Hollywood movie stars from a time when being a movie star in Hollywood really meant something.
Lorenzo's mother, the beautiful and talented Dahl, was rightfully touted as one of the most beautiful women to cross the silver screen after WWII. She starred in several films and then moved on to open her own line of hair and make-up products and she was very successful.
His father, the late Fernando Lamas, was a middleweight boxer, a champion swimmer and a movie star in his home of Argentina before he was wooed by studio moguls to move to the United States. In the states he instantly become a matinee idol, with his dashing good looks, athletic physic and sexy accent. Fernando was extremely successful as an actor and moved successfully into directing a multitude of TV shows later in his career.
Some might remember the elder Lamas' famous quotes from one of his 27 appearances on the old Tonight Show with Johnny Carson. Quotes that were lampooned by Billy Crystal in his comedy bit of "Fernando's Hideaway" on "Saturday Night Live."
The first quote; "It's better to look good than to feel good." A quip he threw out to Carson one night when he obviously had a cold, and in truth, he pulled it off, never-ever looking anything but fantastic.
There was also, "You look marvelous." A quote that Crystal attributed to Fernando, only Crystal would pronounce it "mahvalus." Which was pretty right-on, considering Lamas' accent.
Lorenzo grew up in Pacific Palisades in southern California. This hillside community boasts beautiful homes and is a mere rock's throw from the Pacific Ocean, just down the hill.
Lorenzo had a fairly normal upbringing, well, as normal as possible when your father is an international movie star first married to Lorenzo's mother, Dahl, and then to the lovely and talented Esther Williams, the biggest of stars during MGM's heydays of sprawling musical productions.
His family moved to New York in 1968 where Lorenzo attended Admiral Farragut Academy and graduated high school in 1975.
This is what Lorenzo says in his biography on IMDb.com about going to military school:
"When I was there, I hated it. It's funny though, because the only things that are going to set you apart are your mind, spirit and achievements in each of our environments."
Meaning that he learned a lot, was aware of his surroundings and absorbed the disciplined life around him. Not a bad thing to do for a teen, and not a bad way to get your head straight and very helpful if you are going to study in the disciplined world of martial arts.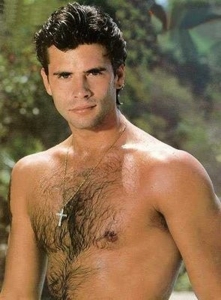 I was lucky enough to meet Lorenzo in the early 1990s when he was staring as Lance Cumson in nine seasons of the hit TV series, "Falcon Crest." Lorenzo and the fabulous Jane Wyman were the only two actors on the series who appeared in all 228 episodes of the show.
The first time I met Lorenzo, I played a chauffeur/bodyguard for co-star, Robert Foxworth, on an episode of the show. I was to come to Foxworth's rescue when an angry Lamas confronted him. I, of course, was to step in as protection and do away with Lamas. When the fight in the parking garage ensues, Lorenzo makes two very pretty moves and I'm out on the deck. It wasn't really a fight however, because a fight takes two guys actually throwing punches. I would have lost either way. Lorenzo just threw a couple of beautiful back-kicks and laid me out.
And what was Foxworth's line after I had lost the fight? "I've obviously been paying him too much."
It wasn't the last time that I got to work with Lorenzo, or feel the wrath of his long-legged kicks.
I did a couple of episodes of Falcon Crest over the years and we worked several times together on action movies that Lamas starred in including, "CIA Code Name: Alexa" and "Bounty Tracker," where Lamas cleaned up on everybody.
A short time later I was able to work on several episodes of his next hit series, "Renegade." Lamas starred as Reno Raines, a man falsely accused of murder that takes to his motorcycle and searches far and wide for the real murderer. During his quest, he acts as a top-notch bounty hunter with partner, Bobby Sixkiller, played by one-time stuntman Branscomb Richmond.
Of course there were many fights in these episodes and Lorenzo was able to show off his sculpted body, his dark flowing locks, and his excellent martial arts skills, which include picture-perfect fighting skills.
Here's an interesting and perhaps surprising fact about the man who searched for and found his own road to travel. Lorenzo didn't start any kind of acting training until he was eighteen-years old and out of high school.
When Lorenzo got the bug to act, he took his father's advice and sought out a workshop that offered professional training for actors. He went to Tony Barr's Film Actors Workshop in downtown Burbank, California where he worked on expanding his talents and abilities as an actor.
Lorenzo's first acting teacher at the Workshop was Laura Rose and it was long after he started classes that he struck acting gold when, in 1977, he landed a role on the TV series, "Switch" starring Robert Wagner. It was a small "walk-on" role, a few lines, a couple of takes and you're wrapped. But, he got to do his first acting gig and with a huge star. Priceless.
Between Lamas' acting school and his mentor-maternal-family-friend, Jayne Wyman, Lorenzo's talents grew, as well as his confidence. He states in his IMDb biography, "Jane Wyman was really very maternal to me. I was a young actor, learning, struggling with pages of dialogue, trying to make an impact. She told me one day, she said, 'You're really making too much out of it. It's just words on a page. Just know the words and say them.' She made a lot of impact in me."
Sounds simple and practical, but it's just the thing that young actors can easily forget when they are under pressure. Jane's words proved to be very wise and the talented actress eventually became Lorenzo's co-star on the series "Falcon Crest."
Lamas was brought up around people who were physical in their lives as well as their work, and he had the same talents and drive as a young 20-year old. His father was a boxing and swimming champ; his stepmother, Esther Williams was a National Swimming champ and Olympic hopeful. (The 1940 and 44 Olympics were canceled due to WWII and Esther known as "America's Mermaid," never got a shot at a medal.) The boy had to do something physical, so in 1979 he turned to martial arts. First he studied Tae Kwon Do in Los Angeles with Jun Chong and then moved to Jujitsu in 1980, receiving his black belt nine years later.
The difference between Lorenzo and so many other martial artists who have made the move to film and television is this; the majority of them, including Jackie Chan, Samo Hung, Chuck Norris and even Bruce Lee, were all masters in the arts before learning to act. Lamas was an actor who brought his martial arts talent with him, almost as a hidden weapon that he would spring on his audience. When you attend a Chuck Norris or Jackie Chan movie, you know you will get some serious Chop-Saki, but this was and is often unexpected with Lorenzo Lamas.
With most martial arts films, we all knew that even if the acting and the stories were not top-notch, the fights scenes would be real nut-busters. Lamas worked himself to that level of action actors.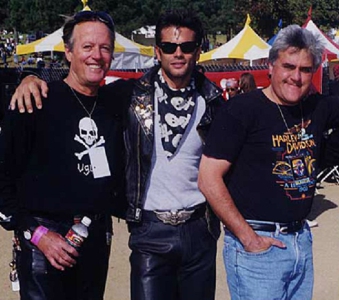 Lorenzo was an actor first. He had the ability to look deep into the story line to develop his character. It was only when the time called for it that he brought in his ability to kickass. Lamas walked into work with an abundance of "set-sense" and the confidence of good looks and the ability to act. His martial arts only elevate his screen persona and made him just 'that much more' valuable to the industry.
Lorenzo confesses that he's not sure what kind of an impact he's had on the new generation of martial artists, but he says that his sensei's helped pave the way for him, and for many others, who now have careers in movies and television.
Lamas is quick to thank and praise his lifelong instructors, Sensei Jun Chong, Sensei Al Thomas, and especially Sensei Emil Farkas, who Lorenzo continues to study karate with to this day.
Even if fans aren't knocking on Lorenzo's door to tell him what a great influence he's had on them, he's made a huge impact in the martial arts/entertainment industry. Lamas' history of long-running TV series as well as his action-themed movies has impressed the millions who watched him in awe. Directly or indirectly, Lamas has shown his talents to the world, and the world approved.
In my book, that's automatic influence.
Lorenzo, now in his mid-fifties, (he still looks 39), still performs the majority of his fights and martial arts action on screen. Only occasionally does he ask to use his long-time friend and stunt double Steve Blalock. Sometimes he is forced to use a stunt double by producers who say "no" to letting Lorenzo do something a little too dangerous. Lorenzo always stays busy working in front of the camera as an actor as well as guesting on reality shows and judging beauty contests…nice work if you can get it.
Lamas, in the opinion of many, would have made a great stuntman if he had chosen to go that direction. This, he says, is what makes his Honorary Membership induction into the Stuntmen's Association of Motion Pictures one of the proudest accolades he has received in his illustrious career.
When asked to share one of his fondest memories in the business, Lorenzo doesn't hesitate to recall the memory is of his father directing him in the movie "Rage," where Lorenzo performed a fight scene with actor Roy Scheider. THAT, he says, was one of his happiest days on a set. And how could it not have been?
Lorenzo has always carried an air of easy confidence. He is the consummate professional, surrounded by Latin charm, with just the right amount of the mischievous. In other words, he is always ready, approachable and very easy and fun to work with.
Lorenzo Lamas is no "one note" player. He stays in contact with some of the arts' renowned martial artists and he trains in the arts weekly. Lamas is also an avid motorcyclist who attends charity events on a regular basis, many in support of US Veterans. His next event is The Love Ride on October 20th, an event that provides support for the USO.
Lamas doesn't let much grass grow under his feet. During his down time he got a couple of unusual licenses. He became a fixed-wing pilot and has better than 2,000 hours in the cockpit. He is also type-rated in a Cessna Citation Jet. What, you aren't going far enough to need an airplane or a jet? Then Lorenzo can also whirl you around the town in a helicopter. That's right, he's also got a Commercial Helicopter license!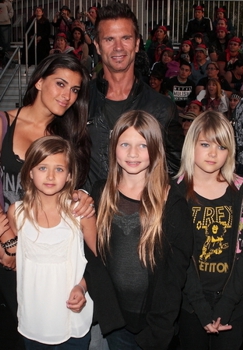 Lorenzo is the father of six children from a few different relationships. He is a doting dad who adores his beautiful kids and gushes about them whenever he can. Lamas has a very strong family bond, maybe it's the Latin in him. It's what also makes him loyal to the people he's befriended along life's way.
I've mentioned more than once that Lorenzo is a good-looking guy. It's true, and we all know it. In tinsel town, though, being a "hunk" can be as hurtful as it is helpful to one's career.
After being cast as a "hunk" for years, Lamas had a hard time finding roles different from his usual ones. The best and worst thing about Hollywood is that once you've been 'branded' a certain type, no matter if it's a hunk, a bombshell babe, a comedian or even a stuntman, it takes an act of congress to get people to look at you differently, to look deeper and to allow you the opportunity to expand your talents into different roles.
Lorenzo has done very well with his time off. He loves to spend time with his family, goes on charity rides, earns pilot's licenses and flies himself to the airport in a helicopter. This guy is no slouch!
I look forward to working with Lorenzo again in the future. He makes work fun and satisfying. He is a wonderful action star, a hard working pro, and the kind of actor and friend you enjoying being around.
On MartialArtsEntertainment.com we like to highlight the people who have melded their martial arts talents with their on-screen talents and have made a mark on the entertainment industry. Lorenzo Lamas is one of those special individuals. At military school he learned how to listen and to follow instructions, a tool that he put to use when he decided to take on the challenges of martial arts and acting.
With his natural athletic ability, Lamas easily assimilated into the martial arts, learning different disciplines and earning his black belt. What's even more impressive is that he holds onto the values the arts help instill in him. There's a certain humility in great martial artists, a calm confidence that allows them to move forward, learning from their past, but always moving into their future.
Lamas is a little like a Great White, never resting very long in one spot, always churning, expanding his horizons, moving forward and learning. I sent Lorenzo an email request asking for a few photos of some of his best memories on set. He writes back that he never thought about getting pictures, or keeping what he had. He said that he didn't know that they would matter or mean anything, so he never kept them around.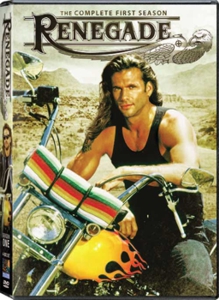 Huh? But you're Lorenzo Lamas!
I've been to dozens of homes of people in show business and the majority of them, ah, us, have pictures plastered all around our offices, living rooms, hallways and even in our water-closets. So, I expected Lamas to grab a couple of shots off his wall and shoot them over to me.
This speaks to the man he is. He doesn't dwell on what has been, except to learn from it. He focuses on what will be, and goes after it. So, I've done the best I can and with some shots I believe identify Lorenzo hoping that you'll get a sense of the actor, martial artist and man.
You can find Lorenzo Lamas in all five-plus seasons on the DVD collection of "Renegade" where he graces the screen and seriously kicks butt. You can also find his movies on Amazon.com. And keep an eye out for his upcoming film "American Beach House" co-staring Mischa Barton.
Simply put, Lamas is a really cool cat. You'll see him at motorcycle rallies, parades, beauty contests and hanging out with his kids. Say hello if you get a chance, the worst that'll happen is he'll flash you that movie star smile and shake your hand. Follow Lorenzo on Twitter @lorenzolamas.
Lorenzo Lamas Autobiography: Renegade at Heart