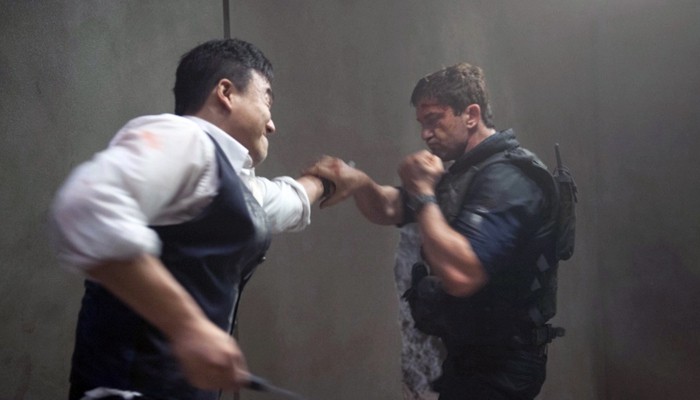 Steve Kim Loves the Arts, Both Martial and Fine
"The harder you train the luckier you can be." Steve Kim
Such are the wisdom filled words of martial artist, husband, father, stuntman, friend and artist, Steve Kim. Now that's a handful of difficult talents to juggle, let alone master.
Steve admits that he was a 'shy-child' growing up in Seoul, South Korea. When he became a teen his family moved across the ocean to Boston, Massachusetts, something that only compounded Steve's shyness. He would now have to learn a new language and attempt to fit in, as if being a 13 year-old boy wasn't hard enough.
In his attempt to fit in, Steve found himself pulled toward training in the martial arts, and what better place to find yourself than a neighborhood dojo. A martial arts school is a place where people learn to be focused and grounded. Here, Steve would find his focus, along with structure, leadership, confidence and friends, and this combination helped release all the talents evolving within this man-child.
A lover of action movies as a youth, Steve's journey into the martial arts began at 15 years old when he began training in wrestling. He then branched out, learning Karate, Tae Kwon do, Muay Thai, Boxing, Judo, Ju Jitsu, Sambo, Combat Grappling and Submission Fighting.
I know what you might be thinking; "Anybody can say they know martial arts." I've been around Hollywood since the mid 70s, and I know there are those that claim to have these talents just because they took a class or two at a dojo called, "Kato's Kenpo Karate and Sushi Bar."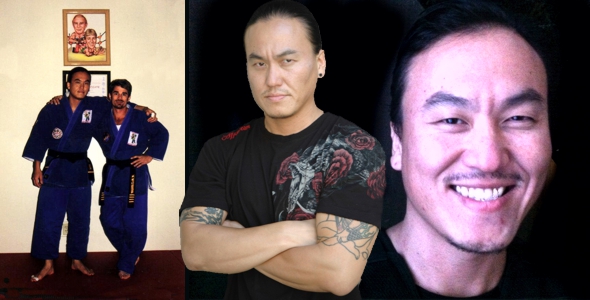 I'm here to tell you that Steve Kim is the real-deal. How do I know? Here are a few of the reasons:
I've worked with Steve on set as well as seen him train at the dojo. He kicks ass in both places.
He has trained at the very well known Hayastan MMA Academy in North Hollywood, CA., since 1995. This school was founded in 1991 by Martial Arts Legend and Black Belt Hall of Fame Instructor Gokor Chivichyan and his mentor and partner, "Judo" Gene LeBell.
Even if you are on the vast edges of the martial arts universe, you know Gene LeBell, "The Godfather of Grappling," "The Toughest Man Alive" and who, I believe, is the inventor the original "Vulcan Death Grip If you know Judo Gene, you know he would choke out anyone who uses his name untruthfully.
Then there is Gokor, a man in the world of Judo and MMA who needs no last name when introduced. He also wouldn't allow someone to make claims like Steve does without a quick and sometimes painful solution, unless they were true.
I've seen Gokor stretch unfortunates to the point of the frantic tap-out which and I've seen Gene work his Death Grip on people, some who even asked to experience his special "touch." It isn't pretty when you see grown men flopping on the floor like fish out of water.
Gene and Gokor would also never allow someone who isn't qualified to teach classes at their dojo. This is one of the honors they have bestowed upon Steve Kim. And Steve does not take this honor lightly, as he continues the work that has helped to establish the Hayastan Dojo as one of the first true MMA clubs in the United States and a club that continuously turns out MMA champions.
The martial arts, and many of the people in the arts, have helped pave the road Steve Kim walks today.
Of Judo Gene LeBell, Steve says,
"The person that influenced me the most is "Judo" Gene LeBell. He is my Sensei and mentor, also a father figure that I never had growing up. He has accomplished so many things throughout his life from leading by example. He was a Judo Champion and Pro-wrestling champion as well as one of the pioneer grappling teachers in this country. He taught the best, like Bruce Lee, Chuck Norris, Benny "The Jet" Urquidez and many more. This man will never stop working and learning because he enjoys the work and helping others. I feel very fortunate and grateful that my best friend Mitch McClanahan, my first martial arts teacher, brought me to meet and train with Gene LeBell. That changed my life forever."
Working as a stuntman in the movies and TV was never really a goal of Steve Kim. He had majored in a fine-arts program in Boston at the New England School of Art & Design and Steve admits that his first love is his "art" and he has been drawing everything that came to mind since he was a small child.
Steve's art, like his 'martial arts' knows no limits. He has been continuously commissioned to create logos, conceptual illustrations and portraits, storyboards, custom airbrushing, tattooing, painting and he often works in mixed media. Yes, he's that good.
I've personally had the pleasure of having Steve create characters and artwork for many of my own projects. Gene has had Steve design the artwork for several of his books as well as his annual 'Gene LeBell Christmas Patches,' which have become collectables.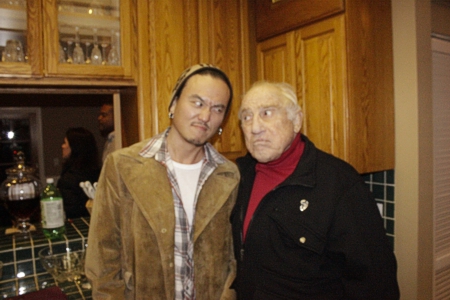 Steve's art has been shown at several galleries and art shows and he hopes to be able to have his own show in the very near future. Knowing Steve Kim, I foresee this happening very, very soon.
While training and teaching at Hayastan's, Steve found himself working with stuntmen and stuntwomen who came to learn fight techniques for film. Steve would help them with their moves and choreography, learning about the film business in bits and pieces.
At first Steve says, "I was not interested in the movie business at the beginning because at that time my only focus was training hard and becoming the best martial artist I could be."
Then the light went on.
"I saw stunt guys creating and rehearsing fights at the dojo. I am a huge fight fan so naturally I was interested in how they made a living."
Steve's first job in the film business actually came looking for him. A friend from the dojo had told him about an audition for a commercial and that casting was searching the town for "mean looking Asian guys."
Steve booked the spot, the commercial was aired internationally, he started getting residual checks, and in his words, "I got hooked."
Because of his superb martial arts training and his mentoring about the stunt industry from Judo Gene, as well as meeting many stunt people he trained at the dojo, Steve couldn't help but be influenced, and he found himself taking the stunt world by storm. He learned how to 'hustle' or travel around town, sometimes from one end to the other, in hopes of catching up with a stunt coordinator to do a little 'meet n greet' or a "Hey, I was in the area so I thought I'd say hello." When you can connect with the coordinators, the day is worth the bad traffic, thick smog and high parking fees; when you don't, the days can be really long, extremely frustrating and very expensive.
Steve kept his eye-on-the-prize, moving stealthily forward as a stuntman who had some very specials tools in his bag as well as his continued love of "the fight" on film. He credits pioneers Chuck Norris, Bruce Lee and Jackie Chan for opening the doors for action actors like Jet Li, Jean Claude Van Dam and Donny Yen, which in turn opened the doors for talented stuntmen and stuntwomen.
Steve Kim has become one very talented stuntmen, bringing with him the knowledge of so many martial arts disciplines to go along with his long, strong body. He has become a well known and sought after performer.
You can see some of Steve's extraordinary moves on syndicated shows, NCIS, She Spies and Numbe3s and in updated show like Sons of Anarchy, Revenge, American Horror Story and CSI/Miami, as well as the films Cyber and The Gambler.
When asked how he has grown as a stuntman, Steve states, "I remember my first 5 years, I would be so anxious to show up and do my stunts. As the years went by I understood the industry better and also learned not to take unnecessary falls so I could preserve my body to work again the next day. That lesson comes with time, and with learning to 'work smart'. Working more let me observe more, which gave me a better understanding of what was happening on the set. As time went on, I became more and more efficient at my job."
How does Steve handle his stunt duties these days? "I bring my years of training in mixed martial arts and stunts, along with values of professionalism, teamwork and a sense of humor to the set. I give my best on the set every time I work. However, it's also about understanding what camera sees and what the director wants."
I'm sure you can see how committed Steve is to living life guided by the principles instilled in him by instructors at the highest levels of the martial arts. Steve has the confidence to "roll with the punches," as he puts it. I think that he is still surprised that he's making a living as a stuntman as well as an artist.
I asked Steve to tell me about something he was most proud of. He didn't tell me a stunt story about his amazing feats, or how he twisted some wise guy in to a human Twizzler at the dojo. He said that his proudest moment was when his son Journey Kim was born. Next to that was receiving a Black Belt from Gene and Gokor in 2007, under their system. These sensei' are a couple of old-world, hard-core, real-deal masters. Which makes the honor of this Black Belt even more special for Steve.
Something else Steve found at the dojo? Love. That's right, love, and not just the love of the arts, but also the love of a woman who he has made his bride. A mutual friend introduced Gene to stuntwoman Meggin Penkal and Gene invited her to train at his dojo. Steve says that Meggin trained there for almost a year before he was able to get the courage to ask her out.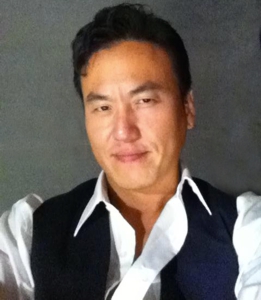 Seems to me that Steve's confidence, as well as his communication skills, have come a long way, because Meggin said yes to the date, and just recently, said yes to Steve's proposal. She is now known as Meggin Penkal-Kim. This is just more proof that martial arts training helps you unleash the best of yourself.
Steve Kim, as I mentioned, is a martial artist, husband, father, stuntman, friend and artist. Hopefully in this article, I've conveyed to you the story of a regular guy with extraordinary skills, who is developing those skills to their fullest.
Afraid that he might not come across well in an interview, Steve wrote these words to my question; "Anything you would like to add?"
"The harder you train, the luckier you get. Keep learning, Keep training hard, Keep an open mind and keep smiling! Be grateful for what you have instead of worrying about what you don't have. Be a humble person and be nice to everyone. That's what my sensei told me to do. Listen to your sensei!"
You just can't improve on that statement.
This was a fun article for me to write. Steve is one of us, a 'bag-carrying, ground-pounding' stunt person who loves what he does and does what he loves. He's found through his martial arts, that very special place in life that allows you to follow your dream, or in Steve's case, his dreams.
If you'd like to find out more about the talented Steve Kim, his stunt work, as well as his artwork, visit:
SteveKimJourney.com
IMDb.com
StuntPlayers.com
The Stunt Player's Directory
Istunt.com
XctionBiz.com
KMR Talent
Facebook