Michael Sinclair Walter has been in the entertainment industry for over 37 years as a Producer, Director, Actor, Stunt Coordinator, and Stuntman. When he retired in 2015, he decided to expand his career and dive into the voice talent industry. In 2018 Michael returned to the stunt industry as a stunt driver, driving cars, bikes, trucks, big rigs and more. He has a CDL Class A license and all terrain big forkift.
Michael was born November 16, 1953 the youngest of four children and today family is the most important part of Michael's life. He and his first daughter, her husband and his little grandson, Asher, were only recently reunited.
Michael Sinclair Walter has been in entertainment since 1979 and has worked on film and television projects all over the world. He is a world renowned stunt coordinator and stuntman as well as an actor. June 15, 2018 mark his 38th year in the entertainment industry. He has retired from stunt work, but continues to direct, and work as a voice over artist and when time allows he drives trucks for the teamsters. He belongs to the following unions including DGA, SAG, and TEAMSTERS Local 492.
Michael got his start in the entertainment business when his martial arts instructor, Danny Inosanto, introduce him to the late great stunt coordinator, Bobby Bass, who in turned introduce Michael to the legendary Dar Robinson.
On May 22, 1980 Michael was in a near fatal car accident in Redondo Beach, California. In a coma, paralyzed, blind in one eye, and with a million to one chance of survival, Michael battled back against doctors' predictions. He not only overcame a horribly broken body, but he overcame addictions and personal behavior that were major obstacles to his eventual success. He tells his story in his upcoming autobiographical book FACE THE FIRE: Fighting Back Against All Odds and the film Face The Fire: The Michael Walter Story currently in development as a feature film. (Watch the trailer and listen to Michelle Chamuel's Face the Fire official lyric video below).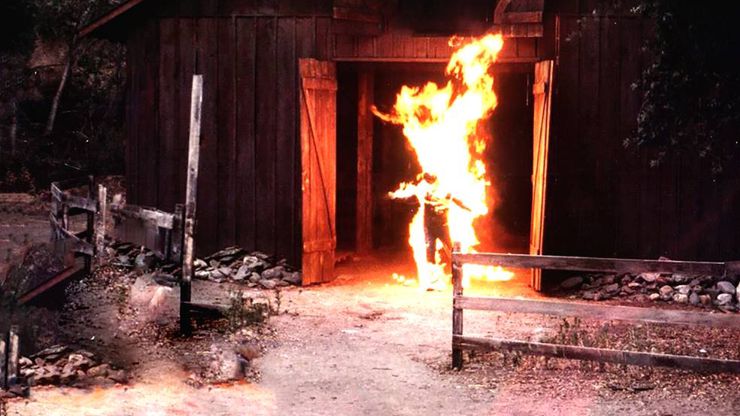 Michael Sinclair Walter has produced, directed and acted in many projects and has over 100 screen credits. He is a member of both the Screen Actor's Guild (1983) and the Director's Guild of America (1994). Michael Sinclair Walter was inducted into the Hollywood Stuntman's Hall of Fame in 1993. Michael has been featured in many television shows, news interviews and newspaper articles.
He has served as a stunt consultant for Universal Studios Florida as well as on the Screen Actors Guild Stunt and Safety Committee.
Michael is a high ranking martial artist of 49 years. He is also a second generation Jeet Kune Do Instructor, and trained under Danny Inosanto, a close friend and training partner of the late Bruce Lee. Michael is also ranked in karate, kick boxing, BJJ, judo, and he has a Conceal n Carry permit in the state of New Mexico.
Michael joined CirrusFilm (a New Mexico-based film production company) in September, 2014 and will be working as a producer and director for the company.
It has been a pleasure working with Mike Walter because he is a top professional who gives me what I ask for in the safest possible way. He has developed a keen knowledge of camera and editing, which makes my job much easier. Many times he has been able to come up with production ideas that have saved the production time and money and have actually enhanced production value. As a producer and director, I would use no one else.
~~ Mark Headley, Producer/Director
The stunt work was precise and right on the money. I was very impressed by the way you put it all together for us. The high fall looked terrific, and we got it on all three cameras. You were great as an actor as well. Thanks again for being our stunt coordinator – you did an excellent job. I look forward to working with you again in the near future.
~~ Alec Griffith Producer
Mike Walter has done a project for my company as a stunt coordinator and stuntman. His skill and professional attitude was beneficial to the whole project. He is likable and a joy to work with.
~~ Norman Vane, Producer/Director
"Mike is amazing! He was once confined to a wheelchair, yet he's now able to do the most difficult stunts known to man."
~~ John Hagner, President, Hollywood Stuntman Hall of Fame
John Hagner, was so impressed with Mike's achievements that he had Mike's footprints preserved at the Hall for posterity.
"Clearly, making our film would have been impossible without a professional stunt team. Your services as stunt coordinator as well as your talent as a stunt artist were a wonderful asset to us and a great asset to Central Florida. "
~~ Ralph R. Clemente, Producer/Director
Michael Sinclair Walter can be contacted at
323-410-1911 | 505-917-5130
Email at mike.primalproductions@gmail.com
Michael Sinclair Walter on Backstage
Michael Sinclair Walter on IMDb