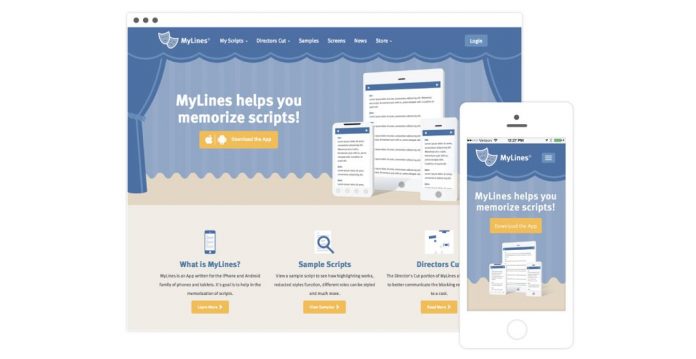 MyLines App is a tool that assists actors in memorizing their lines. It presents the script in a way that shows the actor's role separate from those of the other roles. It helps to minimize the need to have a second person help with the lines.
In addition to viewing the script, the recording capability allows you to record the lines of the script. When the script is 'played' back, it will stop when it gets to the actor's line. Pressing next will then continue the playing of lines until the actor's next line.
Changes to the script can easily be made by MyLines and retained on your device.
Go to www.mylinesonline.com to see a sample of how a script is presented.
• A tool to help actors learn lines
• Actors part is highlighted to easily identify in the script
• Easy to select different roles
• Redacted mode where all lines are visible except the actors role
• Bookmark any line in the script for quick positioning in the script
• Return feature to automatically go to the last bookmark
• Role mode allows you to scroll through the script in a way that your lines are separated from the other lines in the script
• Service on website is available to create scripts on a word processor and download onto your device.
• Uses Text-To-Speech (TTS) to read back the play if your device supports TTS.
• Make audio recording of the lines. This lets you be prompted for your lines instead of needing to have someone read the lines to you
• Make changes to the script on your device
• User can customize different font sizes for dialog lines and stage direction
• Choice of positioning the role name to the left of dialog or above dialog
• Store as many scripts as space limitations will allow. A typical script for a 2 hour play is around 250K
Available for:
Apple, iPhones, iPods, iPads
Android Phones, Tablets, Kindle, Nook, and Chromebooks