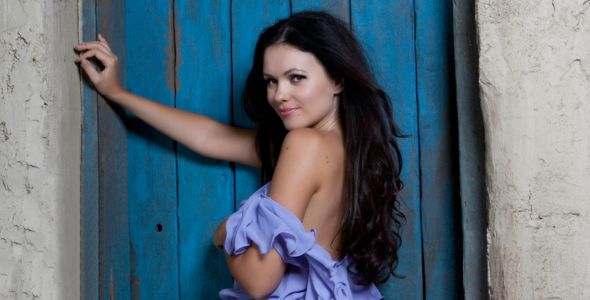 Ukrainian beauty Natasha Blasick has been cast in "The Martial Arts Kid".Best known to American audiences for being in "Meet The Spartans" and as the popular Sasha on "Days Of Our Lives", Blasick says she is very excited to be part of the increasingly impressive cast of "The Martial Arts Kid", which is headlined by martial arts/action-movie legends Cynthia Rothrock and Don "The Dragon" Wilson.
"It's inspiring to get to work with such great martial artists", says Blasick. "I'm certain I'm going to learn a lot, and I can't wait to do what I do best, which is to inhabit my character."
Blasick is also excited about her confirmed cast mates, which include not only Rothrock and Wilson, but Sofya Skya ("Assassins Run"), Tara Cardinal ("Legend of the Red Reaper"), Playboy model Vicki Vodar ("Sunlight Jr.), Inga Van Ardenn, comic Graham Elwood, Jeff Behar, Adrienne Camill and TJ Storm.
"I am familiar with Sofya", says Blasick. "She is gorgeous. And, we were in the same ("Mrs. World") beauty pageant, though not at the same time."
"Vicki is also beautiful", says Blasick.
So what made the Ukrainian stunner decide to take up acting and be on the verge of stardom with "The Martial Arts Kid"?
Blasick started performing theater in about the third grade, when she played the role of a school principal. There was another child who was a tough kid in real life but when they acted, Blasick could feel their roles had shifted was doing theater when I was little, maybe 3rd grade, and played the role of the school principal. There was a boy who was a tough kid, but when they acted she could feel their roles had shifted; she was the principal and he was the good student. This is when Blasick first felt the amazing power of the stage. She hadn't ever planned on going into any kind of entertainment. It was never even a thought while she was in Ukraine. She got a masters degree in marketing. In fact, when she first came to Los Angeles, Blasick thought she'd be in advertising, since she loved "Melrose Place" and especially Heather Locklear. Blasick wanted to be like her. Then she realized her heart was not really in the advertising business – it was in being an actress.
Blasick joined an extras casting agency to see if she'd like the routine of being on the set – and she loved it. She did 2 days on 'Sleepover' and 3 days on 'Cellular'. Some people think the long days are frustrating for an actress, but Blasick loves the people and getting ready for the shot. Even the waiting is fun for her.
One of the other girls recommended Blasick to her modeling agency. It was a natural process. Soon after that she was in scene study classes and it's been a real learning experience for her ever since.
Another powerful experience was competing in the Mrs. World Pageant. Blasick had always danced in pageants before, but this time she acted out a scene from 'Erin Brokovich'. Her mother had urged her several times before to do acting instead of dancing as her talent and she finally took her advice.
Blasick could feel that she was affecting the audience – a connection. The challenge really appealed to her – and still does. It's such a big challenge there's no end to how far it – and she – can go. It's not only about the craft of acting for Blasick either, the fact that Hollywood has got a business and marketing aspect is important and challenging to her as well. To her, an actor is a type of nomad going from project to project.
Though she admits a special excitement for "The Martial Arts Kid".
"I am thrilled to be in this movie", she says.
"The Martial Arts Kid" is set to hit theaters in the Summer of 2015.