The rumors are true!!! The Martial Arts Kid 2: Payback directed by Michael Baumgarten is in the works and on January 15, 2018 you can join with Traditionz Entertainment and support the film through IndieGoGo.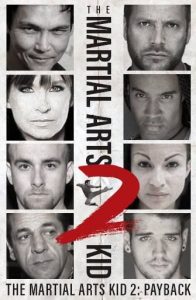 We all know the sequel will be incredible, with the action coordinated by Emmy award winning stunt coordinator James Lew, (Luke Cage, Big Trouble in Little China). Many of the original cast return to the Martial Arts Kid 2 including Matthew Ziff (Kickboxer: Vengeance), T.J. Storm (Kickboxer: Vengeance), Brandon Tyler Russell (Smitty) and Chuck Zito (Sons of Anarchy). With the likes of Sasha Mitchell (Kickboxer series), Anita Clay (Paying Mr. McGetty), Crystal Santos (Man at Arms: Art of War) and Tara Cardinal (Paying Mr. McGetty) coming on board, the sequel will enjoy some beautiful faces! The Martial Arts Kid 2: Payback stars two of the hottest martial arts actioneers in Don "The Dragon" Wilson and "The Queen of Martial Arts", Cynthia Rothrock, but you will also see more Grand Masters, Masters and Martial Arts Champions than ever.
The Martial Arts Kids 2: Payback also has some fantastic martial artists producing the film including Cheryl Wheeler Sanders, Dr. Robert Goldman, James Wilson, Alan Goldberg, Jody Nolan and Maurice Elmalem.
Join us on Indigogo and with your involvement, The Martial Arts Kid 2: Payback will transcend everything imagined. Join Traditionz Entertainment, the Dragons: Cynthia Rothrock and Don Wilson, as we create something spectacular. And don't forget their will be some terrific perks.
We will keep you updated on all the happenings with The Martial Arts Kid 2: Payback, so visit often.
The Original Martial Arts Kid Trailer