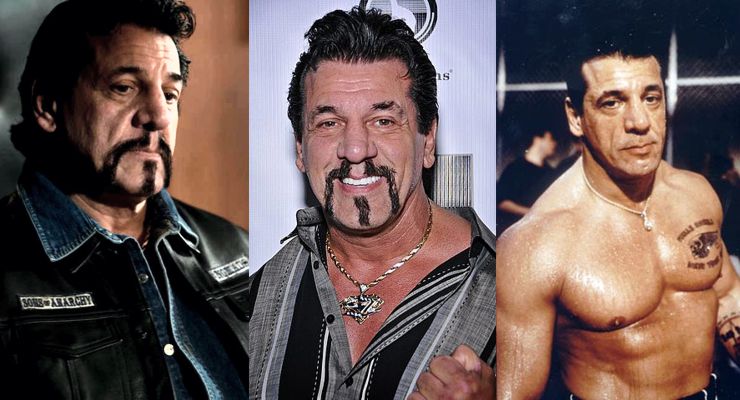 Chuck Zito has earned many titles and distinctions through the years. Actor. Voice Actor. Radio Personality.
As of Friday, May 9, he has another one : Cast member of the highly anticipated film, "The Martial Arts Kid." The film is co-headlined by two martial arts legends – and you can't get a more tough than these two icons. Cynthia "Lady Dragon" Rothrock ("China O'Brien")and Don "The Dragon" Wilson ("Bloodfist") are teaming up as the co-headliners the film, which is scheduled to hit theaters in 2015.
Having received a tremendous amount of recognition in recent years for his role in the hit F/X show "Sons of Anarchy" , as well as playing other memorable tough-guy characters in acclaimed TV shows like "Oz" and classic films like "Carlito's Way", it seems only natural that Zito is now a major part of a movie in which the two major stars have made themselves icons by playing characters as rough, resilient and rugged as any of his own.
"I am looking forward to working with my friends Don Wilson and Cynthia Rothrock", says Zito about the announcement of his joining the cast."I cannot wait to start".
Rothrock and Wilson, who have starred in over 75 action/martial-arts films combined, will play the aunt and uncle of a troubled teen who moves to a beach town in Florida after the death of his mother. They both teach him martial arts as a way to heal and to protect those he cares about and himself.
The teen has not yet been cast, but other major roles that have include TJ Storm ("Black Cobra") as the opposing instructor to the "Kid" and Matthew Ziff ("Six Gun Savior") as the bully and tormentor of the "Kid".
"We are very excited about having Chuck in our film", says James Wilson, co-producer of "The Martial Arts Kid.". "He is an excellent actor, a real tough guy, and a real martial artist. He is going to fit the part perfectly."
In addition to his roles on "Sons of Anarchy", "Oz" and "Carlito's Way", Zito began his own bodyguard agency. Named Charlie's Angels Bodyguard Services, Zito initially provided protection for actress Lorna Luft and later was hired by her half-sister, the legendary entertainer Liza Minnelli. Minnelli recommended Zito's service to her plethora of celebrity acquaintances, allowing Zito to quickly develop contacts throughout Hollywood.
Zito then parlayed his connections into a career as a stuntman,working on films such as "Year of the Dragon", "Hudson Hawk" and "The Rock". In 1996, after a meeting with producer Tom Fontana, Zito joined the HBO prison drama "Oz" as Italian wise guy Chucky Pancamo. Over the years, Zito has alternated between stunt work and acting. He has credits for stunt work in films like "Fifteen Minutes" and acting roles in the film "This Thing of Ours".
In 2003, Zito released his autobiography, "Street Justice" , co-authored with Joe Layden. In 2006, Zito expanded into radio with the show "Chuck Zito's View" on Howard Stern's Sirius Satellite Radio station. In addition, Zito competed on Food Network Television's "Chopped" in 2013, along with NASCAR's Danica Patrick, former NFL running back Tiki Barber and Olympic Champion Swimmer and 12-time Olympic medalist Natalie Coughlin.
Other roles already confirmed for "The Martial Arts Kid" are Natasha Blasick ("Meet The Spartans", Sasha on "Days of our Lives") and Tara Cardinal ("Legend of the Red Reaper"), Inga Van Ardenn ("Crossing Shadows"), comic Graham Elwood ("Cram"), Jeff Behar, Adrienne Camille ("The Devil's Dozen"), Daniel Moncada ("Sabotage"), Sofya Skya ("Assassins Run") and Vicki Vodar ("Cross Threads") . . Composer/songwriter Martin Blasick, who gained serious Oscar consideration for his work on "Magic Mike" – is a contributing songwriter. Emmy award winning composer Boris Zelkin is doing the soundtrack. Cinematographer Denis Maloney is on board as DP. He shot "The Contender" with Jeff Bridges, Joan Allen & Gary Oldmann, and "No Vacancy" with Timothy Olyphant & Christina Riccci. Michael Baumgarten is the Director and screenwriter . He is an award-winning screenwriter notably for "Smitty" with Peter Fonda, Mira Sorvino & Lou Gossett Jr.
"The Martial Arts Kid" will be released in theaters in 2015.