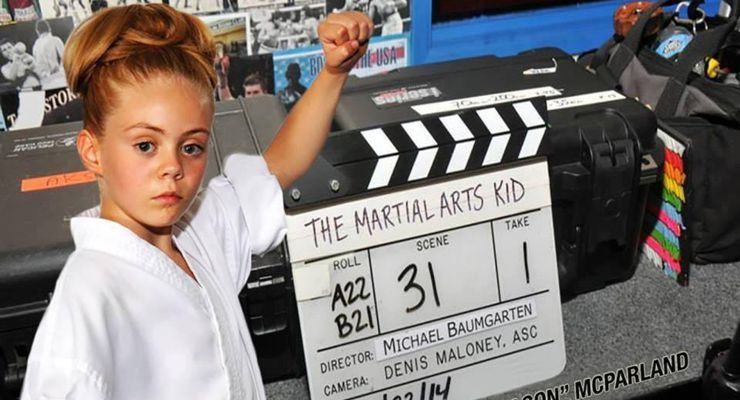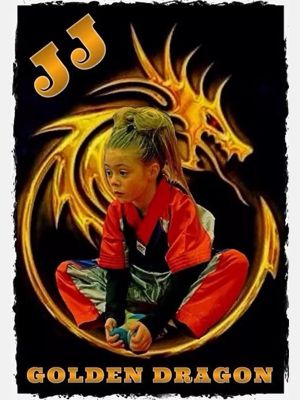 When your name is Jesse-Jane McParland, and you have earned the nickname "JJ Golden Dragon" by starting your martial arts training at three and then winning 117 total titles, becoming the youngest WKC Female World Champion ever while winning 9 WOMAA European Championships and landing a role in "The Martial Arts Kid" – a movie co-headlined by martial arts/action-movie legends Cynthia Rothrock and Don "The Dragon" Wilson..when you do all that by the age of eight you may find it difficult to find someone your age to relate to!
Unless you're Nassim Faras Lahrizi and have earned the nickname "Young Dragon", and were seemingly born to fight. He started training and mastering the techniques of martial arts when he was NINE MONTHS OLD. He has 108 total titles, and five world titles and a role in "The Martial Arts Kid" all by the age of nine!
Is it any wonder, then, that "JJ Golden Dragon" and the "Young Dragon" have become friends?
"In June 2013 my Sifu Naiem made it possible for me to train with awesome Grandmaster Hamid Lahrizi and his fab son Nassim 'Young Dragon' Lahrizi", says McParland. " I trained for one month and that's when I got known as 'JJ Golden Dragon'."
"Hamid and Nassim are like my family now", McParland continues. "They are so kind and help me to become a better martial artist."
McParland was also able to land a sponsor called 8over8 in Derry in Ireland that enabled her to cover the cost of going to Boston from Ireland and train with the Lahrizis.
"Master Hamid contacted my dad to talk about a movie in which he thought I could be in with Nassim", McParland says of how she landed the role in "The Martial Arts Kid". "He did all the the hard work to make this film happen and I will always be grateful."
"Hamid knows what I can do", McParland concludes. "I am looking forward to meeting with Hamid and Nassim and Don 'The Dragon' Wilson and Cynthia Rothrock. I really don't know my role yet but whatever it is, I am so excited to be in 'The Martial Arts Kid. I am so excited to be in this movie."
"I can't wait to meet up with my friend Nassim and Hamid. This is going to be a fab trip for me."