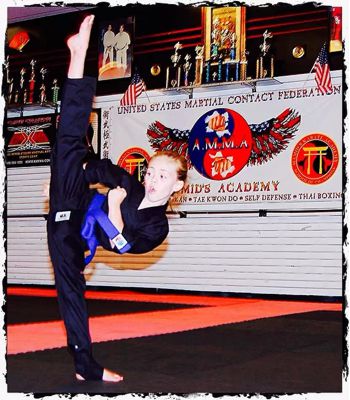 Jesse-Jane McParland already has more accomplishments at the age of eight than most martial artists – and people in general – will achieve in a lifetime.
McParland already has a nickname, "JJ Golden Dragon" – which she has earned through the staggering volume and breadth of her accomplishments.
She has become the youngest female WKC World Champion, has 9 WOMAA European Championships, 3 WOMAA World Games Grand Championships and 2 Irish Open Grand Championships!
Now, she will be appearing in a film with arguably the two most prolific martial arts/action-movie stars of all-time: Cynthia Rothrock and Don "The Dragon" Wilson.
McParland is excited at the prospect.
"Master Hamid (Lahrizi) contacted my dad to (talk) about a movie I could be in with Nassim (Faras "Young Dragon" Lahrizi, himself a World Champion at 9 and Hamid Lahrizi's son)", says McParland. "He did all the hard work for this and I will always be grateful."
"I am looking forward to meeting with Hamid and Nassim and and Don "The Dragon" Wilson and Cynthia Rothrock", McParland continues. "I really don't know my role yet – but, whatever it is, I am so excited to be in The Martial Arts Kid "
"I am so excited to be in this movie", she adds. "I can't wait to see Nassim and his papa. I feel so proud to be working with so (many) talented people, I watched Cynthia on TV and she is fab and really cool and so pretty and also watched Don and think he is fab too."
"I can't wait to meet up with my friend Nassim and Hamid – this is going to be a fab trip for me", McParland concludes. "I also can't wait to meet up with Cynthia! She is a kick ass lady! I hope I learn lots from her! I also can't wait to meet up with TJ Storm."
The Martial Arts Kid is set to hit theaters in 2015.