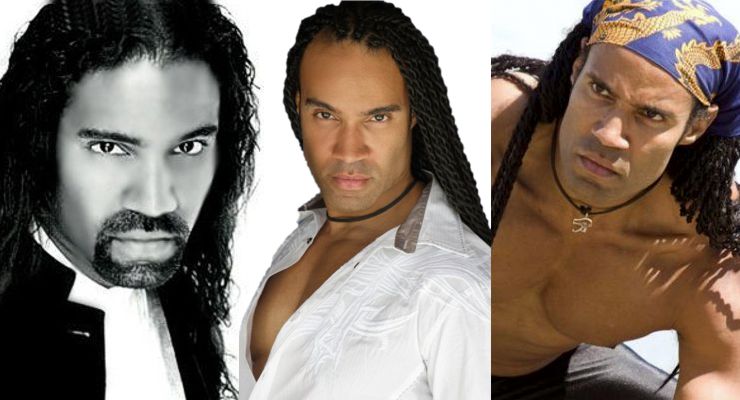 T.J. Storm (Juan Ricardo Ojed) was born in Indiana on February 14, 1972 and raised in Hawaii. He is an American actor, voice actor and motion actor who has trained in various styles of martial arts for over 19 years. T.J. Storm holds belts in Arashi-Ryu Karate, Tae Kwon Do, Ninjitsu, Jujitsu and Northern Shaolin Kung Fu.
TJ Storm began his "action career" when his Mother forced the 8 year old to take Karate classes because he was "hyperactive and clumsy". However, hardly anything about Storm is as it appears.
T.J. Storm was born "Juan Ricardo Ojeda" to an African-American Father and Puerto Rican Mother and was then adopted by a Native American-Caucasian mother and Mexican-American father. He was then brought up in the Asian/Polynesian culture of Honolulu, Hawaii. Storm truly is an examble of the American melting pot and the American cultural mosaic.
In high school Storm was shy and started break-dancing as a way of trying to "fit in". Dance quickly became T.J.'s passion and he would win over 200 dance competitions in the genres of hip hop and break-dancing. He received a dance scholarship and this paved the way for his move to Los Angeles and dancing in music videos. Dance was his passion, but it only provided him with enough money for rent and a diet of Ramen Noodles and Pop Tarts, with little left for anything else.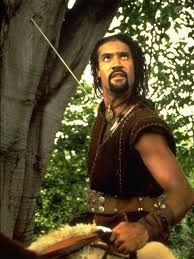 Devoted to the martial arts, Storm often found himself stopping by and observing an outdoor Northern Shaolin class on his way home from work. Eventually Storm was approached by the teacher and he was asked to join class, allowing him to add the knowledge of Northern Shaolin to his others arts. Using his talents for dance and martial arts, T.J. began to pursue acting. He graduated from the Joanne Baron/D.W. Brown Acting Academy.
While playing the role of Bayu on the television series, Conan The Adventurer, Storm developed the unique action style that he is known for. His brand of action is a combination of martial arts, acrobatic skill, comedic timing, and an almost balletic grace. Storm has since gone on to work with Jet Li, Sammo Hung, Sir Ben Kingsley, Michael Madsen, Kelly Hu, Cary-Hiroyuki Tagawa, Michelle Rodriquez, Neal McDonough and Kristanna Loken.
T.J. Storm made motion captures for Captain Josh Stone and Dave Johnson in Resident Evil 5. He is known for his roles as Criag Marduk in the Tekken Series, and Strider Hiryu in Ultimate Marvel vs. Capcom 3.
Soon you will hear T.J. Storm in the video game Battlefield Hardline (2015), and see him in The Gold Rush Boogie (2015), Jonny Flytrap (2015) Bullets Blades and Blood (2015), Boone: The Bounty Hunter 2014 and as Coach Laurent Kaine in The Martial Arts Kid (2014).