Update Monday, March 5, 2018: Olivia Jackson is incredible!!!
Update: Olivia Jackson is one amazing woman who has fought all her life as a martial artist and stuntwoman. Her current battle is one of great courage after her September 5, 2015 accident on the set of 
Resident Evil: The Final Chapter
. The accident stripped away half of her face and damaged her left arm beyond repair. To see her today is incredible. She may lack an arm, but she is as beautiful as ever both inside and out. Her courage and her will to be positive will carry her far once again, just in a slightly different direction. She may not be doing martial arts or modeling or stunt work, but she has plans to continue her athletics as she has seen so many others do in the Paralympics. You will see this incredible woman forever beating the odds and it is our opinion that she will make an even bigger impact on this world in ways she hasn't even dreamed of yet. (
Read More
).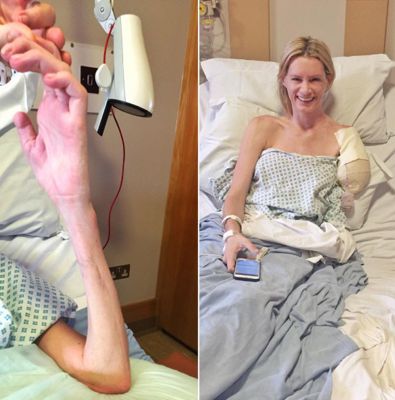 The video above is a  short personal portrait piece about Olivia Jackson, the stunt actor who was 'felled' from a motorbike at speed by a camera on the set of Resident Evil. What's most amazing about Olivia is her complete incredible courage during her recovery. It was a privilege to tell her story.
Update: Please continue your prayers for Olivia. On Tuesday, December 22, 2015 Olivia revealed that she would lose her left arm due to her severe injuries.
According to the Sunday Morning Herald, Olivia told the sun, "My left arm is paralyzed and is going to have to be amputated." "My facial scarring is horrible and I wish I had my old face. But I'm truly grateful to be alive," she said.
She shared the photo on the right on her Instagram page and as you can see she is incredible!!!
Update: This Facebook post was released on October 5, 2015 by a friend of Olivia's through the Life Is Savage website:
2 weeks in a coma, brain bleed, brain swelling, severed main artery in the neck, crushed & degloved face, several broken ribs, paralyzed arm, shattered scapula, broken clavicle, broken humerus, broken radius & ulna, with an open wound and a 7.5 piece of bone missing, amputated thumb, torn fingers, 5 nerves torn out of the spinal cord…. not my funnest day on set … Thanks to everyone for their prayers and beautiful messages. I'm sure it's all helped pull me through this difficult time. Long road to recovery but just gonna take it day by day.
Facebook Update from David Grant:
I want to say on behalf of Olivia's family and myself we've been inundated with messages of support for My girl and we…
Posted by David Grant on Tuesday, September 8, 2015
Update: We are sad to report news from The Sun in Johannesburg, South Africa. Olivia Jackson, 32, suffered a terrible accident on the set of Resident Evil: The Final Chapter. She is the stunt double for Milla Jovovich in the film. She has been in an induced coma since Saturday, September 5. The stunt performer suffered head injuries and a punctured lung during a high speed motorcycle chase when her motorcycle collided into a large metal arm carrying a camera. The stunt was not particularly dangerous, but the arm carrying the camera failed to rise during the filming of the stunt and she was not wearing protective gear due to the nature of the scene.
Milla Jovovich shared a message about Olivia on Facebook on September 14, 2015.
Her husband, David Grant, shared this message on his Facebook page on September 8, 2015:
". . . I want you all to know that she has been making steady progress and your thoughts and good vibes are all working so please keep them up! She's my inspiration and my world and one tuff little mother f***er! She's fighting hard and the team of people working on Oliva have been amazing and have been doing some incredible work. Thanks again to everybody! I whisper to her everyday telling her about the support she's getting world wide! THANKS XXX"
Olivia Jackson – Beautiful and Deadly
Olivia Jackson pro fighter, trained and competed in Thai Boxing in Thailand for 5 years. She currently resides in London, England (Buckinghamshire) and works as an actress, a model and stunt performer internationally. She has also been riding Motorcross since she was a child, and she continues today, studying with top MX Coach Dean Hoffman.
Born on August 25, 1983 in Cape Town, South Africa, Olivia began her martial arts career when she was 19 and signed up for kickboxing to keep in shape for modeling. Instead she become obsessed, not with staying in shape, but with fighting. She soon discovered that modeling and Muay Thai do not mix, as the cuts and bruises did not go over well with agencies. By 2004 she was the South African Thai Champion. She moved to Thailand where she lived and trained with her manager, trainers and other fighters. They trained 6 and half days a week, 3 hours in the morning and 3 and a half hours in the afternoon, no exceptions. Eventually she was voted #1 Female Fighter in the world by The World Professional Muay Thai Federation. She often fought under the name Olivia Kaewsamrit.
Olivia has taken the keen observation skills she used to win fights in Thai boxing, and she uses these skills in the entertainment industry.  She has performed stunts in The Impossible (2012) with Ewan McGregor, Safe House (2012) with Denzel Washington, The Burma Conspiracy (2011) with Sharon Stone, and The Hangover Part II (2011) with Bradley Cooper.
She has since been the stunt double for numerous actresses in featured films, including Rosie Huntington-Whiteley in Mad Max: Fury Road (2015), for Elizabeth Olsen in Avengers: Age of Ultron (2015), for Karen Gillan Guardians of the Galaxy (2014), and for Gwyneth Paltrow in Mortdecai (2015).
Olivia Jackson is also a stunt performer in Star Wars: Episode VII – The Force Awakens (2015).
She is currently working with her stuntman husband, David R. Grant, on the film Resident Evil: The Final Chapter (2017) due out in theaters on January 27, 2017.
Olivia Jackson is a Mahayana Buddhist.  She is also a nutritionist and a personal trainer with Exercise Teachers Academy (ETA), and has work out of The Armoury Boxing Club in Cape Town, South Africa. In-between films and when she is in Capetown, Olivia trains at Redemption Martial Arts and Fitness Centre.
Colleen Knox spends the day with Olivia Jackson in Cape Town, South Africa.
Special thanks to Olivia Jackson, Arran Mckenzie from Redemption Martial Arts and Fitness Centre, and MX coach Dean Hoffman.