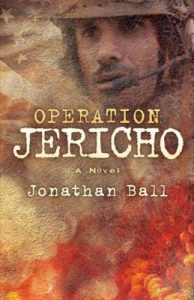 On July 21, 2017 Jody Hart announced that he will be Producing and Directing a feature film based off of the book Operation: Jericho written by Former US Marine Sergeant Jonathan Ball, who also wrote the screenplay. The book Operation: Jericho goes on sale August 15, 2017.
For the past 4 months Jody Hart has been working with the writer to fine-tune the script. They are finally ready to move forward with the project and work on getting it funded and into production by the end of 2017.
Hart plans to cast and crew this film with Military Veterans as possible.
Operation: Jericho is the story of two Muslim-American brothers who are serving in the Marine Corp. They are recruited by the CIA to infiltrate a terrorist cell in Afghanistan and when they realize that the whole village must be destroyed to kill one man they struggle with the knowledge that this will mean the loss of innocent life and true love.
Iman Sahar and Hasim Sahar, Muslim-American brothers and United States Marines, operate as spies at Guantanamo Bay until they are recruited by the CIA to infiltrate a small village, codename Jericho, deep in the remote and hostile territory of Northern Afghanistan. Iman and Hasim must blend in with hardened jihadists to confirm the presence of Farhad ibn Salih, a self-proclaimed imam and the resurgence of central leadership for the Taliban. They live among the enemy for months before being sent on a mission by Farhad. It is their opportunity to escape, only to return with a MARSOC team and destroy the entire village just to get one man. While Hasim tries to reconcile a peaceful Islam against the perversions of the enemy, Iman fights an internal battle seeking love and purpose. Iman finds in Rasa, Farhad's reluctant wife, who is held in Jericho against her will. With violence on the horizon, the brothers struggle in the knowledge that innocent people will die— among them, Rasa, the center of Iman's affection.
"As a former US Marine and a filmmaker who has produced and directed cultural awareness training films for the United States Army and United States Air force, I found this story not only interesting but extremely important to tell in today's culturally conflicted world." – Jody Hart