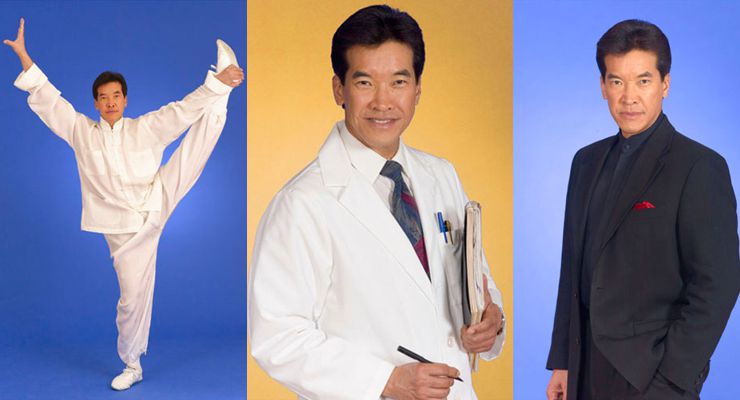 Peter Kwong is a martial artist, stuntman and actor who has been in the television and film industry for over 35 years. He was born in Sacramento in 1964 in the year of the Dragon and is first generation Chinese American. He graduated from CSU Sacramento in Theatre Arts and furthered his studies at the American Conservatory Theatre in San Francisco. He moved to Los Angeles in the early 1970's and has been acting ever since. He began college studying biological sciences, but "after reading Marshall McLuhan's book Understanding Media, and his statement that the medium is the message, I came to realize that  in film and TV you can impact people visually in one fraction of a second and touch many thousands, millions of people's lives through emotional response. That to me was one way to impose a lasting memory. I was thinking how can we use this to deal with the impressions of Chinese Americans." Needless to say, Peter helped change the way people look at Chinese Americans in a very positive and he has accumulated over a hundred credits on stage, screen and television. You have seen him on the television shows, Jag, General Hospital, My Wife and Kids, The District, Malcolm and Eddie, Sisters, Dynasty, and Miami Vice to name a few. His films include Big Trouble in Little China (1986), The Golden Child (1986), The Presidio (1988), Angel Town (1990), Never Too Young To Die (1986), Gleaming The Cube (1989), and Brainsmasher: A Love Story (1993) with Andrew Dice Clay. Returning to the stage, Peter played Dr. Haing S. Ngor in The Survivor: A Cambodian Odyssey; and performed with the late Juliet Prowse in the musical theater version of Mame.
Peter considers himself an activist for actors rights and he has served on the National Board of Directors of the Screen Actors Guild for ten years and on the National Board of the American Federation of Television and Radio Artists, as well as on their Local Los Angeles AFTRA Board. He was the Chairman of the Committee for Racial Equality at Actors Equity Association, the Vice-Chairs of the Ethnic Equal Opportunities and the Young Performers Committees of the Screen Actors Guild, and a member of the Academy of Motion Picture Arts and Sciences and served on the Board of Governors for the Academy of Television Arts & Sciences as Governor of the Performers Peer Group.
Peter Kwong is an award-winning choreographer and his work has been touted as a blend of jazz, hip-hop and martial arts. His talents have won him an honorary membership to the Los Angeles Mime Guild. His passion for the dance has gotten him on music videos.
Peter Kwong was an international karate champion in Chinese Kata. He is a practitioner of Northern Shaolin Kung-fu which has allowed him to do much of his own stunt work. He also studies the more meditative and healing disciplines such as Chi Kung Meditation. He currently teaches Tai Chi Chuan.
Actor Peter Kwong talks about his role in Big Trouble in Little China (1986)