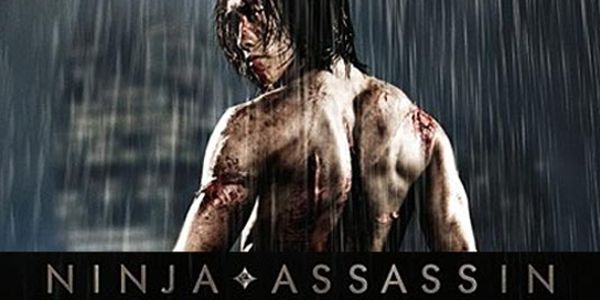 NINJA ASSASSIN (2009) is the first major R-rated martial arts film to open on a pivotal premiere date in America in a very long time. For Thanksgiving weekend 2009, NINJA ASSASSIN revitalizes the ninja genre with bloody action-packed vengeance, redeeming the ninja from their post-'80s fate as comic relief or heroes in a half shell. NINJA ASSASSIN features the greatest ninja actor of all time, Sho Kosugi as the ninja master, and introduces an unlikely Korean actor named Rain in the lead role.
Most Americans only know Rain from his role as Taejo Togokahn in the Wachowski brother's previous film SPEED RACER. However, in Asia, Rain is like Justin Timberlake. Both stars emerged from boy bands and still managed to parlay their careers successfully to capture the international spotlight. Rain's debut on the silver screen was in the Korean film I'M A CYBORG, BUT THAT'S OK from internationally renowned director Park Chan-wook (OLD BOY, THIRST, SYMPATHY FOR LADY VENGEANCE). CYBORG won the Alfred Bauer Award at the Berlin International Film Festival and opened the prestigious Hong Kong International Film Festival. TIME magazine named Rain among the "100 Most Influential People Who Shape Our World" and PEOPLE recognized him as one of the Most Beautiful People. With NINJA ASSASSIN, Rain stands on the precipice of taking the world by storm.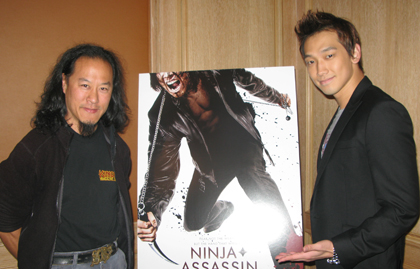 I caught up to Rain at San Francisco's Ritz Carlton, where he and his English tutor had just devoured a platter of sushi. Rain's English was better than many Taekwondo masters I know, masters that have been in America for three decades. The female reporter before me had clearly been charmed by Rain's magnetic charisma, as if he were more dreamy than the vampires and werewolves his ninja character will face at the box office over Thanksgiving.
R: The last interview! This is the last interview of the tour. Toronto, New York, Washington, Miami, L.A…. finally, the last one!
G: I hope you've saved the best for last. I'm from KungFuMagazine.com so I'm going to start by asking you about martial arts. I know you did a fight scene in SPEED RACER, but did you train before that?
R: Yea, a little bit. Before this film, I learned Taekwondo when I was young.
G: That's pretty standard in Korea, right
R: Yea. Just a little bit.
G: Some of the stories I've heard of your training for a Korean Boy Band sound pretty harsh, almost as harsh as ninja training.
R: When I was young?
G: Yes.
R: Ten years ago, no, twelve years ago, I was in a boy band. We are six. But it's not successful because we were so young. But now it's so different. Long ago, I met Jin-Young Park, producer. He is very talented and very humble. And he's a very good man, so he protected me. I learned a lot of talents – singing, music – from him. I respect that.
G: With your dance background, how was training martial arts for NINJA ASSASSIN?
R: Dancing and martial art is very similar, but different training. I had to make my body fit, like Bruce Lee. I trained for eight months, five days a week, eight hours a day. I ate only chicken breasts and vegetables, salmon, white eggs.
Dance training – so easy. But the physical training was hard. You know, I learned a lot of martial arts, kung fu, tai chi, taekwondo, kickboxing with sword and double swords, chain, shuriken. It was a lot.
G: I've heard your next project is AWAKEN THE DRAGON (a proposed remake of Bruce Lee's ENTER THE DRAGON from Warner Brothers), so you're stuck with more training for a while…
R: ENTER THE DRAGON…no, not really. I haven't decided yet.
G: Oh, that's not firm.
R: Yea, after this, I have three scripts. The first one and second one are big action films. The third one is romance.
G: You're the first Asian male lead in a major American film that I can remember in years. How do you feel about that?
R: I can't believe it. I just can't believe it. When we were doing SPEED RACER, Larry and Andy (Wachowski) offered me. They said, "How about a ninja film? It's big martial arts, you know. You'll like it." I said, "Yes!" How could I say no? I mean, when I was young, I wanted to be a big action star. So it's a dream come true. Now is my big opportunity.
I'm so excited. It's a big martial arts film in a new style. I hope they'll like it. I'm hoping I'll have some new fans after this film. I'm so excited.
G: Do you worry about being typecast as a martial artist?
R: Stereotyped?
G: Yea, stereotyped.
R: I think that the Asians bring a new culture. I think the world's people have been interested in martial arts. That's why many Asian actors have been cast that way. I think the world is changing in the way that the world views Asians as well. We will show you other sides as well. I'm going to show you what I have – romance, comedy, action – I'd like to do everything.
G: In Asia, Jackie Chan does everything too, but few Americans know him beyond his kung fu comedy films and cartoons. As you know, he's a noted singer in Asia, but most Americans scoff at the notion of Jackie as a singer. How do you think Americans will react to a singing ninja?
R: Music, huh? You know, if I do my best, Americans will love me too. As you know, it's hard to even break into music in Asia. But here, I hope for the same, if people like this movie.
G: Asia accepts more diversity from its Asian celebrities. But Jackie and Jet Li, they are so stereotyped as martial arts stars that they each have non-martial arts films that are never released in America.
R: I can do it because I'm so young. I'm 27 years old. I'm just starting. So I'm going to show you what I have. As you know, I'm a singer and an actor in Asia. Here, I hope for the same. I love singing and acting and I'll concentrate on both. Watch me.
G: Back in the '80s, your costar Sho Kosugi was at the forefront of a great wave of ninja films. Did you know who Sho was prior to NINJA ASSASSIN?
R: Yea, I know him. He's a legend in Asia. He's so popular in Asia. I know him and respect him. He was always humble to me. I learned a lot from him.
G: In SPEED RACER and NINJA ASSASSIN, you play Japanese characters. Do you look forward to playing a Korean?
R: It's not a Japanese character. My character is an orphan. Raizo is a great ninja assassin and it's a revenge movie. I killed a lot of ninja. The Ozuna ninja clan, in the film, one day killed my first love, so I decide to take revenge to the Ozuna clan. So I left. I kept the name the clan gave me. Raizo is so sexy (laughs). Everybody loves him.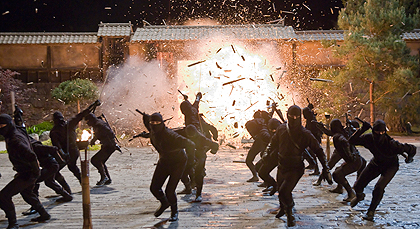 G: Good point. I stand corrected. There were ninjas in SPEED RACER too. Will there be ninjas in your next film?
R: We have nine clans. Did you see the movie?
G: Yes. I loved it. I love ninja films.
R: We left eight clans out. Please wait for Ninja two, three, four, five, six, seven, eight, until nine!
Written by Gene Ching for KUNGFUMAGAZINE.COM
COPYRIGHT KUNGFUMAGAZINE.COM, ALL RIGHTS RESERVED.
All other uses contact us at gene@kungfumagazine.com