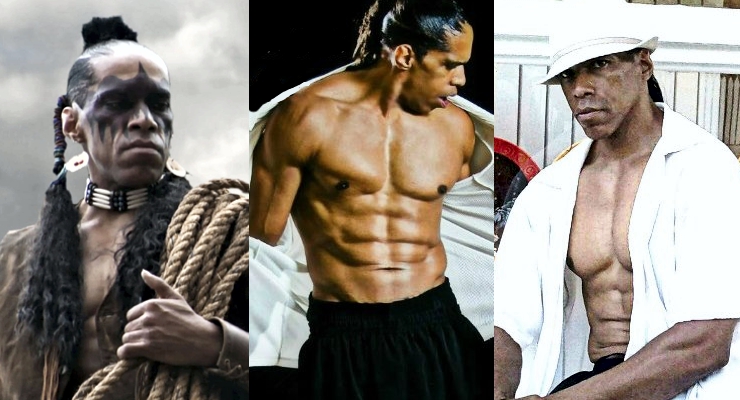 Raw Leiba is an award nominated actor, producer and martial artist born in Newark, New Jersey to a Brazilian mother and an African American/Native American father. His father, Robert, was a US Army Veteran and served with the famed Tuskegee Airmen in WWII and his uncle is former NY Giant hall of famer Roosevelt Brown.
Raw Leiba has always been an outstanding athlete, excelling in football, basketball and track. He eventually made it to the professional level in two sports.
Leiba attended high school in Woodbridge, NJ and later moved to Tempe, Arizona where he attended Tempe High School. Possessing a 4.3 second 40 yard dash speed and a 44 inch vertical jump he soon got the attention of Arizona State University basketball assistant coach Doug Collins and Head Football coach John Cooper. He signed with Arizona State under the condition that he be allowed to play both football and basketball for the school. After graduating he went to Spain to play professional basketball for Barcelona EL of the European League where he played a full season. After being waived in his second season Leiba took an invitation to the NFL San Diego Chargers mini-camp where he impressed coaches with his tremendous speed and leaping ability. He made the "Practice Squad" but was soon released when he told head coach Bobby Ross that he wanted to be an actor and could no longer commit to sports.
Working hard to become a skilled martial artist in Brazilian Ju-jitsu and blessed with a chiseled physique, Raw's first role was in Oliver Stone's Any Given Sunday (1999). Leiba gained international attention when he won the the TLC'S reality action show Help Wanted, a spin-off of ABC TV'S The Next Action Hero, where competitors compete in acting and stunt roles. Leiba again showed great athleticism and acting ability achieving guest starring roles on hit TV shows like The Wire, Game of Thrones and Burn Notice and movies including The Heat, Dead Man Down and Limitless.
Leiba made his mark as a producer with the The Ascension starring with Corbin Bernsen. his physique got him on American Movie Classics' Shirtless: Hollywood's Sexiest Men, which also included Brad Pitt, Russell Crowe and Denzel Washington. Performing in both TV and motion pictures in the United States and Brazil, Raw Leiba was named Gym Magazine's "Fittest Human" for 2007 and continues to garner accolades as both an actor and producer. He als continues to train relentlessly.