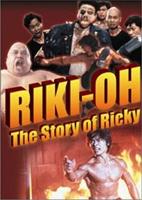 Director: Ngai Choi Lam (as Simon Nam)
Writers: Tetsuya Saruwatari (manga "Riki-oh"), Ngai Choi Lam (screenplay)
Stars: Siu-Wong Fan, Mei Sheng Fan, Ka-Kui Ho
Rating R
In Riki-Oh The Story of Ricky, when mild-mannered Ricky takes revenge on the drug pushing thugs who killed his girlfriend, he is sentenced to a maximum security prison. Within these walls lies a penitentiary like no other, run by a host of evil characters. A sadistic warden, his sniveling assistant, and the powerful Gang of Four all control the inmates through terror and brutal death!
In Riki-Oh The Story of Ricky is set in the year of 2001 in a prison owned by a major company and Ricky is a young man with superhuman strength who seeks to use his martial arts to clean up this prisons system and as a new prisoner seeing his friends being harassed and killed by the guards and makes him seek revenge.