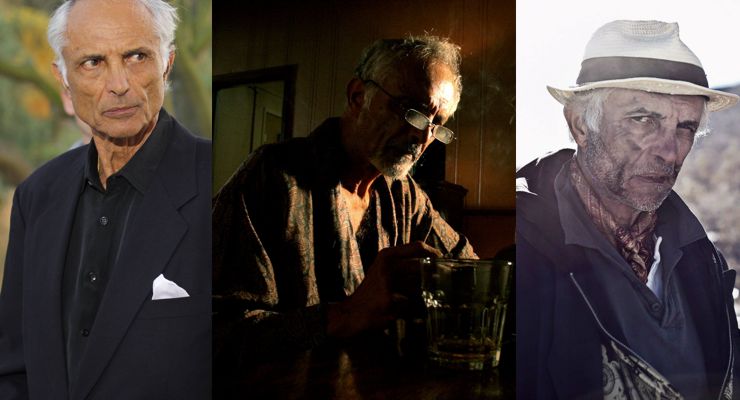 Robert Miano is an American Actor who recently appeared in Director Arts Camacho's Assassin X aka The Chemist. Robert portrayed real-life Bonanno crime family capo Alphonse "Sonny Red" Indelicato in the 1997 film Donnie Brasco and he played in the recurring role of Bronx mob boss Joe Scully on the soap opera General Hospital.
Robert Miano was born in New York City and raised in the South East Bronx around when Joe DiMaggio and Yogi Berra played for the New York Yankees. In school, Robert joined the Glee Club and realized that he had a gift for singing. At the age of 15, he started his showbiz career when a talent agent heard him singing with a Du-op Group on a Bronx street corner. This lead to a recording of "Kingdom Of Love" by the Preludes on the Cub Label, a new subsidiary of MGM Records. Today "Kingdom Of Love" is a collector's item and is still being played on the "Oldies but Goodies" Radio Station in New York. Through the years, Robert continued to make records and ultimately became a Columbia Recording Artist.
Robert loved singing for people by making personal appearances on TV, in nightclubs, hotels and concerts. On an open casting call, Robert auditioned for the lead rock singer in the play "Satyricon". He landed the role. The musical was presented at the Stratford Shakespearean festival in Ontario Canada and was a huge success. When Robert returned home to New York, he had a calling to travel around the world. With $200 and a round trip ticket, he took his guitar and duffel bag and flew off to Europe. He spent the next 2 1/2 years traveling around the world as a troupe adore. He earned his living by singing and playing his guitar on the streets, in restaurants and bars, wherever he found an audience. After Europe, he traveled to the Middle East, Africa, South America and then back home to New York where Robert decided to pursue another life-long dream of acting.
After studying with Lee Strasberg and Warren Robertson, Robert landed a lead role in the Broadway show "Fame", a play about the life of Marilyn Monroe. After 5 weeks of rehearsal, the play opened at the "Golden Theater" and sadly closed the following day.
Robert started his film career in New York, when director Michael Winner cast him as one of the muggers in the original Death Wish (1974) with Charles Bronson. Shortly after that, Howard Koch met Robert at the Plaza Hotel singing in the Green Tulip room. He offered Robert a role in the movie Badge 373 (1973) with Robert Duvall. After that, Robert had another calling and decided to move to Los Angeles, where he has lived for the past 30 years. In that period of time, Robert has appeared in over 100 feature films in starring or co-starring roles with actors like Al Pacino and Johnny Depp in Donnie Brasco (1997) where Robert played "Sonny Red". He co-starred with Jeremy Irons in Dungeons & Dragons (2000), a cameo with Kim Basinger in Jumpshot (2004) directed by Mark Rydell, with Morgan Freeman in Edison (2005), with Christopher Walken and Benicio Del Toro in The Funeral (1996) directed by Abel Ferrara, just to name a few.
Robert has also guest-starred on numerous TV shows like Frasier (1993), Caroline in the City (1995),The Shield (2002), Star Trek: Deep Space Nine (1993), as a regular on General Hospital (1963), a recurring role on The Young and the Restless (1973), and many more.
When Robert is not working in front of the camera on a film or TV show, he dedicates his time coaching actors. Sharing his expertise in what he has learned over the years. He currently studies at the Actors Studio where he is a lifetime member. There is no finish line. It's about the journey and not the destination. One can always improve, says Robert.