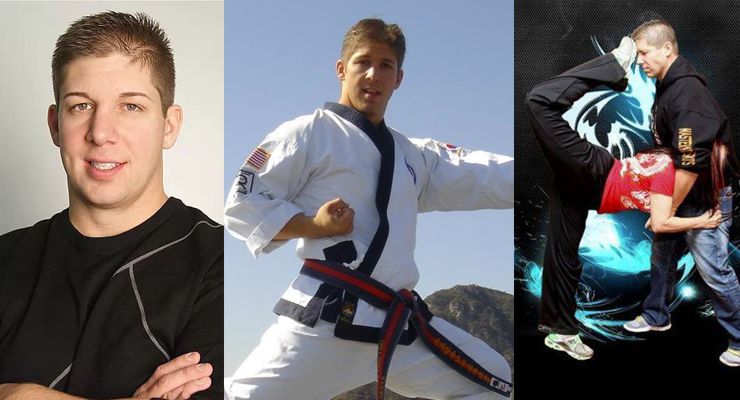 Eric Kovaleski, began training in the discipline of Tang Soo Do at the age of three, and was the youngest Grandmaster of Tang Soo Do in the world. He made the cover of the March 2014 issue of the Tae Kwon Do Times. It is comparable to a football or baseball player in our area making the cover of "The Sporting News" or "Sports Illustrated". Even the legendary Black Belt magazine regards TaeKwonDo Times as one of the top five publications devoted to martial arts in the world – with correspondents from the United States to Australia to Nigeria.
Eric Kovaleski accomplishments included competing on the National Karate Circuit for over 20 years, earning numerous national grand championships as well as taking a World Championship in Fighting in 1994. Additionally, Eric won over 300 trophies in regional, state and national competition in both Forms and Fighting and was inducted into many martial arts Halls of Fame. Eric attended the The 1st World Tang Soo Do Seoul Forum in November of 2012. He was selected as the East Coast Representative for the World Tang Soo Do General Federation Moo Duk Kwan, Seoul, Korea.
Eric Kovaleski was also the recipient of many citations from the Pennsylvania House of Representatives, as well as the Governor's office naming "Pennsylvania Martial Arts Day" in honor of Eric Kovaleski's event, Legends of the Martial Arts Hall of Fame.
Eric Kovaleski Cast in Assassin X aka The Chemist
Assassin X aka The Chemist Director, Art Camacho, confirmed that Eric Kovaleski has been cast in Assassin X.
"Eric is a right hand man to a mob boss in the movie", says Camacho. "It's a featured role for Eric."
Camacho calls Kovaleski a "great person" and says the rising star – who filmed his first role in The Martial Arts Kid in June – will have a fight scene with star Olivier Gruner.
"Yes, he definitely does", confirms Camacho.
A Dickson City, PA resident, Eric Kovaleski has an impressive list of accomplishments.
Filming for Assassin X aka The Chemist begins on August 18, 2014.
Since his role in Assassin X, Eric Kovaleski can be seen in Father and Father (2018) and in Made in Chinatown (2019).
Breaking all our hearts, Eric Kovaleski passed away on February 29, 2020 from a heart attack. He was only 41 years old. He has left this world a much better place. His early passing will make all of us more aware of how short life really is, and how important it is to care for ane another and to be there for one another as much as possible. RIP our wonderful friend.

A Word From Eric Kovaleski's Family
My family really has appreciated all of the love and support over the past few days. Arrangements are being finalized. Arrangements are through Mazurs Funeral Home. A viewing will be held at the Peckville Assembly of God Church on Friday from 4:00 PM to 8:00 PM. A Memorial Service will be held on Saturday morning, details to follow.
In lieu of flowers, donations can be made to the "ERIC KOVALESKI MEMORIAL FUND", mailed to NBT Bank, 736 Main Street, Dickson City, PA 18519. Our sincerest appreciation to everyone!
My family would like to thank everyone whohas reached out to us regarding my brother Eric's passing. We are extremely grateful for the love and support we have been shown! Please do not give to any go fund me accounts at this point in time. Thank you all!