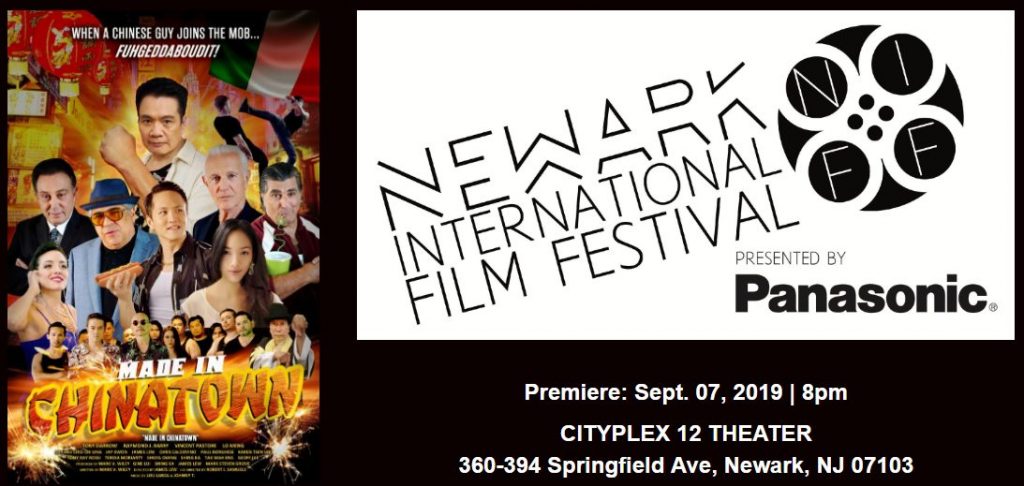 Its happening, the World Premiere and Panel Discussion for Made in Chinatown will take place on Saturday, September 7, 2019 from 6 PM – 10 PM at the Newark International Film Festival! For Info and tickets, click on: newarkiff.com
Featuring: Warrington Hudlin, Demetrius Angelo, Robert Samuels, Vincent Lyn hosted by Khalil Maasi. This event is expected to sell out, so get your tickets early!
Made in Chinatown (2019) is a film written by Mark V Wiley and co-directed by Robert Samuels and James Lew.
Made in Chinatown (2019) is about Chinese guy "Vinny" Chow (Jay Kwon) and his haphazard and hilarious efforts to join the Italian Mafia. He wants to earn some respect, to get the love of an Italian girl, and to find his identity in the only city in the world where you can be whatever you want.

The cast includes Tony Sirico, Burt Young, Chuck Zito, Vincent Pastore, Joseph D'Onofrio, Maureen Van Zandt, James Lew, Bobby Samuels, Paul Borghese, Eric Kovaleski, Artie Pasquale, Tony Ray Rossi, Meng Lo, Jang Lee Hwang, Shing Ka, Geoff Lee, Ian Chow, Alan Goldberg, Tak Wah Eng and more.
Primetime Emmy winner, James Lew, is the Action Coordinator and Co-director with Robert Samuels who is also the Stunt Coordinator. Eric Kovaleski is part of the action/fight team as well as acting in the film. Alan Orr's Iron Wolves are also part of the action/fight team.
More About Made in Chinatown (2019)
In New York City, Canal Street divides Little Italy and Chinatown, and a bridge separates Manhattan from Brooklyn, but this doesn't stop a turf war from erupting among Italian and Chinese organized crime syndicates. There's Al Capella, Manhattan mob boss, Amador Condimento, Brooklyn mob boss, and Hung Phat, Chinatown Triad boss.
They're all involved in the illegal condiments trade in New York. The illegal trafficking of oils, spices, and herbs has been around for centuries, begun by the great Italian explorer Marco Polo—and its very serious business for these crime families. Recently, they've been trying to move in on each other's turf and tensions are high. And when a Chinese guy starts poking around and tries to join the MOB, the double-crossing begins.
Vincent "Vinny" Chow, the mid-twenties Asian protagonist with left arm in a sling, races to Washington Square to seek out two old Chinese fortunetellers, Knowledge and Wisdom, who have an annoying habit of bickering raunchily with each other instead of listening to their clients. Vinny tells them he needs advice desperately and begins his story. A series of flashbacks begin. Vinny, at 14 years old, trains under Master Eng in kung-fu and fails miserably. Vinny feels like a failure and like he doesn't fit in his own culture. Instead, young Vinny wants respect, charisma, power, la dolce vita – in other words, he wants to be "Made," to become an Italian Wiseguy like the heroes in all his favorite movies.
Mr. Chow, Vinny's father, doesn't really understand this and encourages traditional Chinese ways. He especially swears by traditional Chinese medicine, which he claims is excellent for his "jade stalk." If their large family is any indication, it works! Vinny's passion, however, cannot be repressed. He watches movie after movie and imitates all the famous mobsters, from Don Corleone to Donny Brasco. Mrs. Chow, Vinny's mother, is somewhat more tolerant but doesn't really understand, either. May Wong, Vinny's neighbor and longtime friend, is clearly smitten with Vinny, but he hardly notices. Mr. and Mrs. Wong, May's parents, are also friends of the family, but are more well-off and Western in their lifestyle. They prefer to follow the enlightenment teachings of the Jewish Guru Schwartz over Lao Tzu. Everyone is looking outside their culture!

One day while out with his Italian friend, Joey Risotto, Vinny has a brush with Vito and Luigi, two of Condimento's Brooklyn mobsters, who are out of their territory in Manhattan. Vinny challenges them for cutting in line, but they warn him to back off. Instead of being frightened, Vinny is thrilled. Suddenly, Vinny spots Tina (the Italian girl of his dreams) walking down the street. She's beautiful and sexy and always hangs around Italian tough guys. Vinny gets up the nerve to ask her out, but she insults him—she wants someone with prospects, someone with a car, someone with connections… Vinny has none of these. Rocco pulls up in his convertible, Tina jumps in and off they go. Vinny begs Joey to introduce him to his uncle, "Fountain Soda" Eddie, who works for Condimento. Joey says it's a bad idea and besides, Vinny is NOT Italian.
Sometime later, while Vinny is helping out at his father's produce stand in Chinatown, a delivery man disrespects him. Fed up with the lack of respect, Vinny storms off across Canal Street, leaving Chinatown and entering Little Italy. He comes across Frankie and Paulie, two of Al Capella's men, beating up Vito and Luigi for trying to sell their oregano in Capella's territory. Vinny sees an opportunity to prove himself worthy of MOB membership. With fire in his belly, he jumps into the confrontation and fights Vito and Luigi. Frankie and Paulie don't know what's going on. Suspecting he's a spy for Hung Phat, they put a gun to his head and take Vinny to the "Old World Social Club" – a Mob hideout – to see Al Capella. But things don't go well for Vinny.
And so begins Vinny Chow's haphazard and hilarious efforts to join the Italian Mafia to earn some respect, to get the love of an Italian girl, and to find his identity in the only city in the world where you can be whatever you want… Well, at least until the Italian and Chinese crime bosses come calling, your friends and family are kidnapped and tortured, and New York is turned upside down in an all-out battle for control and revenge.
The title "Made in Chinatown" is a play on the phrase "Made in China" and the Italian Mafia's notion of being "Made"… And so, Vinny Chow actually is "Made" in Chinatown.