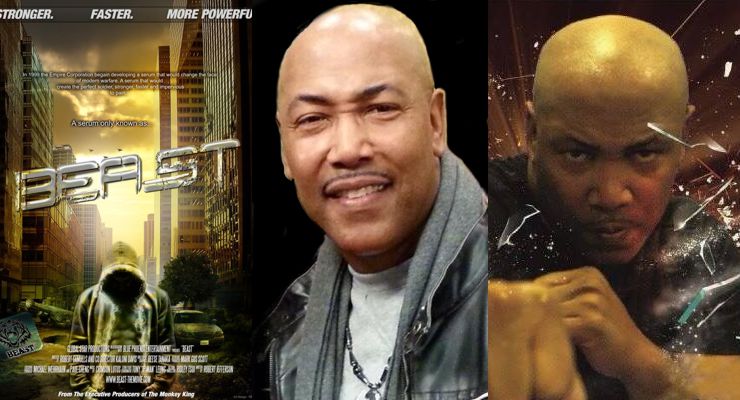 Robert Samuels is an African American martial artist, actor, stunt coordinator and Action Director who speaks fluent Chinese. He began his film career in 1990 and he is the first African American stuntman to be inducted into the Hong Kong Stuntman's Association and the founder of the first Western stunt team in Hong Kong history.
Robert Samuels studied Hung Gar Kung Fu for over 20 years under Chi-Ling Chiu and he has also studied with Sammo Hung in Hong Kong.
Grandmaster Ron Van Clief was the first African American to star in films in Hong Kong and he opened the door to the Hong Kong entertainment industry for others including Robert Samuels. Robert Samuels was the first African American actor to do films other than action films and he was the first to do an onscreen romantic scene.
When Robert Samuels was growing up, he watched a Shaw Brothers film called King Boxer of Five Fingers of Death. He was mesmerized by the film and was determined to work with those actors one day. His first successful film was with Lo Lieh, the actor that starred in King Boxer.
In the United States it was extremely difficult for Robert Samuels to audition against big names like Wesley Snipes, so he decided to travel to Hong Kong where it would be much easier to create his own brand as the only African American speaking fluent Chinese. In Hong Kong, Robert Samuels was introduced to Sammo Hung who signed him to his company, allowing him to live briefly in his home, which allowed Robert Samuels to work with the prolific Hong Kong actor, director and producer on numerous projects.
Roberts Samuels has also worked with Woo-Ping Yuen of the The Matrix Revisited and other well known Directors and Producers.
Roberts Samuels directorial debut wiil be on the film Beast and he shares directorial duties with his business partner and film director Kolani Davis, the creator of the popular web series "LAST DAYS THE SAGA". The script for Beast was written by Robert L Jefferson and the film is being produced by Michael Wehrhahn of Global Star Productions and Paul Cheng of Blue Phoenix Entertainment.
Roberts Samuels' Blue Phoenix Entertainment is a multimedia corporation that specializes in Co-Productions with Asia. They want to produce original content and are currently working on a number of film projects along with original programming for cable and digital VOD. Blue Phoenix Entertainmentis partnered with Global Star Productions (GSP) and they will be releasing IOS and PC games jointly.
Robert Samuels is known for his work on Seven Mummies (2006), Blazin' (2001) and Mou Mian Bei (1995).