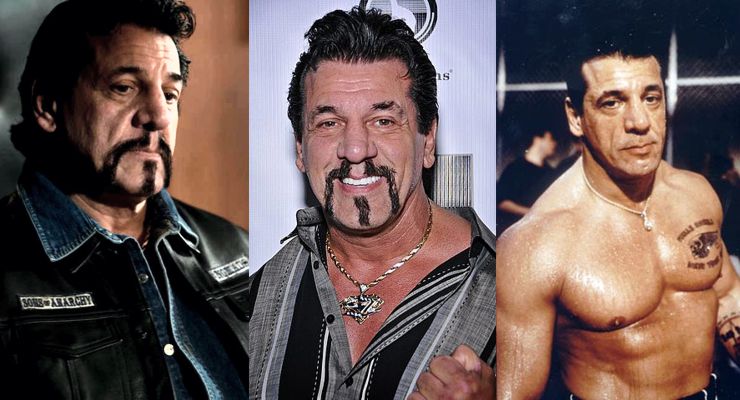 Italian American Chuck Zito was born on March 1, 1953 in The Bronx, in New York City, New York. He was a member of the Hell's Angels for 25 years, leaving the club in 2004, which gives credence to the many tough guy roles he has played in film and on television. He and Luis Guzmán are the only actors to appear in both Carlito's Way (1993) and its prequel, Carlito's Way: Rise to Power (2005) where he plays the tough guy roles he is so will known for. He also played the role of "Danny T" Turrie in Homefront (2013) and did stunts in the film Requiem for a Dream (2000).
Chuck has also had tough guy roles in the hit F/X show Sons of Anarchy , as well as playing other memorable tough-guy characters in acclaimed TV shows like Oz.
Chuck is a Black Belt in Isshinryu with Tommy May, Brazilian Jiu Jitsu with Renzo Gracie and has also studied kung fu and stick fighting as well as boxing. He was a former bodyguard for Jean-Claude Van Damme, Mickey Rourke and Sylvester Stallone and Joan Rivers through his Charlie's Angels Bodyguard Services. He began as a body guard for actress Lorna Luft and later was hired by her half-sister, the legendary entertainer Liza Minnelli. Lisa Minnelli then recommended Zito's service to her celebrity friends and acquaintances, and this allowed Zito to quickly develop clients throughout Hollywood.
Using these connections Zito began working as a stuntman in such films as Year of the Dragon (1985), Hudson Hawk (1991) and The Rock (1996). In 1996 he met with producer Tom Fontana, and Fontana had him join the HBO prison drama Oz as Italian wise guy Chucky Pancamo. Over the years, Zito has alternated between stunt work and acting. He has credits as a stunt performer in films like 15 Minutes (2001) and acting roles in the film This Thing of Ours (2003).
In 2003, Chuck Zito released his autobiography, Street Justice,  which was co-authored with Joe Layden. Zito expanded into radio in 2006 with the show Chuck Zito's View on Howard Stern's Sirius Satellite Radio station. He also competed on Food Network Television's Chopped in 2013, along with NASCAR's Danica Patrick, former NFL running back Tiki Barber and Olympic Champion Swimmer and 12-time Olympic medalist Natalie Coughlin.
In 2018 Chuck Zito starred as Big D in the crime drama television series Paper Empire (2018) with fellow martial artists Wesley Snipes and Tony Schiena.