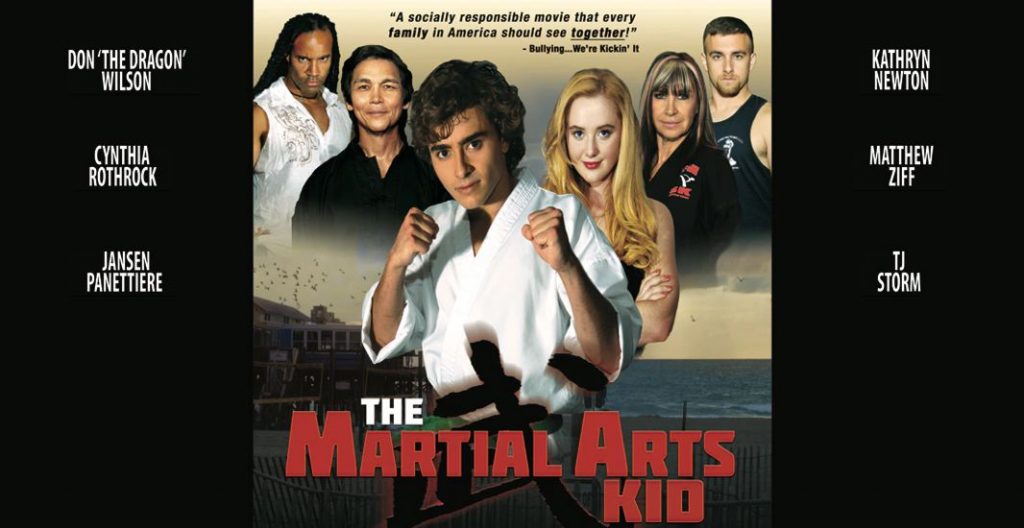 The Martial Arts Kid Movie is co-headlined by two martial arts legends – Cynthia "Lady Dragon" Rothrock ("China O'Brien") and Don "The Dragon" Wilson ("Bloodfist").
The two are teaming up in the new film, "The Martial Arts Kid". It is Cynthia Rothrock's first action/martial arts film as a lead since 2004's "Sci-Fighter" and Don Wilson's first action/martial arts film as a lead since 2007's "The Last Sentinel".
The legendary "Dragons" are back – and martial arts fans are always willing to support them.
Launch Party for The Martial Arts Kid in Los Angeles, California
Cynthia Rothrock and Don Wilson, who have starred in over 75 action/martial-arts films combined, will play the aunt and uncle of a troubled teen who moves to a beach town in Florida after the death of his mother. They both teach him martial arts as a way to heal and to protect himself and those he cares about.
The teen has not yet been cast, but other major roles that have include TJ Storm ("Black Cobra") as the opposing instructor to the "Kid" and Matthew Ziff ("Six Gun Savior") as the bully and tormentor of the "Kid". Other roles already confirmed are Natasha Blasick ("Meet The Spartans", Sasha on "Days of our Lives") and Tara Cardinal ("Legend of the Red Reaper"), Inga Van Ardenn ("Crossing Shadows"), comic Graham Elwood ("Cram"), Jeff Behar, Adrienne Camille ("The Devil's Dozen"), Daniel Moncada ("Sabotage"), Sofya Skya ("Assassins Run") and Vicki Vodar ("Cross Threads") .
The Martial Arts Kid on Kickstarter was launched by Producers of the film on, April 21, 2014 and was extremely successful.
"Casting for The Martial Arts Kid was ongoing for many of the roles. This is a great film", says James Wilson, Don's brother, who, along with former kickboxing champion Cheryl Wheeler Duncan, is producing the film.
James Wilson says they already had enough funds to make the film, but Kickstarter helped them raise more money than an average direct-to-video flick would require, and they have the intention of showing the film theatrically.
" We used Kickstarter as a tool to raise EXTRA funds and as a promotional tool", James Wilson adds. "With the Kickstarter campaign, we also proved that there is a large demand for a true martial arts films with people like Don Wilson and Cynthia Rothrock."
Composer/songwriter Martin Blasick, who gained serious Oscar consideration for his work on "Magic Mike" – is a contributing songwriter. Emmy award winning composer Boris Zelkin is doing the soundtrack. Cinematographer Denis Maloney is on board as DP. He shot "The Contender" with Jeff Bridges, Joan Allen & Gary Oldmann, and "No Vacancy" with Timothy Olyphant & Christina Riccci. Michael Baumgarten is the Director and screenwriter . He is an award-winning screenwriter notably for "Smitty" with Peter Fonda, Mira Sorvino & Lou Gossett Jr.
"I don't think people are going to be able to ignore this movie", says Wheeler-Duncan. "It's just got too many great components to it. I've worked on so many great films. This is going to be a project made with love."
"It's a little different from the films we've done in the past", says Rothrock, the Queen of Martial Arts Films. ""I feel really good about it. This is going to be one of those films that looks like it will have enough of a budget and enough care to make sure everything is done the right way. From the script to the casting to the music we use in certain scenes, James Wilson and Cheryl Wheeler-Duncan are making sure every detail is taken into account and that everyone is putting forth their best effort into making a great film. That's very exciting to me."