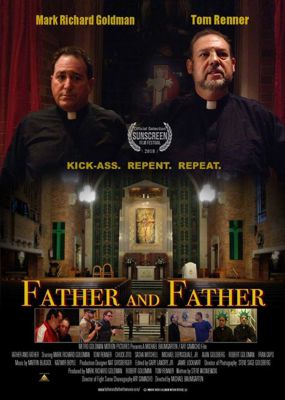 Update: FATHER and FATHER (2018) has been selected and is going to Madrid Spain for the 2019 Shorts-In-Fest International Film Festival.
FATHER and FATHER (2018) won Best Comedy on October 20, 2018 at the Melbourne Independent Filmmaker Festival 2018 and Best Comedy at the Portland International Film Festival 2018.
Update: Metro Goldman Motion Pictures announced the Oregon Premiere of the Michael Baumgarten/Art Camacho Action Adventure Comedy, Father And Father (2018), on August 18 and 19, 2018. Father And Father (2018) was chosen from 189 films from 25 countries. This stellar event is hosted by the small town of Cottage Grove, the location for the movie "Animal House" and they hold the record for the world's largest annual toga party. This event will include a Toga party, music concerts with beer, wine and food gardens. Enjoy musical guests Otis Day, The Kingsmen, The Cry! and the Original Knights. There will also be special gifts for attending fans. Want to attend, email FatherAndFather@optonline.net.
Update: FATHER and FATHER (2018), Metro Goldman Motion Pictures' very first film has been selected out of 600 submissions to Premiere at the 2018 Sunscreen Film Festival.
FATHER and FATHER (2018), a Michael Baumgarten/Art Camacho Film, will have the honor as part of the lineup for the 13th Annual Sunscreen Film Festival held April 26-29, 2018 in downtown St. Petersburg, Florida. All film screenings take place at the AMC Theatre's Sundial. The Sunscreen Film Festival is a worldwide acclaimed film festival for independent film and in 2013, Sunscreen was one of only 23 film festivals nationwide to be sponsored and acknowledged by the Academy of Motion Picture Arts and Sciences.
Directed by Michael Baumgarten and Art Camacho, FATHER and FATHER (2018), is a short film written by Steve Wisniewski and stars Mark Richard Goldman, Tom Renner, Chuck Zito and more martial artists than you can count. This includes Sasha Mitchell, Michael Depasquale Jr., Alan Goldberg, Robert Goldman, Raul Colon, Louis Banks, Eric Kovaleski and Pedro Tweed.
FATHER and FATHER (2018) is a fast-paced, character-driven comedy about two priests forced to go on the run after they hear a confession from a wounded Mob Boss. Besides saving their own skin, the Fathers task themselves with not only saving the Boss' life, but his soul as well. In return, the Boss pledges to provide truth, penance and state's evidence. As the Fathers dodge bullets and bad guys, they fall under the wrath of Church superiors who have always questioned their backgrounds and methods. They fight in the pews and on the church steps. They bust things up. They get heat from the diocese. They turn in their collars, then pick them up again because it's the right thing to do. You've heard of the Long Arm of the Law, but how about the Long Arm of the Lord?
—Father Goldberg
"Father and Father" was nominated SEMI-FINALIST BEST TRAILER / TEASER at Los Angeles Cine Fest. Professional Fighter, Martial Artist, Actor, Stunt Man and Editor Danny Lopez helped bring Father and Father (2018) to new heights with his editing and by creating the Father and Father (2018) movie trailer.
Father and Father (2018) Website