Royce Gracie is a Brazilian mixed martial artist, a UFC Hall of Famer, and a Brazilian Jiu-Jitsu practitioner. He is also and actor and stuntman known for playing Anngar in The Scorpion King 4: Quest for Power and for stunt work in Lethal Weapon (1987).
Royce Gracie was born on December 12, 1966 in Rio de Janeiro, Brazil. He is one of nine children, seven of whom are boys. His training in Jiu-Jitsu began at a very early age as a game with his father Helio Gracie one of the founders of the martial art of Gracie Jiu-Jitsu. Helio never forced any of his children to take formal classes until they wanted to do so. However, they spent tim at the Academy in Rio after school and on weekends.
At only 8 years old, Royce began competing in tournaments. He received his blue belt at age 16 and was promoted to black belt in less than two years. Royce moved to the United States at age 18 to live with his brother, Rorion and the two of them began teaching private classes out of their garage. They oten spent more than 10 hours a day teaching. They opened the Gracie Jiu-Jitsu Academy in Torrance, California twenty years ago. Royce no longer teaches at the Torrance Academy, but it remains one of the largest martial arts schools in the country.
Royce's career as a fighter began in 1993 after he defeated three opponents in the first Ultimate Fighting Championship in Denver, Colorado. Brother Rorion developed the challenge as a way to showcase Gracie Jiu-Jitsu to the world. Discipline after discipline was defeated by the slight 6'1", 180 pound Royce Gracie and Gracie Brazilian Jiu-Jitsu became the popular art it is today.
Royce Gracie's opponents consistently outweighed him by more than 50 pounds. He went on to win 3 UFC titles and today is the only man in the history of no holds barred matches to successfully defeat four opponents in one night.  After leaving the UFC Royce went on to compete in MMA events in Japan and is very popular there.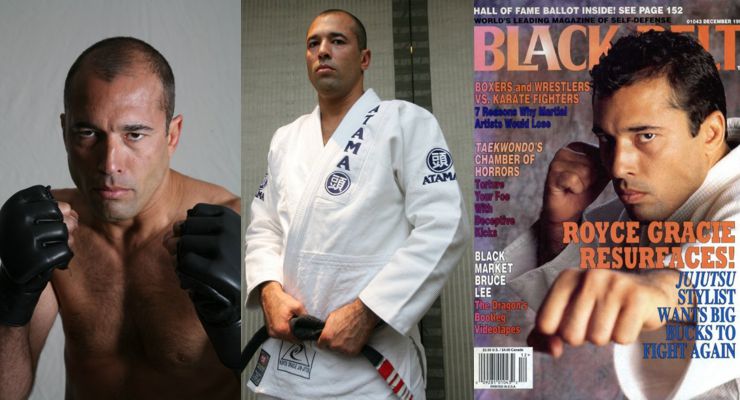 Still active in the fight world, Royce holds the record for the longest MMA match in history: 90 minutes against Japanese superstar Kazushi Sakuraba in PRIDE Grand PRIX 2000. Royce also showed total domination of the Olympic Judo Gold Medalist Hidehiko Yoshida.  His largest opponent was Sumo Grand Champion Akebono, 6′ 8″ 486lbs. Royce vs. Akebono was the main event of K-1 Premium Dynamite New Years Eve show on New Year's Eve in 2004. Royce defeated the giant in just 2min and 13sec with a shoulder lock.  Royce's continued success has opened the eyes of many disbelievers to the importance of leverage and technique in grappling.
In November of 2003, Royce Gracie was the first fighter to be inducted into the UFC Hall of Fame along with fellow UFC veteran Ken Shamrock.  Since then Royce's face has has been seen on countless martial arts magazines such as Black Belt, Inside MMA and Tapout.  He has also been featured in Men's Health and Fitness and GQ.  His recognition spans the globe to include fans on most every continent.
Royce's goal is to spread the techniques perfected by his father all over the world. Throughout his busy fighting career Royce has maintained a rigorous travel schedule of seminars and classes.  He currently oversees  more than 55 US and international Royce Gracie Jiu-jitsu Networks.  The techniques of Gracie Jiiu-jitsu are being taught in one way or another in most martial arts schools world wide. Fighters everywhere realize that they must learn and implement this brazilian jiu-jitsu in their training regimen if they are to be well rounded fighters.
Royce's list of students is enormous. He has taught many of the martial arts and movie greats like Chuck Norris, Ed O'Neal, Guy Ritchie, Jim Carrey, Josh Duhamel and Nicholas Cage. He has also been very active with the CIA, FBI, DEA, Secret Service, Army Rangers, Army Special Forces, Navy Seals and many sheriff and police departments.  His G.R.A.C.I.E. course for law enforcement is known internationally. Aside from teaching at his Networks across the United States, he regularly visits Canada, England, Scotland, Portugal, Spain, Israel, Australia, UAE and South America.
Royce lives in Southern California with his wife, Marianne, three sons, Khonry, Khor and Kheydon and daughter, Kharianna.  He continues to maintain an impressive training regimen, including running, weight training, cross training, meditation and countless hours of Gracie Jiu-Jitsu. He is a full time professional athlete who eagerly awaits his next challenge. Most recently he completed a 40 mile run with his long time trainer, James Strom.  In his own words Royce says, "Go ahead, tell me what I can't do!"