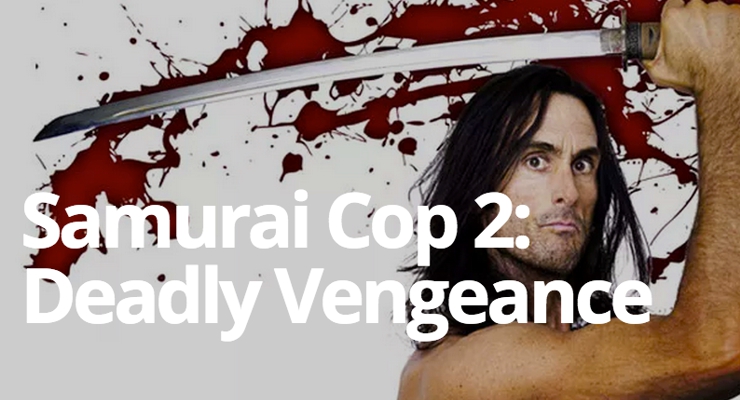 It's 25 years later, and Detective Frank Washington is forced to team up with his long estranged partner Joe Marshall to solve a series of assassinations.
Samurai Cop 2: Deadly Vengeance (2015) is the long awaited sequel to the cult-hit Samurai Cop.
The film stars Matt Hannon (Joe Marshall) and Mark Frazer (Frank Washington) who return to the film along with Melissa Moore (Peggy), Cranston Komuro (Fooj Fujiyama), Gerald Okamura (Okamura) and Robert Z'Dar (Yamashita) all performing the roles of their original characters from Samurai Cop.
The original 1991 film, directed by Amir Shervan, recently found a new generation of fans when it was revived on the midnight theatrical circuit and in film festivals. Sold out crowds attended the screenings and YouTube viewers will find all kinds of fan videos and there has been a video game adaptation as well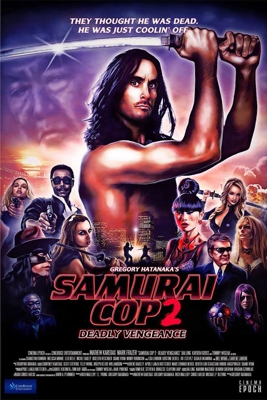 Along with the original cast, Samurai Cop 2: Deadly Vengeance (2015) assembles an lineup of veteran actors and newcomers including:
BAI LING ("The Crow," "Crank: High Voltage," "Red Corner")
TOMMY WISEAU ("The Room")
LAURENE LANDON ("Hundra," "All The Marbles")
KAYDEN KROSS ("Blue Dream")
LEXI BELLE (2014 Penthouse Pet of the Year)
MEL NOVAK ("Game Of Death," "An Eye for an Eye," "Tom Horn")
NICOLE BAILEY ("Mac Miller and the Most Dope Family")
KRISTINE DeBELL ("The Big Brawl," "Meatballs")
JOE ESTEVEZ ("Soultaker")
NICOLE D'ANGELO ("Blue Dream")
SHANE RYAN ("Amateur Porn Star Killer")
MATTHEW MAHANEY ("Days Of Our Lives")
JESSE HLUBIK ("May," "I Know Who Killed Me," "All Cheerleaders Die")
SEAN McNABB ("Quiet Riot", "Dokken")
NAOYUKI IKEDA ("Hunter")
LISA LONDON ("Sudden Impact")
EDWIN A. SANTOS ("Mad Cowgirl")
MINDY ROBINSON ("Gym Rescue," "V/H/S/2")
RAMZI ABED ("The Devil's Muse")
SHAUN PICCININO ("The Lackey," "Super Power Beat Down")
RON BECKS ("Hunter")
MAGDA MARCELLA ("Miracle Mile Girls")
SHAWN C. PHILLIPS ("Dysmorphia," "Ghost Shark")
SCOTT BUTLER ("Hunter")
JOYCELYNE LEW ("The Big Brawl," "They Still Call Me Bruce")
Samurai Cop 2: Deadly Vengeance (2015) will be shot in and around Los Angeles County, beginning in late November 2015 and hopes to premiere in festivals starting summer 2016 and this will follow with the films theatrical release.
Along with investors, the film was supported by a Kickstarter Campaign allowing fans to contribute to its final formation.
Samurai Cop 2: Deadly Vengeance on IMDb
Samurai Cop 2: Deadly Vengeance premiers in Los Angeles October 9-15 2015, then in New York November 20-21, 2015.
Buy Tickets For Los Angeles Samurai Cop 2

Buy Tickets for New York City