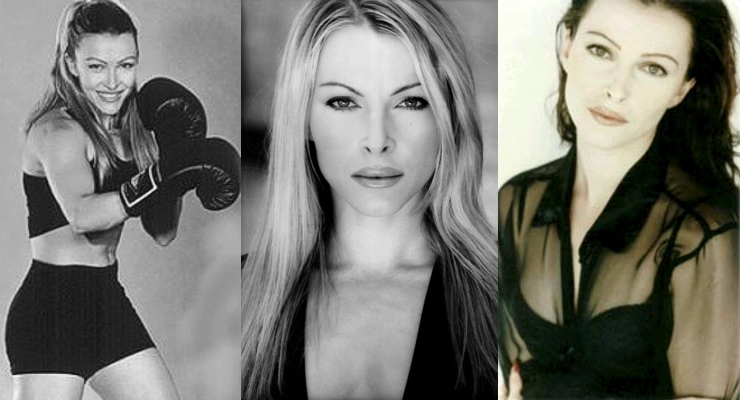 After achieving worldwide notoriety in martial arts on the Bulgarian national team, Stephanie Cheeva migrated to the United States from Bulgaria to seek fame in the movie business. Early in her career she worked on independent films such as Jeff Centauri 's I.C.O.N. with Andre "Chyna" McCoy and Chona Jason. Stephanie has worked as a stuntwoman on Martial Law and V.I.P. Always honing her technique as an actress and as a martial artist, Stephanie is not content to stand still; she paves the way for herself in an ardent, and respectable manner.
2003 was a breakthrough year for the 28-year-old actress with parts in The Fine Art of Persuasion, and Last Call. She has stunt-doubled for Madonna on the original version of her American Life video. Also in 2003 she worked as a motion capture artist on video games such as Spawn and Jet Li's Rise to Honor. She is appeared in the feature called Brotherly Love with Jack Palance.
Stefi was born and raised in Bulgaria by her parents, Bulgarian Figure-skating Champion Maria Vulkova, and Mathematics Professor Veselin Georchev. Stefi changed her name to Stephanie Cheeva when she came to LA in 1996. She had to learn how to speak English, before she could join and graduate from the Joanne Baron & D.W. Brown school of acting.
Stephanie Cheeva/McNeal produced and acted in the action thriller Black Cobra – a Lionsgate/Shoreline release in 2012. She is also producing the feature films Angel City, Major, Mr. Sinclair, and Quickfire 3D, as well as the film Pure. She is a Co-Founder and Vise President of Love Never Fails World Charity – a non-profit organization committed to the abolishment of Child-Sex Trafficking.
In 2003, Stephanie was inducted into the International Martial Arts Hall Of Fame. She was also presented with the Chinese Martial Arts Academy Award from the Hawaiian International Martial Arts Society, and was awarded Female Action Star of the Year. Currently holder of a Fifth Degree Black Belt in Tae Kwon Do, by her late teens Stephanie had won 21 gold medals and competed all over the world.
In 1996, Stephanie came to Los Angeles and two years later, graduated from the "Joanne Baron & D.W. Brown" school of acting. Her acting and action skills provided her with the opportunities to be a part of film and TV shows such as: The Ultimate Game, Martial Law, Nash Bridges, VIP, Crossing Jordan, Exorcism, Longshot, Last Call, Miss Congeniality 2, Shallow Ground, The Last Eve, Tequila Express, as well as several national commercials and numerous video-games: Pirates: The Legend of Black Kat, Star Wars: The Clone Wars, Rise to Honor, Spawn: Armageddon, Devil May Cry 3: Dante's Awakening, Resident Evil to name a few.