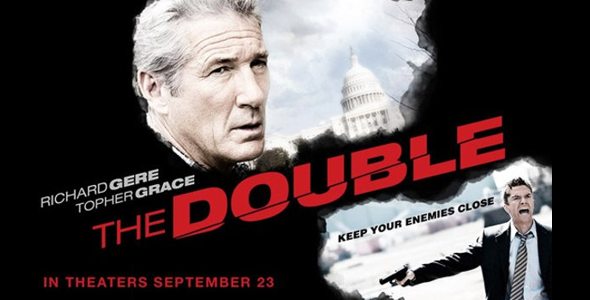 With the fight choreography by Martin Wheeler, you can guess the action in Richard Gere's movie, The Double (2011), is Systema influenced. Martin worked on The Double (2011) last summer with the writers of Wanted and 3:10 to Yuma, Michael Brandt and Derek Haas. Wheeler not only choreographed the fight scenes in the spy thriller, but he also has a small role in the movie.
The Double (2011) stars Richard Gere, Topher Grace, Martin Sheen, Tamer Hassan, Stephen Moyer, Odette Yustman, and Stana Katic.
The Double (2011) was released on September 23, 2011 in New York and Los Angeles and on September 30, 2011 in Chicago, DC, Dallas, Houston, Miami, Phoenix, Seattle and Minneapolis.
The Double DVD became available on January 31, 2012.
About the movie:
In The Double (2011), the mysterious murder of a US senator bearing the distinctive trademark of the legendary Soviet assassin "Cassius," forces Paul Shepherdson (Richard Gere), a retired CIA operative, to team with rookie FBI agent, Ben Geary (Topher Grace), to solve the crime.
Having spent his career chasing Cassius, Shepherdson is convinced his nemesis is long dead, but is pushed to take on the case by his former supervisor, Tom Highland (Martin Sheen). Meanwhile, Agent Geary, who wrote his Master's thesis on Shepherdson's pursuit of the Soviet killer, is certain that Cassius has resurfaced. As Shepherdson and Geary work their way through crimes both past and present, they discover that Cassius may not be the person they always thought him to be, forcing both to re-examine everything and everyone around them.
Written by Michael Brandt and Derek Haas, the team behind WANTED and 3:10 TO YUMA, the film also represents Brandt's directorial debut. Produced by Patrick Aiello, Ashok Amritraj, Steffan Brunner, Andrew Deane, and Derek Haas.
Director: Michael Brandt
Writers: Michael Brandt, Derek Haas
Stars: Richard Gere, Topher Grace, Martin Sheen