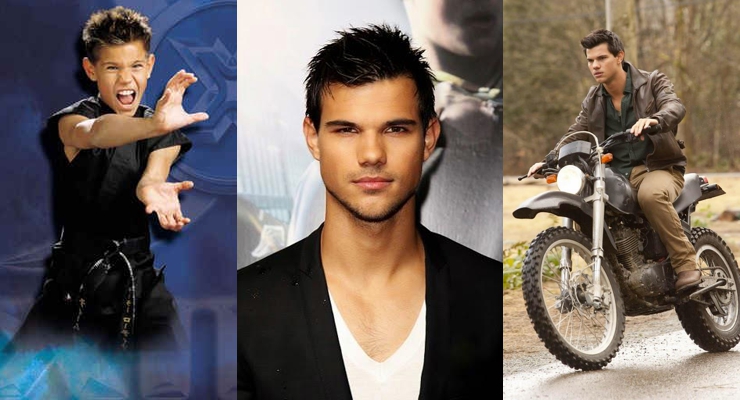 Taylor Lautner is an American martial artist, actor and model. Taylor is known for his role as Jacob Black in the Twilight series of films based on the Stephenie Meyer novels, including Twilight (2008), The Twilight Saga: New Moon (2009), The Twilight Saga: Breaking Dawn – Part 1 (2011), The Twilight Saga: Breaking Dawn – Part 2 (2012). He starred in the UK television show Cuckoo (2014-2018) and in the film Tracers (2015) and  Run the Tide (2016).
Taylor Lautner was born in Grand Rapids, Michigan on February 11, 1992. His mother, Deborah works for a software development company, and his father, Daniel Lautner, is a pilot for Midwest Airlines. He, and younger sister Makena, were raised in Hudsonville, Michigan. At the age of six, Taylor began studying martial arts at Fabiano's Karate School and he, along with his family, realized that he was a natural at martial arts and his unique talent would allow him to excel at the sport. It wasn't long before he was invited to train with world karate champion Michael Chaturantabut (aka Mike Chat) and, at the age of eight he received his Black Belt. Taylor was asked to represent his country in the twelve years and under division at the World Karate Association where he became the Junior World Forms and Weapons champion, winning three gold medals. In 2003, Taylor continued to flourish in the martial arts circuit where he ranked number one in the world for NASKA's Black Belt Open Forms, Musical Weapons, Traditional Weapons and Traditional Forms and, at the age of twelve, he became the three time Junior World Champion.
In addition to his love for martial arts, seven year old Taylor developed a desire to act after his martial arts instructor, Mike Chat, who was involved in show business, encouraged him to audition for a small part in a Burger King commercial. Although he didn't get the role, he enjoyed the experience and told his parents he wanted to pursue acting. He and his family traveled back-and-forth from their home in Michigan to California on a regular basis so Taylor could audition for acting roles. The frequent traveling and air fares became overwhelming, so when he was ten, his family made the crucial decision to move to Los Angeles where Taylor could audition full-time for films, television, and commercials.
Once moved to Los Angeles, Taylor found himself landing more small acting roles. He continued to get reoccurring roles on television shows such as My Wife and Kids (2001), Summerland (2004), and The Bernie Mac Show (2001). Taylor also found success in films. In 2005, he landed the role of Sharkboy in the family blockbuster flick, The Adventures of Sharkboy and Lavagirl 3-D (2005), and the role of Eliot Murtaugh in Cheaper by the Dozen 2 (2005). However, it would be one single role that would ultimately change Taylor's life forever. In 2008, Taylor auditioned for the role of werewolf hunk Jacob Black in the record smashing, blockbuster hit Twilight (2008). The film was a great success and Taylor, along with fellow cast members Robert Pattinson and Kristen Stewart, were propelled into a world that would forever change life and careers.
Taylor has continued to portray Jacob Black in the continuing series The Twilight Saga as well as taking on other roles in films including the star studded romantic comedy, Valentine's Day (2010), and the action-packed thriller, Abduction (2011).