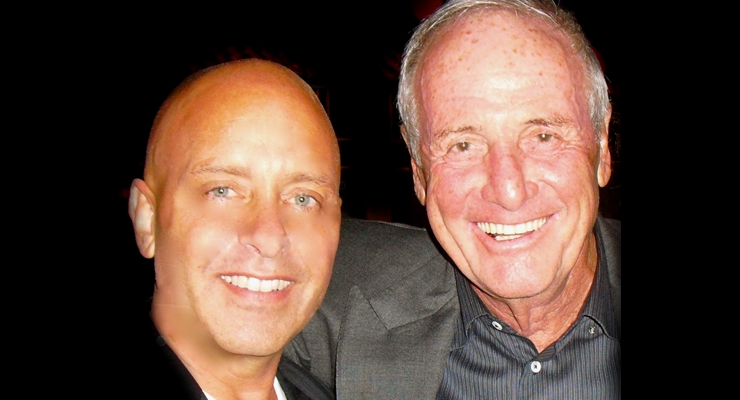 Actor and martial artist Ron Thomas, Bobby Brown, the Cobra Kai bad guy, in The Karate Kid, and the film's producer, Jerry Weintraub
Jerry Weintraub was an American actor and producer as well as a talent agent, concert promoter and the chairman and CEO of United Artists. For us as martial artist, we will remember him best as the producer of all The Karate Kid series of films including The Karate Kid (1984) starring Ralph Macchio, Pat Morita, Elisabeth Shue, The Karate Kid, Part II (1986) starring Pat Morita, Ralph Macchio, Pat E. Johnson, The Karate Kid, Part III (1989) Starring Ralph Macchio, Pat Morita, Robyn Lively, The Karate Kid (Animated TV Series), The Next Karate Kid (1994) Starring Pat Morita, Hilary Swank, Michael Ironside, and lastly The Karate Kid (2010) starring Jackie Chan, Jaden Smith, Taraji P. Henson. died Monday. He was 77.
Jerry Weintraub had a diverse career in the entertainment industry. His Concerts West company handled Frank Sinatra,  and Bob Dylan as well as Elvis Presley and the Beach Boys and Management III had clients that included Neil Diamond, John Denver and even Dolly Parton. He was also one of the first people to book concert tours in sports Stadiums. Jerry Weintraub moved in to films in 1975 as the Executive Producer of the movie Nashville and from there he made many popular films, including the Ocean Eleven series and so many music specials that it is difficult to name them all.
Jerry Weintraub was born on September 26, 1937 in Brooklyn, New York, He died Monday, June 6 in Santa Barbara, California. He was 77 years old.
Jerry Weintraub's support of martial arts films helped spread martial arts from one end of the globe to the other throughout the years. Thank you so much, Sir, for your support of martial arts. RIP Mr. Weintraub.