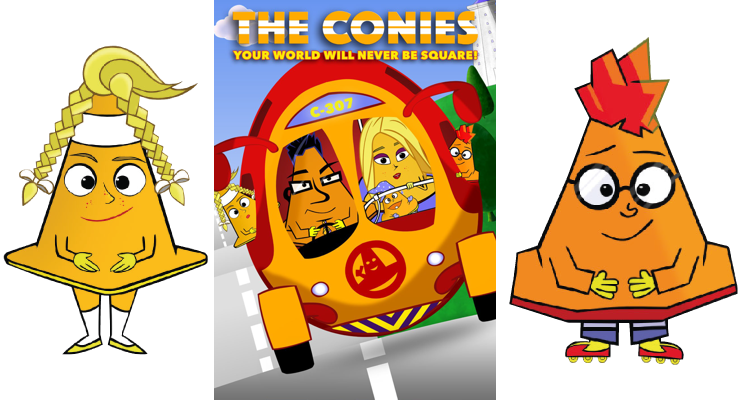 European Gold Medal Martial Artist Fay Goodman has undertaken a project to protect children in the United Kingdom from road injuries. The project, The Conies is an animation and toys series that turns traffic cones into endearing characters to help educate children about safety on the roads.
The latest Government figures show a surge in the number of child deaths and serious accidents during 2014, up 6% on 2013. Also the proportion of road casualty incidents within 500 metres of schools has increased during this period up to 69% of all child accidents, with child cycling casualties near schools up by 13%. There are 201 road accidents involving a child near a school every week.
Due to the high numbers of children killed or injured on roads, Fay had the crazy idea of turning road signs into animated characters who could become children's heroes as they taught road safety! She began the project by pencil drawing funny characters and team member, Piotr, brought her images to life through the magic of animation. As the family of Conies grew, we created friends for the cone characters, such as Mr Conefused and Moo.  This inspired  other team player, Mark, and Fay to compose music. Surprisingly, one track is called Reggae Moo!
THE VISION
It is Fay's teams dream to see The Conies become as big as Peppa Pig and Shaun the Sheep, with children becoming really engaged in The Conies stories. With your help we can put The Conies onto the Yellow Brick Road!
THE MISSION
We want to help children be aware of the potential dangers of ever increasing traffic, to recognize road signs, and learn respect for all road users. By the time they reach driving age we hope their knowledge and road safety skills will lay a firm foundation for their life behind the wheel as well as personal safety when out and about. With increasing technical advances and the temptation to live in a virtual world, The Conies show the importance of living a well balanced life while still having fun!
In the past we have had icons such as The Green Cross Code Man and Tufty the Squirrel to help educate children in road safety. Presently, we lack heroes for children to look up to and identify with. The world needs a new road safety role model and The Conies has created a whole family of them!
We want to make several short animated stories using The Conies and we need your help in making the first program. We have a two-minute show reel on The Conies  and the animations are supported by a comprehensive portfolio of aids, lesson plans, activities and games and other teaching aids to help and reinforce children's understanding of road safety and personal safety concepts. Visit The Conies website for more information.