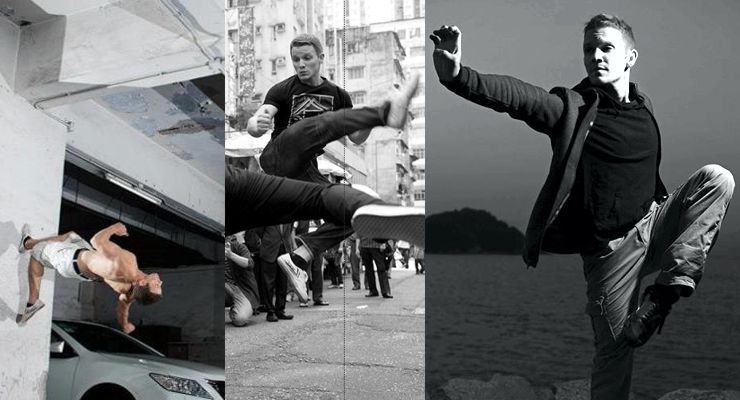 Tom Caserto is an Italian American actor and stuntman born on July 28, 1986. He is originally from Long Island, New York. He began his martial arts training at age 12, studying Tae Kwon Do. At age 13 he began training with 34th generation shaolin temple fighting monk Shi Guolin at the shaolin overseas headquarters, where he trained for 7 years. There he learned advanced skills in sparring, aerial kicking, acrobatics and more.
Tom has been a coach for beginner and intermediate gymnasts and a personal trainer at NY sports clubs. Tom's acting began in high school where he studied 2 years of drama and performed on stage. He recently returned from the Shenzhen/Hong Kong area, where he lived for 3 years training at HITHUT Cinematic Action Training Studio and with Mark Houghton in cinematic action, reactions and stunts. While there he worked on different productions. He recently moved back to the United States to work in the entertainment industry.
Tom specializes in martial arts action, stunts, acrobatics, tumbling, parkour, and other cinematic action techniques. His "anytime, anywhere" approach, is found to be invaluable on action film sets.
Tom has been a Shaolin Kung Fu instructor for children and adults in Shenzhen, China and he regularly helps train actors during the fight choreography and preparation phase.
Thanks to his acrobatic abilities, Tom is sought after for different action roles. In 2013 he played the lead role in a commercial for the Doritos Crash the SuperBowl contest where he performed martial arts and parkour.
Tom Caserto is a part of the Lau family stunt team and recently was an actor, stunt performer, and assistant fight choreographer in Hands of Lau, a documentary about Lau Kar Leungs Legacy and the Lau Family stunt team.
He played a bodyguard in the film Helios, directed by Sunny Luk and Lok Man Leung (Cold War).
He plays Russian criminal Sergey in Drifting Pictures film VOR: Trust Me I'm A Thief.
Tom also appeared in various productions and at various events:
Here is the final fight in Beef and Broccoli, directed by American impressario Damon Dash.
He did the live fighting performance and weapons demonstration at Hong Kong University during a Bey Logan lecture on action cinema.
He did the demo reel as the lead for a future film project called Fantom from B&E Productions.
In Lady Bloodsport from B&E Productions (currently in pre-production), Tom plays one of the bad guys in the final fight scene.