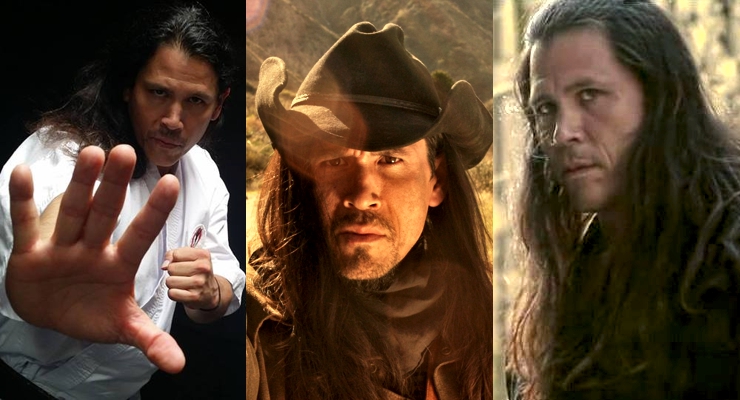 William Christopher Ford (Christopher Paul Ford) played Dennis, the strong but silent Cobra Kai bad boy in The Karate Kid Part III. Ford was made aware of an open casting call for the role of Mike Barnes from a good friend and stood in line with hundreds of other young hopefuls. Director John Avildsen came out with a camera man and began going down the line of individuals to look at the talent and stopped to talk to a fortunate few, including Ford, who gave the director his headshot. About a week later, he got a call from Casting Director, Caro Jones, who called him into read for the part of Mike Barnes. A month or so later Ford got a call from Jones telling him the part of Mike Barnes had been cast but they wanted him to come down to the set because they needed an actor, stunt performer and martial artist to play one of the supporting bad boys. The next day Ford met with Stunt Coordinator Pat Johnson and Director John Avildsen and was cast as Dennis.
In 1985 Ford played a soldier in the film Sword of Heaven (1985). He can also be seen in roles on television shows including playing a ninja in Knight Rider, a gang member in Houston Nights, a martial arts student in Supercarrier and numerous other roles.
William Christopher Ford is a 5th degree Black Belt in Okinawan Shorin Ryu Karate and studied directly with Sensei Richard Rabago and with Master Tadashi Yamashita. He has also studied Brazilian Jiu-jitsu and Kickboxing. He began studying martial arts in 1974 at the age of seven. Ford left the Entertainment Industry for many years to help raise his two kids but returned in 2006, and at this time he also changed his professional name to William Christopher Ford to honor his father who passed away in 2005. He has also worked as Chris Ford, William Ford and "WC" Ford.
In 2012, Sensei Ford was inducted into the Masters' Hall of Fame and received the Lifetime Achievement Award for his outstanding contributions to the martial arts. He dedicated this honor to Sensei Richard Rabago, who had recommended Sensei Ford for this award.
In 2013, Sensei Ford was appointed as official ambassador to the Masters Hall of Fame and inducted 8 outstanding martial artists into this prestigious organization.
On Sept. 7th, 2013, Sensei Ford received the Museum Honor Award from the Martial Arts History Museum, in recognition for his lifelong dedication to his study of and teaching of the martial arts.
Sensei William Christopher Ford is the Chief Instructor at Kaizen Dojo in Torrance, California. To contact Sensei William Christopher Ford  or Kaizen Dojo visit their listing on the Martial Arts Schools & Businesses Directory at FindADojo.com by clicking on the image on the left.