Rick Avery, owner of 4 Blades Helicopter Inc. has been a professional pilot for over 30 years. What is exceptional is he also worked as a director, second unit director, stunt coordinator and stuntman.
What sets him apart is that he has an experienced eye for camera, setting up shots and a complete understanding of stuntmen's and stuntwomen's requirements to complete action sequences safely.
On Camera Action – with over 500 films / Television Shows / and Commercials to his credit and over 50 as a pilot, Rick knows how to get the shots needed in front of camera.
Camera Platforms – 4 Blades Helicopter Inc. has extensive experience with Pictorvision, Wescam, Tyler, Gyron and Cineflex camera platforms. We can supply camera operators or work with yours.
Stunts – 4 Blades Helicopter Inc. has a perfect safety record. Over 6,000 hours of experience . Formation flight, close proximity to camera, crew, and cast with safety first the priority. Lifting stunts or having them rappell has been demonstrated for numerous film sequences.
Tours – 4 Blades Helicopter Inc. has been flying tours for over seven years in the Los Angeles area. We have extensive knowledge of stars homes, romantic flights , and sight seeing experience, with access to 2-5 seat helicopters.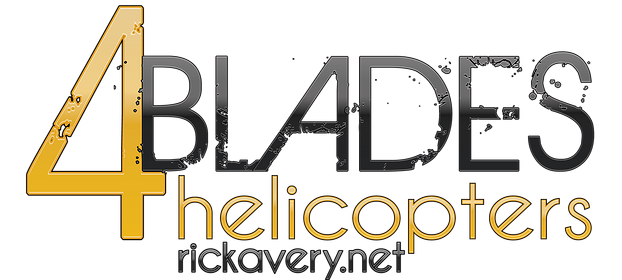 More Information
4 Blades Helicopter Inc. has it's own current movie manual with FAA waiver to work on all television and movie flying. This includes all phases of camera and stunt work with helicopter and fixed wing aircraft.
Graduate: Robinson Safety School, Eurocopter Safety, Bell Safety. 133 Endorsed Lift Card…. Forest Service Fire Card – USDA/USDI
Commercial and instrument rated multi engine airplane and helicopter.
Certified flight instructor instrument helicopter CFII
Part 135 rated Bell Jet Ranger, Astar 350 ,R44, Bell Long Ranger .
Pictorvision, wescam, tyler , cineflex , corona, super g
Helicopters available: Astar 350d,B2,B3, Bell 206 Jet Ranger, Bell Long Ranger, Agusta 109, Robinson R44 Raven II
Chief Pilot: National Helicopter Service
Instructor Pilot: Group 3 Aviation
Fire and Utilitly Pilot: Guardian Helicopters
Helicopters Flown:
Bell Jet Ranger, Bell Long Ranger, Astar 350 D, B2,B3
Bell Super 205, Bell UH–1H,
Agusta 109, SC300cBI, Robinson R44
Visit the 4 Blades Helicopter Inc. Website