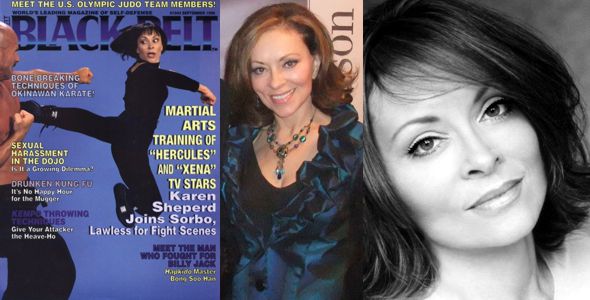 Remember drive-in movie theaters? Karate Diva Karen Sheperd had seen Bruce Lee play Kato in The Green Hornet on TV, but it was at the drive-in that she first saw him on the big screen in a double-feature. As a passionate, young student of the martial arts, Fists of Fury and The Chinese Connection, for karen, were game changing. She was mesmerized by his charisma and fighting skills. Her imagination went wild! She pictured herself on the screen and thought, "That's what I want to do!". She sat in my car, turned on her tape recorder and recorded his dialogue and unique fight sounds. For days after, she played the tape over and over again as I kicked, punched and recreated Bruce Lee poses in her living room.
She was a purple belt in Kajukenbo when she entered her first tournament. She won first place in the Kata (Forms) division. It is one of her most memorable experiences because she entered wide-eyed, innocent, fully present for the experience and without expectations. It was the beginning of a dynamic future in the martial arts and in the entertainment industry.
A pivotal moment came when, as a green belt, she sat on the lawn in the backyard of her home in Oregon and told her father she wanted to move to Colorado to study with a teacher who's style she wanted to learn. With great reservations, her father encouraged her to follow my dreams. He never wanted her to look back and say, "what if". She now cherishes his courage in sending her off with his blessings, understanding how hard it must have been for him to let his young daughter go off into the great unknown.
Karen packed her few belongings and flew to Denver to begin studies with Al Dacascos, pioneer of the art of Wun Hop Kuen Do Kung Fu. She found a job and every hour she wasn't working was spent living and breathing martial arts. She excelled in Kata, and Al's wife and co-instructor, Malia, took her under her wing as her protégé.
Malia was the "Queen of Kata" at the time, having won almost every championship in the Nation as a Fighter and Kata competitor. She was also the first woman ever to be on the cover of Black Belt Magazine. To say they trained hard is putting it mildly. It paid off though, as karen began to hit every major tournament and making a name for herself.
At the time, there existed no official ratings for women in Forms (Kata) and she was often the only woman competing alongside men. She was the only woman rated in the "Top 10″ and oftentimes, other women would express their desire to compete but said they felt intimidated in a field of men. Women had separate ratings for Sparring (Fighting) divisions but not in Forms.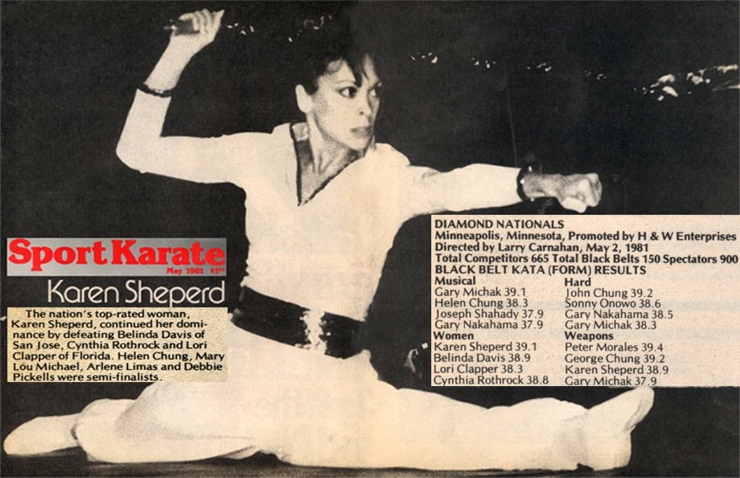 Again, wide-eyed, innocent and without expectations, Karen Sheperd set out to blaze a trail for future women competitors. She set up a meeting at Black Belt Magazine with the editor of Karate Illustrated. Through his advise,she asked the other female competitors to petition him with support and urged tournament promoters to have separate divisions for women. This became her priority and it paid off. In 1979, the first official ratings were established for women Forms competitors and Karen earned enough points to gain the title of the first #1 Women's Black Belt Forms Competitor, a title she held again in 1980. KICK Illustrated established the STAR Ratings System and she was also the first woman to achieve that #1 Women's Forms Champion title in 1980. Sure, she wanted to be the first "#1″ but it was also her intention to be challenged and to inspire more women to compete. Establishing the title did encourage more women to compete and played a part in the development of Sport Karate for women.
Karate Diva Karen Sheperd's achievements brought media attention. A National magazine-type TV show called PM Magazine flew to St. Petersburg Florida, November 1980, to shoot a profile on Karen and document her Grand Champion Forms win. It was the first time a woman had won the Overall Forms Grand Championship, a win so unprecedented that PM Magazine sent it out over the wire and it was announced on over 34 National network news broadcasts that night. It was the first Karate tournament news ever covered on prime-time television, giving Sport Karate unprecedented publicity. The TV show Real People brought their cameras to the West Coast Nationals in San Jose, California in June 1980 to also interview Karen and document her 1st Place win in Women's Black Belt Forms. The World of People came to Colorado, where she was teaching at the time, and filmed a segment about her.
Into the 1981 competition season, she received an exciting phone call from legendary Karate Master, Tadashi Yamashita. He asked if Karen would come to Japan to be one of the leads in his film, The Shinobi Ninja. This was the call she had always dreamed about. She was going to be in a martial arts movie! While sitting on the airplane next to her friend and co-star, Eric Lee, she opened a letter her father had sent her with the instructions to only open on the plane as she headed toward her destiny). In the letter, her father expressed his pride in her accomplishments and and told her he realized her endeavors in Karate were not just a fad, but an achievement she pursued with all her heart and one she was fulfilling. Eyes filled with tears, she tucked the letter away as a cherished memento. She had earned her father's respect.
Karen's experience in Japan was life-changing. As she lay in 6 feet of snow in the mountains of Japan, with a fake arrow stuck in her arm, freezing her buns off, she waited for the next shot, filled with excitement and the knowledge that she had found her career, acting! She flew home, packed again, retired from Karate competition and moved to Los Angeles to pursue her dream of being in show-biz. She dove into acting studies and found an agent. She applied the discipline it took to become a Martial Arts champion to an acting career and would reap the rewards.
The first magazine cover Karen Sheperd graced was Karate Illustrated, the February 1982 issue. Second was KICK Illustrated in May 1982. Many more followed, along with hundreds of articles and interviews. Her new endeavor, acting, proved to be more competitive that Karate tournaments. She found herself a "white-belt" once more with much to learn. The publicity she received opened some interesting doors and she met with some great people, like Albert Broccoli, who considered her for the lead in Octopussy, and top producers at Universal Studios and NBC. Hollywood big-wigs weren't confident that a female martial artist could be a box-office draw. They'd rather cast established actresses and hire stunt performers to double them. That was hugely frustrating for Karen, as Chuck Norris was well on his way. I could envision female action stars, but Hollywood wasn't ready for them at the time. Never one to back down, Karen forged ahead anyway, pursing her dream of being an action star.
Karen is Honorary President of Karate for Inner City Kids, U.K.
Today, besides working as an actress, she stay in touch with the martial arts community with private coaching, making appearances and teaching seminars around the world to help inspire others to follow their dreams. She shares what it takes to be a champion, how to win, technique, performance and fight choreography and most importantly, how to persevere. She is always thrilled when meeting new students and much appreciate their desire to learn. Fan appreciation is very special to Karen Sheperd, as, she says, "it doesn't get more complimentary than that"!