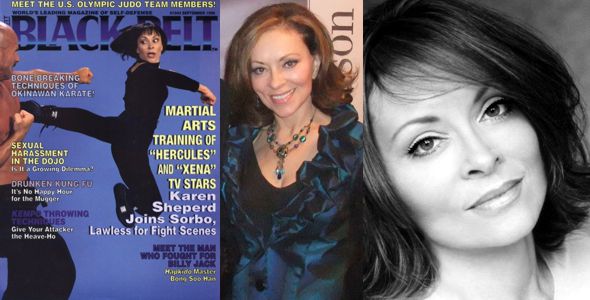 Karen Sheperd was born on November 12, 1961. She is an American martial artist and actress who has worked in film, theater and television. She was the first woman to hold the title of #1 Women's Black Belt Forms Champion and it was Karen Sheperd who pioneered recognition for female martial artists in forms competition.
"My Martial arts were always my inspiration. They helped me maintain my drive for success and gave me the discipline to follow my heart toward achieving my goals."  Karen Sheperd
Karen Sheperd is considered a role model by martial arts fans and action oriented film and television audiences worldwide. The former #1 Black Belt Martial Arts Champion has successfully converted the focused determination of an awarded athlete into a steadfast passion for acting and stunt fighting.
Having been a gymnast, Karen Sheperd was first attracted to the physical beauty of martial arts movements and quickly found herself deep into studies ranging from Tai Chi Chuan to Shotokan Karate . . . and many systems in between. Having found a physical art that also emphasizes spiritual and mental development, Karen Sheperd became hooked for life. She began competing in and consistently winning national competitions. Karen was the first woman to hold the title of #1 USA Women's Black Belt Champion in Forms (Kata) competition, a title she held for two consecutive years. She was the first woman to win the Grand Champion title at the prestigious U.S. Open Karate Championship, a win so unprecedented that it attracted much publicity, including the national evening television news. Karen Sheperd's showmanship and prowess with forms and weapons wowed audiences worldwide and help set a new standard for forms competition. She excels with such weapons as the Double Broad Sword and the Steel Whip Chains.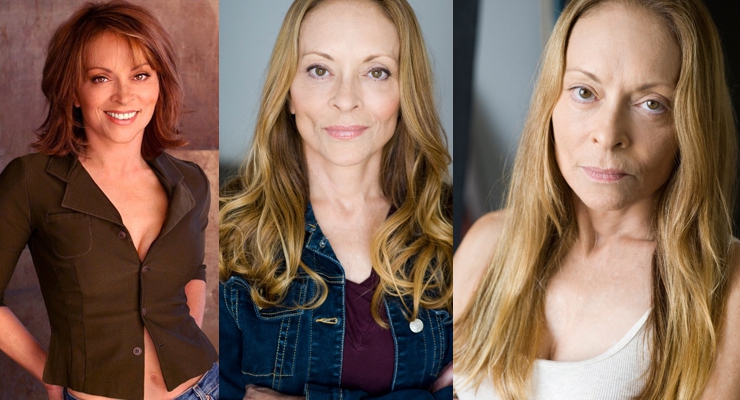 Karen Sheperd is one of an elite group of individuals to have been inducted into the Black Belt Hall of Fame. Respected worldwide for her expertise and skill, Karen has been featured on the covers of every major martial arts publication and in hundreds of articles worldwide.
Karen Sheperd was in the middle of a successful national tournament tour when she was approached to star in her first film. She went to Japan to film Shinobi (also starring Tadashi Yamashita and Eric Lee) and realized she was hooked. She left the competition circuit and relocated to Hollywood to immerse herself in acting studies. Karen Sheperd also taught fitness, aerobics and martial arts. She landed a role in the Universal Studios stage production of The Adventures of Conan where she performed as the sword wielding "Red Sonja" in over 3,200 performances.
Along the way she went to Hong Kong to appear in what would become a martial arts cult classic, Righting Wrongs (a.k.a. Above the Law), directed by Cory Yuen.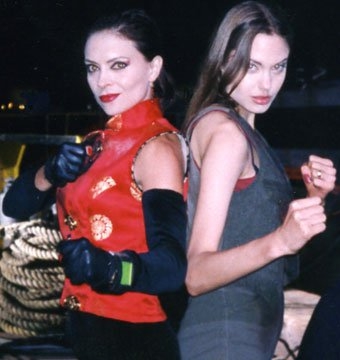 Some of Karen Sheperd's other films include: Eliminator Woman, Cyborg 2 (with Jack Palance and Angelina Jolie), Markus 4 (with John Savage & Robert Caradine, For Life or Death (with Nancy Kwan and James Lew), Boogie Boy (with Joan Jett, Frederic Forrest, Emily Lloyd & Mark Dacascos), Mission of Justice (with Brigitte Nielsen and Jeff Wincott), and Operation: Golden Phoenix (with James Hong).
Having been a longtime fan of martial arts movies, Rob Tapert (the producer of the Hercules: The Legendary Journeys television show) offered Karen Sheperd the role of The Enforcer. Under the direction of T.J. Scott, Karen turned in a most memorable performance in her first episode which drew the highest ratings garnered to date for the entire series. The Enforcer role is one of Karen's favorites: "On my first day in New Zealand, I had a costume fitting and a make-up test. When I put on the costume and the black wig, it felt right . . . but not complete. The director, T.J., suggested the black contact lenses. When I popped those into my eyes and turned around to face the mirror, it was as if I became possessed. The Enforcer was born … her movements, mannerisms and focus came to me like magic."
Karen Sheperd has also guest-starred and co-starred in other television shows such as Diagnosis Murder and V.I.P. Besides acting, Karen lends her expertise to the stunt business. She regularly performs all the fights for "Nikki" (played by Natalie Raitano) on V.I.P. Karen has turned in some memorable fights (doubling "Faith" and "Kathy" the roommate) with "Buffy" (doubled by Sophia Crawford . . . a hot Karate Diva herself!) in Buffy the Vampire Slayer.
Possessing an irresistible combination of beauty, lethal martial arts skills and theatrical range, Karen Sheperd has proven her status as one of the top ranked action actresses around and was named among the "Top 10 Martial Arts Movie Stars" in Black Belt Magazine alongside Jackie Chan, Chuck Norris and Jean-Claude Van Damme. She was voted "The Most Popular Female Martial Arts Superstar" by Inside Kung Fu magazine.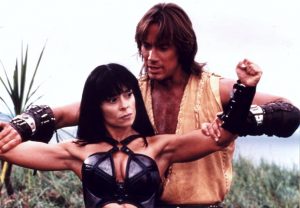 Karen Sheperd was a contributing editor for Martial Arts Training magazine where she wrote a regular motivational and training column. She travels the seminar circuit sharing her knowledge and insight on training tips, martial arts conditioning, the secrets of winning forms, combat for film and stage and motivation and focus in the martial arts. Karen continues to support her art with personal appearances at martial arts tournaments, charity benefits and conventions.
One of the most versatile talents to go before the camera, Karen Sheperd possesses a winning mixture of self confidence and unorthodox determination. Film makers seem to like the combination as Karen Sheperd continues her steady rise to prominence as a member of an elite fraternity of performers and martial artists dedicated to the mastery of their craft.
Her Guest-Star role as "The Enforcer" on "Hercules, The Legendary Journeys" received the highest ratings ever for the entire series. Throughout the years Karen Sheperd has co-stared on "Criminal Minds".