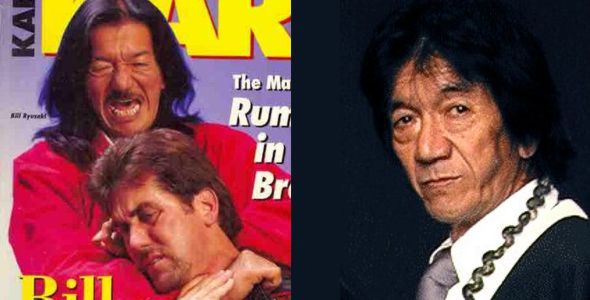 Bill Ryusaki was born on October 14, 1936 in Kamuela on the big island of Hawaii. He had ten siblings, many of whom, as well as his father are martial arts masters. He began training under his father in two types of martial arts, Shotokan karate and Kodokan judo at the age of 8. He later added Kenpo Karate to his arsenal. His teachers would come to include William Chow, Bill Chun Sr., and Marino Tiwanak.
After college, in 1957, Ryusaki moved to the United States mainland and trained with Ed Parker, Ed Tabian, and John Leoning who was the first Kajukenbo instructor on the mainland. In 1961, Bill received his Black Belt in Kajukenbo/Kenpo. He incorporated many techniques from Kenpo and Judo into his unique karate system known as Hawaiian Kenpo Karate.
In the 1970's and 1980's, fighters who were trained by Ryusaki took many of the top champion positions in competitions. Among those students were Dan Guzman, Otto Schumann, Benny "The Jet" Urquidez, and Cecil Peoples.
In August, 1998, Wesley Snipes hosted a major awards ceremony in New York City called "Masters of the Martial Arts". This special was televised, and included the best-known and highest-ranked martial artists from around the world. Bill Ryusaki received special recognition at this event.
Ryusaki has appeared in numerous films and TV series as an actor and stuntman.
His daughter, Kimberly L. Ryusaki, is also an actress and stuntwoman, and has appeared in various films, including two of the Star Trek movies.
Bill Ryusaki was 80 years old when he passed away at West Hills Hospital on December 4, 2016.
Filmography
Pirates of the Caribbean: Dead Man's Chest (stunt performer)
1999 L.A. Heat (TV Series) (stunt performer/additional stunt choreographer – 1 episode)
– F Is for Framed (1999) … (stunt performer/additional stunt choreographer)
1997 Beverly Hills Ninja (stunts)
1995 To the Limit (stunts: Los Angeles)
1994 Blue Tiger (stunts)
1993 Son of the Pink Panther (stunts)
1993 Rising Sun (stunts)
1993 Da Vinci's War (stunts)
1993 RoboCop 3 (stunts)
1992 Rapid Fire (stunts)
1992 Universal Soldier (stunts)
1991 Showdown in Little Tokyo (stunts)
1991 Double Impact (stunts)
1990 The Rookie (stunts)
1990 Come See the Paradise (stunts)
1990 RoboCop 2 (stunts)
1989 Tango & Cash (stunts)
1989 Black Rain (stunts)
1989 Cage (stunts)
1989 No Holds Barred (stunts)
1989 Kinjite: Forbidden Subjects (stunt player)
1988 War and Remembrance (TV Mini-Series) (stunts)
1988 Alien Nation (stunts)
1988 Above the Law (stunts)
1987 Laguna Heat (TV Movie) (stunts)
1987 Number One with a Bullet (stunts)
1986 The Golden Child (stunts)
1986 The Karate Kid, Part II (stunts)
1985 North and South (TV Mini-Series) (stunts – uncredited)
1985 Rambo: First Blood Part II (stunts)
1985 Police Academy 2: Their First Assignment (stunts)
1983 Fire and Ice (stunts)
1983 Blue Thunder (stunts – uncredited)
1982 The Sword and the Sorcerer (stunts)
1981 Charlie Chan and the Curse of the Dragon Queen (stunts)
1974 Golden Needles (stunts – uncredited)
1969 Marooned (stunts – uncredited)
1968 The Wrecking Crew (stunts – uncredited)
1968 Hawaii Five-O (TV Series) (stunts)
1968 Planet of the Apes (stunts – uncredited)
1967 The President's Analyst (stunts – uncredited)
1967 Mannix (TV Series) (stunts)
1966 The Green Hornet (TV Series) (stunts)
1965 The Wild Wild West (TV Series) (stunts)
1962 Taras Bulba (stunts – uncredited)
1959 Pork Chop Hill (stunts – uncredited)
1958 The Naked and the Dead (stunts – uncredited)