Bolo Yeung, Yang Sze (Yang Tse), was born to a local businessman and his wife in the suburbs of Canton in mainland China. As a young man in Canton, Bolo studied under many kung fu masters and also learned acrobatics and started weight training. He eventually became a mainland China power-lifting champion. In the 60`s, to escape Communism and seek a new life and new opportunities, the young Yang Sze swam from China to Hong Kong! He then began teaching body-building. He has never said whether he started body-building because someone had once kicked sand in his face!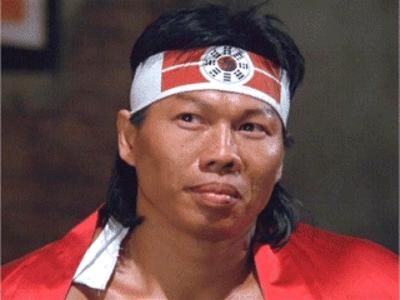 At this time Bolo Yeung came to the attention of Sir Run Run Shaw`s 'Shaw Brothers' organisation and he got several film roles playing burly, muscular villains, usually foreigners. Of course the bigger he got 'physically' the bigger the roles he was given and the more monstrous his on-screen persona became. Whilst at Shaw Brothers he continued to develop his martial arts skills. He continued to build himself up and in 1970 he won the title of 'Mr. Hong Kong'. He left Shaws in 1971.

He was chosen by Bruce Lee to play 'Bolo', the top fighter of drug baron Master Han (Shih Kien) in the kung-fu classic, ENTER THE DRAGON (1973). He was pleased to have won this role having once worked with Bruce on a Winston cigarettes TV advertisement and found it a positive experience. Indeed they had become friends who would sometimes get together to train or discuss kung fu. Bolo Yeung was saddened that he had not been used in a screen battle with Bruce, but it was never planned that he should. The absence of this fight is, to many, this film's only disappointment. Bruce reassured Bolo Yeung that he would be sure to kill him in his next film which was to be GAME OF DEATH (1978). Unfortunately, ten days after that promise was made, before post-production on ENTER THE DRAGON (1973) was even finished, Bruce Lee died. Bolo Yeung was wrongly described in the film's blurb as being the South-East Asian Shotokan Karate champion. In fact his skills were actually far more advanced than any 'single discipline' Black Belt would be expected to be. Yet he humbly says he felt that in terms of kung-fu he couldn't compare with Bruce Lee.
Bolo Yeung starred in hundreds of kung-fu films through the 70's and 80's in which he developed his trademark 'not looking' style and was regularly 'killed' by the likes of Bruce Lee (Huang Kin Lung). His big break didn't come until he co-starred as Chong Li in BLOODSPORT (1988). To many people, Bolo Yeung was the 'real' star of this film and several others, including DOUBLE IMPACT (1991) and TIGER CLAWS (1991). He was inevitably cast as an invincible monster of almost supernatural prowess, who dwarfed such contenders as Jean-Claude Van Damme and Bruce Le in climactic David-vs-Goliath duels which he had to lose because THEY were the heroes! For LEGACY OF RAGE (1986) he had to spend several weeks training Brandon Lee so the young star would appear to be a worthy opponent. Bolo Yeung regularly booked the gym for 9:00am sessions to tie in with his own regime, but often Brandon wouldn't turn up until 12! Brandon explained that he had been out dancing till the early hours and was only training, 'under protest', because the producers insisted.
In SHOOTFIGHTER: FIGHT TO THE DEATH (1991) and SHOOTFIGHTER 2: KILL OR BE KILLED (1996), Bolo got a rare chance to be the good guy. Of course in real life that's what he is! He is devoted father to his two sons, one of whom, David has also appeared in a few movies. I believe he also has a daughter. He is the Team Manager of 'The Tapei International Federation Of Body Builders' squad. He is Chairman of 'The Hong Kong Gym Business Association'.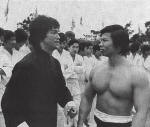 Bolo Yeung begins his day with two hours of weight training, followed by forms, usually Yang style Tai Chi. He admits that his 'dream project' is to make a sequel to ENTER THE DRAGON . . . with of course himself as the hero!