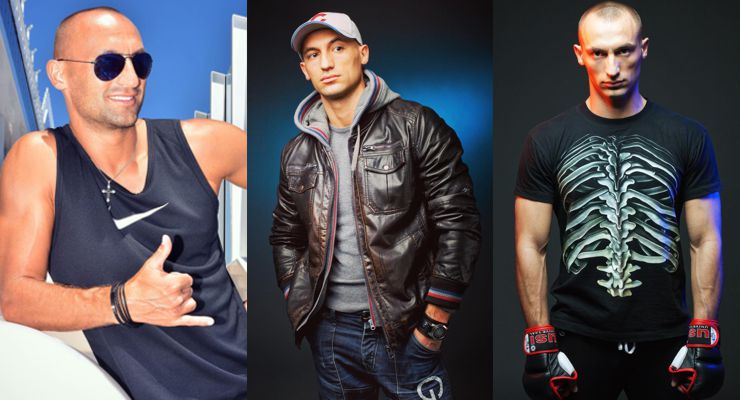 Anton Kalinin was born in Crimea on October 12, 1982. His father, a pilot, was offered a job in the North and Anton moved to Siberia with his family.
When Anton was 7 years old his father had him study Kyokushin Oyama Karate, which was forbidden in the USSR at this time. At first he didn't like training. For Anton it was both physically and psychologically difficult, but his father forced him to train without rest. After six months of training, Anton began to enjoy the study of martial arts and at this point things seem to fall into place for him.
Unfortunately there were no acrobatics or gymnastics schools in the North at this time. Jackie Chan in his movies became his first coach in acrobatics and tricking. Anton would scan every trick on the movie videos a million times in slow motion and then would try to perform the moves himself using pillows to land on.
When Anton was between 11 and 12 years old they moved to Ukraine Where he continued to train in Karate. There were already competitions in the Ukraine, and Anton began to take first place in the city, and after that, first places in the region. Anton was sent to a school where there was a heavier focus on sports so, from 5th grade to 11th grade, Anton had soccer training 2-3 times a week.
Probably at the age of 13-14 years, Anton decided to begin training in boxing and then later, Thai Boxing.
Anton Kalinin was obsessed with sports and martial arts. He preferred to stay in the gym and work out that going to a disco or a party. He absorbed any type of sport like a sponge and showed good results in every competition. Anton also represented the school in track and field as a runner in both 100–200 meters and 3–5 km. and in all types of competitions in the Ukraine.
Unfortunately, in Ukraine, sports were not perceived as a profession so Anton enter the University in 2000 focusing on economics. By the time his experiences in training exceeded the norm. He also added such sports as cycling, artistic gymnastics and Russian Sambo.
At the University everyone had the opportunity to choose a sport, and Anton choose swimming. After 2-3 months he had taken first place between universities at a distance of 100 meters. Continuing in gymnastics was very time consuming so Anton made the decision to quit boxing, Thai boxing, Sambo and cycling to concentrate on gymnastics.
In gymnastics, Anton was the oldest student and often helped the coach. He began to enjoy working with children and later conducted training for children in martial arts and acrobatics.
In his fourth year at the University, his acrobatics students asked him to go with them to Kiev and support them in entering the Circus International College. At that time Anton and his friends had been practicing the battle scene and using them for as demonstrations with acrobatics, weapons, and Capoeira. As a result, the Circus International College allowed Anton to become a student and he began in his second year with free tuition and a scholarship.
Anton could not attend two different colleges in two different cities, continue training and complete the heavy workload required to pass all his classes. He was forced to make a decision and he left the Circus College, but his goal became to work as a martial artist and acrobat outside of the Ukraine.
After the release of the film Yamakasi (2001), Anton formed parkour team and after gymnastics training he would practice parkour. In 2004, his parkour team was first in Ukraine in non-official competitions.
While studying at the University, Anton participated in charity performances and concerts for children throughout the Ukraine through the University and through the circus group "Voyage".
Anton reached the semi-finals twice in the show "Ukraine Has Talent" and "Russia Has talent".
After graduating from the University in 2006, Anton had his first audition and got a job working as an acrobat and a dancer (Capoeira) as well as a gym instructor on a cruise ship.
Anton continued to audition and always got the job. One of those jobs was in the international project "Ben Hur Live" where he worked as an acrobat and stuntman. The show premiered in London in 2009 at the "O2 Arena" where they performed for almost 23,000 people.
For almost 9 years Anton worked as a pair acrobat (it was as a power male + combat stage, as well as a mixed pair hand to hand).
Anton Kalinin has extensive experience in various sports including kung fu, UFC, Brazilian Jiu Jitsu, snowboarding, skating, skiing and others. Anton has never tried alcohol or nicotine in his life and he is very proud of this.
Anton Kalinin has worked around the world as an artist, acrobat and director of fight choreography for scenes both with and without weapons. His next goal is to use his talents in action movies.
Educational Background
Kyokushin Oyama Karate, Muay Thai (September 1990 – April 2010)
Artistic gymnastics (June 1999 – August 2004)
Kung Fu (September 2000 – July 2002)
Capoeira (September 2001 – July 2006)
Kiev Circus College (Acrobatic department) (September 2004 – July 2005)
Poltava regional social organization "Federation of bodybuilding and fitness" (Direction: power training and aerobics) (July 2005 – April 2006)
Judo, Brazilian Jiu-Jitsu (April 2011 – April 2012)
Professional Experience
Performed organization of entertainment programs, worked as an acrobat in University (September 2000 –­ June 2006)
Performed like acrobat and artist of circus in night clubs and hotel in Ukraine and Russia (June 2000 – April 2007)
Performed like a member of circus-group "VOYAGE" In many Palaces of Culture in Ukraine (October 2001 – June 2009)
Acrobatic instructor in Children's and Youth Sports School №2 (Kremenchug city) (June 2003 – April 2007)
Instructor in Mixed Martial Arts (Kremenchug city) (June 2003 – April 2007)
Dancer- acrobat and gym instructor in Louis Cruise Lines (M/V Perla, S/S ORIENT QUEEN) (Greece) (April 2007 – November 2007)
Actor (stunt) – acrobat in the project «Ben Hur Live» & Sacharow (Germany) (June 2009 – February 2010)
Semifinalist of the Russian television project: «Minute of Glory» (December 2010 – February 2011)
Gym instructor and Acrobat in Casino Kangwon Land, Starburst Show (South Korea) (July 2011 – March 2012)
Acrobat (Stunt) Model in Indian company «DanSync Entertainment Pnt Ltd» July 2012 – January 2013
Gym instructor in India: «Fitness First» (July 2012 – January 2013)
Acrobat in Norwegian company Color Line (ferry «Color Magic») (1 April 2015 – 19 June 2015)
Acrobat in R.A. Eilat Hotels Entertainment Ltd (Israel) (1 July 2015 – 10 October 2015)
Artist in a German company TUI (Mein Schiff 3) (1 November 2015 – 24 June 2016)
Artist in a German company TUI (Mein Schiff 4) (24 October 2016 – 6 March 2017)
Artist in a German company TUI (Mein Schiff 3) (18 April 2017 – 22 July 2017)
Artist in a German company AIDA (Perla) (14 December 2017 – 16 June 2018)
Artist in a German company AIDA (Prima) (16 June 2018 – 1 September 2018)
Artist in a German company AIDA (Perla) (03 January 2019 – 15 June 2019)
Personal Information
Height: 182
Weight: 77
Chest: 106
Waist: 86
Hips: 95
Shoe: 41-42
Eye: brown
Hair: light brown (short)
Language: Russian, Ukraine, English